Results-Based Leadership:
How Leaders Build the Business and Improve the Bottom Line
Dave Ulrich, Jack Zenger and Norm Smallwood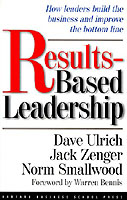 Format:
Hardcover, 240pp.
ISBN:
9780875848716
Publisher:
Harvard Business School Publishing
Pub. Date:
May 1999
Average Customer Review:

For Bulk Orders Call: 626-441-2024

Description and Reviews
From
The Publisher:
Results-Based Leadership
challenges the conventional wisdom surrounding leadership. The authors - experts in human resources and leadership development - argue that it is not enough to gauge leaders by personal traits such as character, knowledge, style, and values. Effective leaders, say the authors, do more than master the attributes of leadership. They know how to connect their attributes with results.
Results-Based Leadership
shows executives how to deliver results in four specific areas: results for employees, the organization, its customers, and its investors. The authors provide action-oriented guidelines for readers to develop and hone their own results-based leadership skills. They look beyond the quick fixes, buzzwords, and trends that typify many leadership programs, and focus instead on producing results that can be measured and integrated into any business strategy or corporate culture.

Reviews
The authors argue that most business leaders lack insight when responding to the simple question, "What is your business about?" Usually, the response focuses on the company's product affiliation, for example "We're in plastics." In order to get good business results, the authors say, leaders need to understand fully what makes their organization tick at the "elemental level." The authors, a business educator and two company directors, draw on their business experience as well as the work of other business leaders and illustrate with specific strategies and charts how to achieve "results" in four specific areas: employees, the organization, its customers, and its investors. Here we also learn about the leadership attributes of successful companies, information that readers can use as a guide to hone their own leadership skills. A notes section offers additional readings. Recommended for specialized business collections, company executives, business managers, and human resource people. (Index not seen.)
—Library Journal, Bellinda Wise, Nassau Community Coll. Lib., Garden City, NY
"This gem may be the only book on leadership you need to read. Ulrich, Zenger, and Smallwood deliver an insightful synthesis of the plethora of work in this field and a compelling argument that effective leadership is the product of both leadership 'attributes' and the achievement of results."
—Jeffrey L. Bleustein, Chairman and CEO, Harley-Davidson, Inc.
"Results-Based Leadership is a welcome addition to the leadership book bag."
—Frances Hesselbein, Founding President and Chairman of the Board, Peter F. Drucker Foundation for Nonprofit Management

About the Authors
Dave Ulrich
is a professor at the School of Business at the University of Michigan, where he co-directs the Human Resource Executive Education Program. He is the author of the bestseller
Human Resource Champions
(HBS Press).
Jack Zenger
is President of Provant, an organizational and performance improvement firm, and prior to that co-founded Zenger-Miller, a leading management and supervisory development firm. He is coauthor of the bestselling
Self-Directed Work Teams: The New American Challenge
.
Norm Smallwood
is a managing director of Novations, a strategy, organization design and change management consulting firm. He is coauthor of
Real-Time Strategy
.

Table of Contents
| | | |
| --- | --- | --- |
| | Foreword | |
| | Preface | |
| 1 | Connecting Leadership Attributes to Results | 1 |
| 2 | Defining Desired Results | 27 |
| 3 | Employee Results: Investing in Human Capital | 53 |
| 4 | Organization Results: Creating Capabilities | 81 |
| 5 | Customer Results: Building Firm Equity | 107 |
| 6 | Investor Results: Building Shareholder Value | 139 |
| 7 | Becoming a Results-Based Leader | 169 |
| 8 | Leaders Building Leaders | 191 |
| | Notes | 217 |
| | Index | 227 |
| | About the Authors | 233 |

Find Items On Similar Subjects

Leadership Sustainability
: Seven Disciplines to Achieve the Changes Great Leaders Know They Must Make

Leadership Brand
: Developing Customer-Focused Leaders to Drive Performance and Build Lasting Value

How Leaders Build Value
: Using People, Organization, and Other Intangibles to Get Bottom-Line Results

Execution
: The Discipline of Getting Things Done

What's the Big Idea?
Creating and Capitalizing on the Best New Management Thinking