Smart Choices
: A Practical Guide to Making Better Decisions
John S. Hammond, Ralph L. Keeney, Howard Raiffa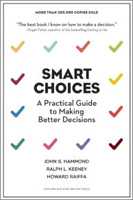 Format:
Hardcover, 256pp.
ISBN:
9781633691049
Publisher:
Harvard Business Review Press
Pub. Date:
August 25, 2015
Average Customer Review:

For Bulk Orders Call: 626-441-2024

Description and Reviews
From
The Publisher:
Where should I live? Is it time to get a new job? Which job candidate should I hire? What business strategy should I pursue?
We spend the majority of our lives making decisions, both big and small. Yet, even though our success is largely determined by the choices that we make, very few of us are equipped with useful decision-making skills. Because of this, we often approach our choices tentatively, or even fearfully, and avoid giving them the time and thought required to put our best foot forward.
In
Smart Choices
, John Hammond, Ralph Keeney, and Howard Raiffa—experts with over 100 years of experience resolving complex decision problems—offer a proven, straightforward, and flexible roadmap for making better and more impactful decisions, and offer the tools to achieve your goals in every aspect of your life.
Their step-by-step, divide-and conquer approach will teach you how to:
Evaluate your plans
Break your potential decision into its key elements
Identify the key drivers that are most relevant to your goals
Apply systematic thinking
Use the right information to make the smartest choice
Smart Choices
doesn't tell you what to decide; it tells you how. As you routinely use the process, you'll become more confident in your ability to make decisions at work and at home. And, more importantly, by applying its time-tested methods, you'll make better decisions going forward.
Be proactive. Don't wait until a decision is forced on you—or made for you. Seek out decisions that advance your long-term goals, values, and beliefs. Take charge of your life by making
Smart Choices
a lifetime habit.

Reviews
"The best book I know on how to make a decision."
—Roger Fisher, Coauthor of Getting to YES: Negotiating Agreement Without Giving In
"In Smart Choices, Hammond, Keeney, and Raiffa tell us in plain language how to make optimal decisions in our everyday lives. They combine 100 collective years of experience in an exceptional resource that takes the reader step-by-step through problem formulation and final decision."
—Jerome P. Kassirer, Editor-in-Chief, New England Journal of Medicine
"This simplified guide to the decision-making process is a must read for anyone facing important real estate, personal, or professional decisions. Smart Choices gives you the tools to identify options you may never have considered."
—William E. Kiley, Jr., President, Hunneman and Co., Coldwell Banker

About the Author
John S. Hammond
is an internationally known decision-making consultant specializing in negotiation and corporate strategy, and a former professor at Harvard Business School.
Ralph L. Keeney
is a Research Professor Emeritus at Fuqua School of Business at Duke University, a member of the National Academy of Engineering, and a well-known decision-making consultant.
Howard Raiffa
, a pioneer in developing decision and negotiating analysis, is professor emeritus at Harvard Business School, and the author of The Art and Science of Negotiation. He has extensively taught decision making to students of business, public policy, law, and medicine.

Table of Contents
| | | |
| --- | --- | --- |
| | Preface | |
| 1 | Making Smart Choices | 1 |
| 2 | Problem | 15 |
| 3 | Objectives | 31 |
| 4 | Alternatives | 47 |
| 5 | Consequences | 65 |
| 6 | Tradeoffs | 83 |
| 7 | Uncertainty | 109 |
| 8 | Risk Tolerance | 135 |
| 9 | Linked Decisions | 163 |
| 10 | Psychological Traps | 189 |
| 11 | The Wise Decision Maker | 217 |
| | A Roadmap to Smart Choices | 235 |
| | About the Authors | 243 |

Find Items On Similar Subjects

Smart Questions
: Learn to Ask The Right Questions for Powerful Results

Winning Decisions
: Getting It Right The First Time