Winning Decisions
: Getting It Right the First Time
J. Edward Russo and Paul J. H. Schoemaker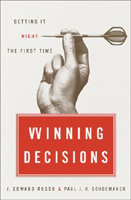 Format:
Hardcover, 240pp.
ISBN:
9780385502252
Publisher:
Currency/Doubleday
Pub. Date:
December 26, 2001
Average Customer Review:

For Bulk Orders Call: 626-441-2024

Description and Reviews
From
The Publisher:
Business revolves around making decisions, often risky decisions, usually with incomplete information and too often in less time than we need. Executives at every level, in every industry, are confronted with information overload, less leeway for mistakes, and a business environment that changes rapidly. In light of this increased pressure and volatility, the old-fashioned ways of making decisions–depending on intuition, common sense, and specialized expertise–are simply no longer sufficient. Distilling over thirty years of groundbreaking research,
Winning Decisions
, written by two seasoned business advisers and world leaders in behavioral decision studies, is a comprehensive, one-of-a-kind guide to the proven methods of making critical business decisions confidently, quickly–and correctly.
Decision-making is a business skill which managers often take for granted in themselves and others–but it's not as easy as some might think. The authors, whose expertise has been sought out by over a hundred companies, including Arthur Andersen, Hewlett-Packard, IBM, and Unilever, contend that decision-making, like any other skill, must be developed and honed if it is to be used effectively.
Winning Decisions
offers step-by-step analyses of how people typically make decisions, and provides invaluable advice on how to improve your chances of getting your next big decision right the first time. The book is packed with worksheets, tools, questionnaires, case studies, and anecdotes analyzing major decisions made by organizations like British Airways, NASA, Shell Oil, and Pepsi. Some of the proven, straightforward techniques covered in Winning Decisions include how to:
Reframe issues to ensure that the real problem is being addressedImprove the quality and quantity of your options
Convert expert yet conflicting opinions into useful insights
Make diversity of views and conflict work to your advantage
Foster efficient and effective group decision-making
Learn from past decisions--your own and those of others
With
Winning Decisions
, managers and other professionals now have access to a proven set of skills and strategies they need for making the right decision, right away.

Reviews
The coauthors of 1989's Decision Traps offer a clear, straightforward explanation of how managers should perform one of their most basic tasks: making a decision. Russo, professor of marketing and behavior science at Cornell, and Shoemaker, research director of Wharton's Mack Center for Technology and Innovation, break their method into four steps: framing decisions, i.e., factoring in difficulties like information overload and the "galloping rate of change," and thereby determining which choices need to be addressed and which ones don't; gathering real intelligence, not just information that will support internal biases; coming to conclusions, i.e., assessing how one's company acts on the intelligence gathered; and learning from experience. The authors walk readers through each of the steps. Unlike many business books, this one is akin to a workbook, providing how-tos, case studies and worksheets so readers can put their ideas into play immediately. The authors highlight key concepts, and they even show an occasional humorous side. However, they stress that even improving the way one goes about making decisions won't guarantee that they'll be the right ones. Decisions still have to be executed successfully, and luck is always a factor. Still, with better decision-making skills, the odds are bound to go up. This book will prove valuable to managers at all levels of an organization. Copyright 2001 Cahners Business Information, Inc.

About the Author
J. Edward Russo
, is a Professor of Marketing and Behavior Science at Cornell University's Johnson Graduate School of Management. He has served as an adviser to such companies as Boeing, Eli Lilly, General Motors, Harris Bank, and SmithKline Beecham. Russo is also actively involved in the study and application of leading-edge decision technologies to real-world problems and is a frequent speaker in executive decision programs. He is the co-author, with Paul Schoemaker, of Decision Traps. He lives with his family in Ithaca, New York.
Paul J. H. Schoemaker
, is the founder and Chairman of Decision Strategies International and Research Director of the Mack Center for Technology and Innovation at the Wharton School. He has consulted with about a hundred organizations, including a two-year sabbatical with Royal Dutch/Shell's scenario planning group in London. Schoemaker has been a professor at the University of Chicago and the Wharton School, and a frequent speaker in various executive programs, including those at Berkeley and Cedep at Insead. He lives with his family in Villanova, Pennsylvania.

Find Items On Similar Subjects

Know What You Don't Know
: How Great Leaders Prevent Problems Before They Happen

The Agenda
: What Every Business Must Do to Dominate the Decade

Good to Great
: Why Some Companies Make the Leap... and Others Don't