Richard Nixon
: The Life
John A. Farrell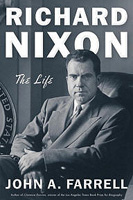 Format:
Paperback, 784 pp.
ISBN:
9780345804969
Publisher:
Doubleday
Pub. Date:
February 6, 2018
Average Customer Review:

For Bulk Orders Call: 626-441-2024

Description and Reviews
From
The Publisher:
Brilliantly researched, authoritatively crafted by a prize-winning biographer, and lively on the page, this is the Nixon we've been waiting for.
Richard Nixon
opens with young Navy lieutenant "Nick" Nixon returning from the Pacific and setting his cap at Congress, an idealistic dreamer seeking to build a better world. Yet amid the turns of that now legendary 1946 campaign, Nixon's finer attributes quickly gave way to unapologetic ruthlessness. It is a stunning overture to John A. Farrell's magisterial portrait of a man who embodied postwar American cynicism.
Within four years of that first win, Nixon would be a U.S. senator; in six the vice president of the United States of America. "Few came so far, so fast, and so alone," Farrell writes. Finally president, Nixon's staff was full of bright young men who devised forward-thinking reforms addressing health care, poverty, civil rights, and protection of the environment. It was a fine legacy, but Nixon cared little for it. He aspired to make his mark on the world stage instead, and his 1972 opening to China was the first great crack in the Cold War.
Nixon had another legacy, too: an America divided and polarized. It was Nixon who launched the McCarthy era, who set South against North, and who spurred the Silent Majority to despise and distrust the country's elites. He persuaded Americans to gnaw, as he did, on grievances—and to look at one another as enemies. Finally, in August 1974, after two years of the mesmerizing intrigue and scandal known as Watergate, Nixon became the only president to resign in disgrace.
Richard Nixon
is an enthralling tour de force biography of our darkest president, one that reviewers will hail as a defining portrait, and the full life of Nixon readers have awaited.

Reviews
"Farrell's blockbuster portrait of Nixon is revelatory—filled with fresh reporting shedding new light on the roots of our own dark political moment. He shows that dirty tricks, October Surprises, and anti-elitist resentment were among the gifts Nixon bequeathed to our own presidential politics."
—Jane Mayer, author of Dark Money: The Hidden History of the Billionaires Behind the Rise of the Radical Right
"John A. Farrell has once again delivered a rich, precisely written portrait of the past to help us understand the present. He traces the origins and turning points of one of the most complex, complicated and fascinating presidents of the modern age with flair and narrative skill. Each page is a joy to read, on the way to a very satisfying whole."
—John Dickerson, moderator of CBS's Face the Nation and author of Whistlestop: My Favorite Stories from Presidential Campaign History
"Brilliant, ruthless, a president who combined some enlightened policies with inner darkness, Richard Nixon stands alone in the history of American politics. John A. Farrell's gripping account vividly captures Nixon from his earliest days—catapulting to Congress with a cold-blooded debate stunt—to the mounting crises he faced in the White House, culminating in his spectacular fall."
—T.J. Stiles, Pulitzer Prize-winning author of Custer's Trials and The First Tycoon
"Richard Nixon's political career has all the nooks and crannies of an English muffin: the red-baiting of the early campaigns; Checkers; the Great Debates of 1960; the comeback in '68; the inheritance and horror of Vietnam; the historic opening to China; the shame of Watergate. In Richard Nixon, John A. Farrell is tough and unyielding, yet gives his subject a fair hearing through each gripping episode. 'I'm not a quitter,' Nixon once protested, and this grand, indispensable book proves him right, right to the end."
—Chris Matthews, author of Kennedy & Nixon: The Rivalry that Shaped Post-war America
"Jack Farrell gives us two profoundly resonant Richard Nixons—the last progressive Republican, and the author of our national divisions. He also gives us, in one engrossing volume, the defining biography of our darkest president."
—Larry Tye, author of Bobby Kennedy: The Making of a Liberal Icon
"With clarity and verve, John A. Farrell's deft pen illuminates the life of America's 37th president. Unsparing yet fair-minded in its analysis and based on deep research in a wealth of archival and published sources, Richard Nixon is a fast-moving and penetrating portrait of this controversial and complicated man."
—Fredrik Logevall, Pulitzer Prize-winning author of Embers of War
"John A. Farrell's Richard Nixon: The Life is an expertly written and strikingly comprehensive portrait of America's most complicated president. Farrell has a genius for the telling anecdote and apropos quote. His command of the sources is staggering. Richard Nixon is a true landmark achievement."
—Douglas Brinkley, Professor of History at Rice University and author of Cronkite
"Written with skills he acquired as an investigative reporter, John Farrell's tour de force takes us through the rise and fall of Richard Nixon with penetrating and thought-provoking analysis."
—Irwin Gellman, author of The Contender: Richard Nixon, The Congress Years, 1946 to 1952 and The President and the Apprentice: Eisenhower and Nixon, 1952-1961
"Full of fresh, endlessly revealing insights into Nixon's political career, less on the matter of his character, refreshingly, than on the events that accompanied and resulted from it."
—Kirkus Reviews, starred review
"A probing biography . . . Readers track the lonely and hard-won ascent of a sickly, love-starved child, who dreams like a Romantic but maneuvers like Machiavelli . . . An unflinching portrait."
—Booklist, starred review

About the Author
John A. Farrell
is the author of Clarence Darrow: Attorney for the Damned, which won the Los Angeles Times Book Prize for biography, and Tip O'Neill and the Democratic Century, which won the D. B. Hardeman Prize for the best book on Congress. He is a contributing editor to Politico Magazine, after a prize-winning career as a newspaperman, most notably at The Denver Post and The Boston Globe, where he worked as White House correspondent and served on the vaunted Spotlight team.