Leading Beyond the Walls
Frances Hesselbein, Marshall Goldsmith and Iain Somerville - Editors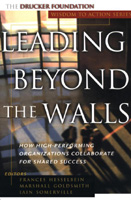 Format:
Paperback, 320pp.
ISBN:
9780787955557
Publisher:
Jossey-Bass
Pub. Date:
New Ed edition January 3, 2001
Average Customer Review:

For Bulk Orders Call: 626-441-2024

Description and Reviews
From
The Publisher:
This book brings together a "Who's Who" list of best-selling business writers, top consultants, and leading thought leaders such as Peter Drucker, James Collins, Noel Tichy, Stephen Covey, and more. Each contributor provides a unique perspective on new leadership imperatives. Today's business leaders must stretch beyond their enterprise's traditional boundaries into new partnerships, alliances, and networks. New approaches to management, strategy, marketing, and labor relations are forming each day. Here, in one volume, readers are given a chance to catch up.
"Beyond the walls is a battle cry that mobilizes.... The walls that surround us, protect us, and embrace us can also inhibit movement, limit understanding, restrict engagement, and diminish our relevance in the wider world. I realized that my walls, and the walls of leaders everywhere, were not only the walls of current policy, practice, procedure, and assumption but also the walls of the past—safe, familiar, and secure. This recognition was just the first of several as we worked through a process to take ourselves and our organizations beyond the walls to new levels of performance and positive changes in the lives of people." —from the Introduction by Frances HesselbeinIn
This first volume of the Wisdom to Action series, twenty-nine of the world's greatest thinkers explore the need for a new paradigm in leadership. In today's fast-paced global society, leaders must be adept at establishing diverse partnerships, alliances, and networks by building and maintaining relationships both within and outside their own organizations. They must be comfortable with working with individuals and organizations they cannot control in the traditional sense, but with whom they share core values, purposes, and goals. Ultimately, they must learn to lead through commitment and connection—both of which are rooted in freedom of choice rather than in systems of coercion and control. Leading Beyond the Walls brings together Peter F. Drucker, Stephen R. Covey, Peter M. Senge, Jim Collins, Noel Tichy, Regina E. Herzlinger, C.K. Prahalad, Sally Helgesen, and other thought leaders to describe new ways of building relationships, new approaches to strategy and marketing, new models of employee relations, and other innovative ways of thinking and acting. They share practical insights on the challenge of leading in an age when the old rules and conventional boundaries no longer exist.

About the Editors
FRANCES HESSELBEIN
is chairman of the board of governors of the Peter F. Drucker Foundation for Nonprofit Management and editor in chief of its journal, Leader to Leader. She was awarded the Presidential Medal of Freedom, the United States of America's highest civilian honor, in 1998.
MARSHALL GOLDSMITH
is a founding director of Keilty, Goldsmith and Company, one of America's key providers of customized leadership development. He is also a cofounder of the Learning Network, an association of the world's top consultants.
IAIN SOMERVILLE
is a partner in Andersen Consulting, where he founded and led the Organization Strategy practice and Institute for Strategic Change-the firm's global "think tank." As a top management consultant and educator, he has for more than two decades served the world's leading private, public, and social sector organizations.

Table of Contents
| | | |
| --- | --- | --- |
| | Preface | |
| | Introduction: The Community Beyond the Walls | 1 |
| Pt. I | New Strategies for a World Without Walls | |
| 1 | The New Pluralism | 9 |
| 2 | And the Walls Came Tumbling Down | 19 |
| 3 | Preparing for Leadership | 29 |
| 4 | Leading the Distributed Organization | 37 |
| 5 | Dissolving Boundaries in the Era of Knowledge and Custom Work | 49 |
| 6 | Decision Making Beyond the Boundaries | 57 |
| Pt. II | Transforming Organizations for New Realities | |
| 7 | Leadership in Living Organizations | 73 |
| 8 | Maximizing Creative Collaboration | 91 |
| 9 | Culture Is the Key | 105 |
| 10 | The Power of Choice | 123 |
| 11 | Leadership Beyond the Walls Begins with Leadership Within | 133 |
| Pt. III | The New Requirements of Leadership | |
| 12 | The Mind-Set and Skill-Set of a Leader | 149 |
| 13 | New Competencies for Tomorrow's Global Leader | 159 |
| 14 | How to Foster Champions | 167 |
| 15 | Creating Success for Others | 189 |
| 16 | Leading Successful Change Initiatives | 199 |
| 17 | The Four Cardinal Principles of Leadership | 217 |
| Pt. IV | Leading the Larger Community | |
| 18 | Leading in a Leaderless World | 227 |
| 19 | Principles of Effective Collaboration | 243 |
| 20 | Creating a Future We Wish to Inhabit | 251 |
| 21 | Strategies for Win-Win Alliances | 261 |
| 22 | Building Civic Coalitions | 271 |
| 23 | New Models of Public Leadership | 279 |
| | Index | 289 |

Find Items On Similar Subjects

The Leader of the Future
: New Visions, Strategies, and Practices for the Next Era • P

Leader to Leader
: Enduring Insights on Leadership from the Drucker Foundation's Award-Winning Journal