Put the Moose on the Table
: Lessons in Leadership from a Ceo's Journey Through Business and Life
Randall Tobias with Todd Tobias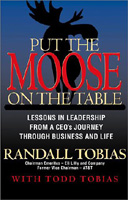 Format:
Hardcover, 184pp.
ISBN:
9780253342393
Publisher:
Indiana University Press
Pub. Date:
April 2003
Average Customer Review:

For Bulk Orders Call: 626-441-2024

Description and Reviews
From
The Publisher:
Like a moose in the living room some problems are just plain hard to ignore. Try as we might to keep them out of sight, they have a way of hanging around, demanding to be addressed. The best thing to do is confront them and look for a solution. Those who fail to do so usually come to regret that they didn't put the moose on the table.
Put the Moose on the Table
is an effort to capture the lessons learned by one man over the course of a life and a career in the corporate world. It's about his experiences and the lessons in leadership he learned during a time of unprecedented change in the world of American business. It's about beliefs reinforced, such as the importance of values and character, and about things learned the hard way, especially while managing change in the absence of a clear and compelling strategic vision.
Put the Moose on the Table
contains lessons about
Leading by example
Vision
Successful communication
Mentoring
Depth vs. breadth
Openness vs. secrecy
Values and the bonds of reciprocity
Deciding what business you're in
Risk taking and risk aversion
Planning for succession
Though these observations don't provide a universal remedy for all situations, in all places, at all times, there are conclusions to be drawn and lessons to be learned.

Reviews
"Here, finally, is a CEO's story that rings and sings with truth as well as wisdom and inspiration...."
—Jim Lehrer, Executive Editor and Anchor, The NewsHour with Jim Lehrer
"...American business has never produced an individual more qualified to address such irreplaceable qualities. This is a must-read."
—Norman R. Augustine, Retired Chairman and CEO, Lockheed Martin Corporation
"Randy Tobias' attention to corporate ethics derives from his personal values; he stands as living evidence...with doing what's right."
—Nannerl O. Keohane, President, Duke University
"[A] book on leadership that would serve as a guide on the battlefield as well as in the boardroom...."
—Nannerl O. Keohane, President, Duke University
"Randy Tobias has written about the importance of commitment and focus...about doing things the right way...."
—Peyton Manning, Quarterback, Indianapolis Colts

About the Author
Randall Tobias
was Chairman and CEO of Eli Lilly and Company from 1993 until his retirement at the end of 1998, when he was named Chairman Emeritus. Before joining Lilly, he had a distinguished career at AT&T where he was Vice Chairman in the years following the government-ordered breakup of the company in 1984 and negotiated the first-ever telecommunications deal with China. Tobias serves on the boards of a number of major corporations and foundations, and he is an active member of the Indianapolis community. He has a particular interest in the cause of teaching children to read and improving kindergarten through twelfth-grade education in Indiana.
Todd Tobias
is President and Editorial Director of Table Moose Media, and Founder of INDY MEN'S MAGAZINE.

Table of Contents
| | | |
| --- | --- | --- |
| | Introduction | ix |
| 1 | Prescription for Disaster | 1 |
| 2 | The Ghost Ship | 20 |
| 3 | The Opposite of Wine | 44 |
| 4 | Small Town, Big Lessons | 79 |
| 5 | A Complete Education | 100 |
| 6 | The Hierarchy of Secrets | 123 |
| 7 | Bond Traders | 142 |
| 8 | Focusing the Boxes | 170 |
| 9 | Risky Business | 199 |
| 10 | When It's Time To Go | 213 |
| | Epilogue | 244 |
| | Tobias's Lessons in Leadership | 246 |
| | Acknowledgements | 261 |
| | Bibliography | 267 |
| | Index | 271 |

Find Items On Similar Subjects

Lessons from the Top
: The Search for America's Best Business Leaders • Paperback

Leading with the Heart
: Coach K's Successful Strategies for Basketball, Business, and Life