Organizing Genius
: The Secrets of Creative Collaboration
Warren G. Bennis
and Patricia Biederman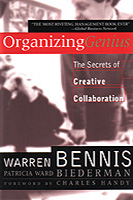 Format:
Paperback, 256pp.
ISBN:
9780201339895
Publisher:
Perseus Books
Pub. Date:
June 1998
Average Customer Review:

For Bulk Orders Call: 626-441-2024

Description and Reviews
From
The Publisher:
The most exciting groups—the ones, like those chronicled in this book, that shook the world—resulted from a mutually respectful marriage between an able leader and an assemblage of extraordinary people. Groups become great only when everyone in them, leaders and members alike, is free to do his or her absolute best. This book is about organizing gifted people in ways that allow them both to achieve great things and to experience the joy and personal transformation such accomplishment brings. This book is part history, part how-to manual, part meditation on why a few groups rise to greatness, while most flounder.

Reviews
"The most riveting management book ever."
—Stewart Brand's Global Business Network Book Club
"Warren Bennis [and] coauthor Biederman describe hallmarks that distinguish extraordinary groups from groups whose performance is strictly so-so."
—Fortune
"Organizing Genius, the latest insightful and fascinating offering from Bennis and Biederman, reveals how there is rarely only one face to success. What may seem to be independent achievements are almost always a collection of extraordinarily interdependent minds."
—Dr. Stephen Covey author of The Seven Habits of Highly Effective People
Warren Bennis knows his audience. A well-respected business consultant, he instructs uncertain managers in the art of transforming themselves into leaders. Organizing Genius ... [is] aimed at people suddenly entrusted with a corporate project that involves getting people to work together creatively, a skill rarely imparted at B-school. Many of them, I suspect, will find the book extremely useful.
—The New York Times Book Review, Charles C. Mann

About the Author
Warren Bennis
is Distinguished Professor of Business Administration and Founding Chairman of The Leadership Institute at the University of Southern California. Bennis has served on the faculties of MIT's Loan School of Management, Harvard Business School, and Boston University. He served for seven years as president of the University of Cincinnati, where he coined the metaphor for the title of this book. He has been observing and writing about leadership for more than four decades and is the best-selling author of over 25 books, including
Leaders, On Becoming a Leader
, and
An Invented Life
, which was nominated for a Pulitzer Prize.
Patricia Biederman
is an award-winning journalist, now staff writer for the
Los Angeles Times
.

Table of Contents
| | | |
| --- | --- | --- |
| | Foreword by Charles Handy | xi |
| | Introduction | xv |
| | The End of the Great Man | 1 |
| | Troupe Disney | 31 |
| | A Computer with a Rebel Heart | 63 |
| | Selling a Place Called Hope | 87 |
| | The Skunk Works | 117 |
| | Experiment at Black Mountain | 142 |
| | The Manhattan Project | 171 |
| | Take-Home Lessons | 196 |
| | Source Notes | 219 |
| | Acknowledgments | 231 |
| | Index | 233 |

Find Items On Similar Subjects

All Items by Warren Bennis

On Leadership

Leaders
: The Strategies for Taking Charge