Not Bosses but Leaders
: How to Lead the Way to Success
John Adair with Peter Reed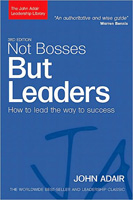 Format:
Hardcover, 184pp.
ISBN:
9780749454814
Publisher:
Kogan Page Ltd
Pub. Date:
March 28, 2009 - 3rd edition
Average Customer Review:

For Bulk Orders Call: 626-441-2024

Description and Reviews
From
The Publisher:
In today's turbulent world, effective leadership at every level of an organization is essential. Leadership is not only about motivating people, it is also about providing clear goals and a sense of purpose that everyone in the organization buys into.
One of the few books on leadership that can genuinely be called a 'classic', this pioneering work from leadership expert John Adair has transformed the understanding of how leadership works and how executives can become business leaders. Accessible guidance on exactly what you need to become a leader is presented in the form of a dialogue with a young business executive, who is soon to become a strategic leader.
Each fundamental aspect of leadership is exposed and explained in a concise, lucid way.
Not Bosses But Leaders
will enable you to greatly improve your leadership skills. It is a book that doesn't depend on historical models but springs from the day-to-day realities of management. It is the study of what a leader actually has to do.

Reviews
John Adair is without doubt one of the foremost thinkers on leadership in the world.
—Sir John Harvey-Jones, The Original Troubleshooter and Former Chairman of ICI

About the Author
John Adair
, the world's first Professor of Leadership Studies, is an acknowledged authority on leadership development. The author of many books and articles on leadership, he is one of the very few figures in recent years to have energized the debate as to what effective leadership is all about. He continues to write, teach and consult throughout the world, inspiring new audiences with his timeless vision of leadership.

Table of Contents
| | | |
| --- | --- | --- |
| | Part 1 | |
| | Qualities of Leadership | |
| | Situational Leadership | |
| | Functional Leadership | |
| | Motivation | |
| | Keypoints | |
| | Part 2 | |
| | The Circles Interact | |
| | Leadership Functions | |
| | Sharing Decisions | |
| | Styles of Leadership | |
| | Keypoints | |
| | Part 3 | |
| | Leaders or Managers? | |
| | Leadership and Change | |
| | Hallmarks of Leadership | |
| | Managing and Management | |
| | The Manager as Leader | |
| | The Roots of Management | |
| | Both Leaders and Managers | |
| | Keypoints | |
| | Part 4 | |
| | High-performance Teams | |
| | Wearing Three Hats | |
| | Levels of Leadership | |
| | Keypoints | |
| | Part 5 | |
| | The Purpose of Industry | |
| | Strategic Leadership | |
| | Involving Others in Strategy | |
| | Keypoints | |
| | Part 6 | |
| | Moving from Plans to Action | |
| | Agreeing Objectives | |
| | Relating the Parts to the Whole | |
| | Respecting the Line | |
| | Line-and-Staff | |
| | Two-way Communication | |
| | The Roots of Morale | |
| | Keypoints | |
| | Part 7 | |
| | Sharing and Caring | |
| | The Case of the Injured Worker | |
| | The Role of Trade Union Leadership | |
| | Coping with Redundancy | |
| | Growing Organizations | |
| | True Authority | |
| | Keypoints | |
| | Part 8 | |
| | Leadership and Power | |
| | Humility | |
| | Gaining Respect | |
| | Giving Respect | |
| | Leadership and Hierarchy | |
| | Keypoints | |
| | Part 9 | |
| | Leadership from Within | |
| | The Leader as Conductor | |
| | Keypoints | |
| | Conclusion | |
| | Notes and References | |

Find Items On Similar Subjects

The Best of John Adair on Management and Leadership

How to Grow Leaders

The Inspirational Leaders
: How to Motivate, Encourage & Achieve Success