Lightning in a Bottle
: Proven Lessons for Leading Change
David H. Baum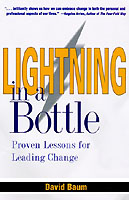 Format:
Paperback, 213pp.
ISBN:
9780793135950
Publisher:
Dearborn Trade
Pub. Date:
June 2000
Average Customer Review:

For Bulk Orders Call: 626-441-2024

Description and Reviews
From
The Publisher:
Full of energy and insight, David Baum sparks ideas for executives and managers to embrace change. Baum has transformed his own talents from clown and fire-eater with three circus companies to lecturer at Whartons Executive Development Program and the California Institute of Technology. (Some may readily see the similarities of working in those capacities.) Baum imparts his enlightened thoughts on leading change in over 60 vignettes with titles like, Fish in Muddy Waters, Dont Eat Your Seed Corn, and Keep to the Short List. These essays impart memorable yet practical ideas to transform an organization.
Sometimes profound, sometimes hilarious, but always inspiring, change consultant David Baum offers leaders more than 60 lessons in coping with organizational change. Culled from Baums personal and professional experiences, these bite-sized anecdotes, reflections, and case studies impart memorable and practical nuggets of wisdom that leaders at all levels can implement.

Reviews
"...brilliantly shows us how we can embrace change in both the personal and professional aspects of our lives."
—Angeles Arrien, Author of The Four-Fold Way
"An easy read and great reference. Lightning in a Bottle is full of good laughs and practical advice."

—Paul R. Sullivan, Director, Technology Applications and Research Shell International Exploration and Production
"This is a book of many jewels. David Baum has captured the best practices in business and entrepreneurial activities and translated them into bite-sized nuggets that are useful, illuminating, and often profound."

—Rick Little President and Founder, International Youth Foundation Former President of Americas Promise
"Entertaining, delightful, quite easily read, yet deeply profound. The reader will laugh, ponder and think then read on, more and more impressed with the importance of the subject and methodology for dealing with change suggested by this gifted author."

—John P. Flaherty, Chief Justice of Pennsylvania

About the Author
David Baum, Ph.D.
, is president of D.H. Baum & Associates, a consulting firm specializing in complex system change. Major clients include a roster of the Who's Who of the Fortune 500, such as IBM, Eastman Kodak, Shell Oil, AT&T, and Merck & Company. He also devotes one month per year to pro bono projects, including conflict resolution in Belfast; tribal revitalization in Native American communities; and serving as lead consultant for President Clintons Summit for Americas Future, chaired by Colin Powell.
Baum received his master's and doctorate degrees in organizational behavior from Temple University. A sought-aftre speaker and lecturer, Baum captivates his audiences with an eclectic background that includes stints as a clown, fire-eater, and storyteller for various circus companies.

Table of Contents
| | | |
| --- | --- | --- |
| | Acknowledgments | |
| | Introduction: Lightning in a Bottle | |
| | Resistance—Visible and Invisible | |
| | The Myth of the Golden Rule | |
| | The Realities We Create | |
| | The ABCs of Perception | |
| | Fight or Flight—Forms of Resistance | |
| | The Fueling Forces Behind Resistance | |
| | The Only Real Interest Is Self-Interest | |
| | The Benefits of Not Changing | |
| | Trust and Control | |
| | The Four Stages of Commitment | |
| | Getting Beyond Denial | |
| | Resistance | |
| | Exploration | |
| | Commitment | |
| | Live in the Leap | |
| | The Only Constant | |
| | Prepare for the Worst, Expect the Best | |
| | Opening up More Time | |
| | Watch the Weather | |
| | Seek Excellence, Not Perfection | |
| | Work Your Problems Systemically | |
| | Input Does Not Equal Ownership | |
| | Seek Common Ground | |
| | Get the Whole System in the Room | |
| | Acknowledge Differences, Then Act | |
| | Tapping Your Hidden Wisdom | |
| | Walk Your Talk | |
| | Movement Happens When We Give Things Up | |
| | Find the Meaning in It All | |
| | What You Change, How You Change | |
| | Practice Bravery | |
| | Beware of Cross-Purposes | |
| | Two Magical Words | |
| | Keep Your Eyes on the Prize | |
| | Great Leaders Are Inclusive, Not Exclusive | |
| | Stay Gossip-Free | |
| | Keep a Neutral Eye | |
| | Creating Clarity Through Inspiration | |
| | Stay Out of the Middle | |
| | Trust Your Instincts | |
| | Fish in Muddy Waters | |
| | Listen for the Dangerous Truth | |
| | Manage the Tension | |
| | Look for Strategic Alliances | |
| | Embrace the Unknown | |
| | Performance Buys Freedom | |
| | Vulnerability Builds Support | |
| | Think Third Stage | |
| | Name the Distractions | |
| | Do the Decent Thing | |
| | The Power of Presence | |
| | The Value of a Good Story | |
| | Do Your Research | |
| | Emotions Don't Know Logic | |
| | The Importance of Middle Management | |
| | Test Your Assumptions | |
| | Two Kinds of Motivation | |
| | Four Ingredients of Change | |
| | Don't Eat Your Seed Corn | |
| | Re-Member Your Dream | |
| | Two Keys | |
| | Keep to the Short List | |
| | The Planning Cycle | |
| | The F-Troop Factor | |
| | Can People Really Change? | |
| | The Best Words on Leadership I've Ever Read | |
| | The Greatest Gift of Change | |
| | About the Author | |

Find Items On Similar Subjects

Force for Change
: How Leadership Differs From Management