W.A.Y.M.I.S.H.:
W
hy
A
re
Y
ou
M
aking
I
t
S
o
H
ard
...for me to give you my money?
Ray Considine & Ted Cohn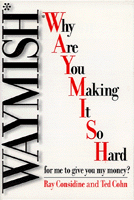 Format:
Paperback, 189pp.
ISBN:
9780967324500
Publisher:
Waymish Publishing Company
Pub. Date:
May 1998
Featured in the February 2001
Bottom Line Business

Average Customer Review:

For Bulk Orders Call: 626-441-2024

Description and Reviews
From
The Publisher:
Even one small, stupid, unthinking mistake when dealing with a customer can trigger this business-killing phrase:
" I'm never coming back here again!" ...and you've lost a customer for life! This book tells you how to:.
DETECT this Waymish bug and snuff it out
STOP the outflow of silent and unhappy customers
SHUT OFF this drain on future profits
STAMP OUT insensitive stupid mistakes that drive good customers away!
And MOST IMPORTANTLY...
Learn How to Create Customers for Life!
This is not a collection of stories about stupid customer service mistakes. And it's not "yet another treatise" on Customer Service excellence. It is an educational and
training
book reported in storytelling style. All the stories are true.
Use these stories in brief staff and employees meetings. Have your people solve the problems. Have them volunteer answers and suggest better ways customers should have been served. Quick regular sessions like this will make your people aware of how pervasive the "WAYMISH bug" is . . . and how it bites even the biggest and best corporations. Most importantly, it will teach your people how valuable Lifetime Customers can be to your business . . . and the terrible cost of losing any customer.




Reviews

WAYMISH is terrific. You've hit the nail on the head with this one! Not only is the concept brilliant (and obvious) but ties in with most people's personal experience. Employees hate to be wrong. I can visualize hundreds of sales trainers handing out thousands of copies of WAYMISH to front line employees.

—Al Ries, Chairman, Ries & Ries, Atlanta, GA

About the Author
Ray Considine
was an in-your-face, always on, energized Irishman who could provide a steady stream of valuable – and useable – ideas for your business, your staff or your sales force. He didn't come with some prepackaged "this year's speech." He was flexible, up-to-the-minute. Hugely curious. Asked lots of questions – and listened. Then he delivered. He thought fast, talked fast, knew more about sales, marketing, and promotion and how to keep customers, than anybody you were likely to meet in a lifetime. An exceptional story teller, he made people laugh, learn and remember the lessons. Ray Considine was a Harvard graduate who wore a lot of hats: speaker, teacher, motivator, salesman, storyteller, author, and friend.

Table of Contents
| | |
| --- | --- |
| Down The Drain | 19 |
| Let Me Hear Those Complaints | 27 |
| Syndicating The Answer | 35 |
| Communication | 139 |
| Becoming a Results-Based Leader | 42 |
| Howz Bizniz? | 51 |
| Customers For Life | 61 |
| Good Stuff | 75 |
| Go Ahead—Argue With Customers | 99 |
| Stymied By The System | 110 |
| Making It Easy To Do Business With Me | 118 |
| Empowered To Do What | 124 |
| Negotiation | 138 |
| It's Our Policy | 151 |
| And There Are Ways To Do It Right | 162 |
| Take My Money Please | 168 |
| What's Special About You? | 171 |
| Our Conclusion | 179 |
| Afterword | 181 |
| As a Result | 182 |
| Present Tense | 182 |
| A Bow and Thanks To | 183 |
| About the Authors | 186 |
| Sample Questionnaire | 189 |

Find Items On Similar Subjects

The Invisible Touch
: The Four Keys to Modern Marketing

Selling the Invisible
: A Field Guide to Modern Marketing

Dig Your Well Before Your Thirsty

The Great Brain Robbery
: A Collection of Proven Ideas to Make You Money and Change Your Life