Management of the Absurd
: Paradoxes in Leadership
Richard Farson Foreword by Michael Crichton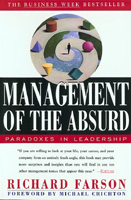 Format:
Paperback, 172pp.
ISBN:
9780684830445
Publisher:
Touchstone Books
Pub. Date:
March 1997 Reprint edition
Average Customer Review:

For Bulk Orders Call: 626-441-2024

Description and Reviews
From
The Publisher:
An original, contrarian philosophy that challenges today's leaders to look past the quick fix and deal thoughtfully with the real complexities of managing people.
In organizations, as in life, human behavior is often irrational -- and problems do not easily lend themselves to the simplistic answers and gimmickry offered in the myriad business "self-help" books and management training programs available today. In Management of the Absurd, Richard Farson zeros in on the paradoxes of communication, the politics of management, and the dilemmas of change, exploring relationships within organizations and offering a unique perspective on the challenges managers face.
Facile formulas, catchy slogans, ten-step programs, and quick fixes too often dominate today's management training programs. But in organizations as in all of life, human behavior is seldom predictable, and business dilemmas do not easily lend themselves to gimmicks or simplistic answers. In Management of the Absurd, psychologist, educator, and former CEO Richard Farson presents a series of management paradoxes designed to challenge conventional wisdom and encourage managers to reexamine their assumptions about effective leadership.
Here, at last, is a dramatically new understanding of organizations and human relations. In his explorations of more than 30 paradoxical situations, Farson demonstrates the value of a radically different perspective on leadership and offers managers powerful new ways to cope with the many perplexing problems of organizational life. Managers at every level will recognize the very real dilemmas and complexities that Farson describes, and will be challenged by these provocative new views of the art of managing people.
Here are some of Farson's startling insights:
The better things are, the worse they feel.
Once you find a management technique that works, give it up.
Big changes are easier to make than small ones.
The more we communicate, the less we communicate.
Nothing is as invisible as the obvious.
Effective managers are not in control.
Organizations that need help most will benefit least from that help.
Many readers will share Michael Crichton's response to this book, as he observes in the foreword, "He irritated me. He provoked me. He made me nod, he made me smile, and he made me shake my head....[He] reports more than experience; he gives us wisdom." Guided by Management of the Absurd, managers of the 21st century will be able to accept the inherent complexity of management situations and work through these dilemmas, not with manipulative and simplistic techniques but with understanding, compassion, and effectiveness.

Reviews
Management of the Absurd is a delightfully irreverent book that addresses the real truths of management at an interpersonal level. After reading it, I felt as if I had just emerged from a cold shower -- a bit shocked, refreshed, and feeling a bit better about myself.
—David T. Mclaughlin Chairman, The Aspen Institute Former President, Dartmouth College
This may be the best book on leadership I've ever read.
—Tom Peters


Reader's Index
Send us your favorite quotes or passages from this book
.
• "I believe many programs in management training today are moving us in the wrong direction because they fail to appreciate the complexity and paradoxical nature of human organizations. Thinking loses out to how-to-do-it formulas and techniques, if not to slogans and homilies, as the principle management guides." Pg. 12

About the Author
Richard Farson
is a psychologist, former CEO, and educator. He was the cofounder and president of the Western Behavioral Sciences Institute, the founding dean of the school of environmental design at the California Institute of the Arts, president of Esalen Institute, and is currently president of the International Design Conference in Aspen. He has collaborated with lifelong associate and famed psychologist Carl Rogers on several research projects including the Academy Award-winning documentary film Journey into Self. He received his Ph.D. in psychology at the University of Chicago, and was a Ford Foundation Fellow at Harvard Business School. He lives in La Jolla, California.

Table of Contents
Foreword by Michael Crichton
Introduction: Embracing Paradox and Absurdity
PART ONE
A Different Way of thinking
1. The Opposite of a Profound Truth Is Also True
2. Nothing Is as Invisible as the Obvious
PART TWO
The "Technology" of Human Relation
3. The More Important a Relationship, the Less Skill Matters
4. Once You Find a Management Technique That Works, Give It Up
5. Effective Managers Are Not in Control
6. Most Problems That People Have Are Not Problems
7. Technology Creates the Opposite of Its Intended Purpose
8. We Think We Invent Technology, but Technology Also Invents Us
PART THREE
The Paradoxes of Communication
9. The More We Communicate, the Less We Communicate
10. In Communication, Form Is More Important Than Content
11. Listening Is More Difficult Than Talking
12. Praising People Does Not Motivate Them
PART FOUR
The Politics of Management
13. Every Act Is a Political Act
14. The Best Resource for the Solution of Any Problem Is the Person or Group That Presents the Problem
PART FIVE
Organizational Predicaments
15. Organizations That Need Help Most Will Benefit from It Least
16. Individuals Are Almost Indestructible, but Organizations Are Very Fragile
17. The Better Things Are, the Worse They Feel
PART SIX
Dilemmas of Change
18. We Think We Want Creativity or Change, but We Really Don't
19. We Want for Ourselves Not What We Are Missing, but More of What We Already Have
20. Big Changes Are Easier to Make Than Small Ones
21. We Learn Not from Our Failures but from Our Successes -- and the Failures of Others
22. Everything We Try Works, and Nothing Works
23. Planning Is an Ineffective Way to Bring About Change
24. Organizations Change Most by Surviving Calamities
25. People We Think Need Changing Are Pretty Good the Way They Are
PART SEVEN
The Aesthetics of Leadership
26. Every Great Strength Is a Great Weakness
27. Morale Is Unrelated to Productivity
28. There Are No Leaders, There Is Only Leadership
29. The More Experienced the Managers, the More They Trust Simple Intuition
30. Leaders Cannot Be Trained, but They Can Be Educated
31. In Management, to Be a Professional One Must Be an Amateur
PART EIGHT Avoiding the Future
32. Lost Causes Are the Only Ones Worth Fighting For
33. My Advice Is Don't Take My Advice
Acknowledgments




Find Items On Similar Subjects



The Innovation Paradox: The Success of Failure, the Failure of Success