The Innovation Paradox
: The Success of Failure, the Failure of Success
Previously
Whoever Makes the Most Mistakes Wins: The Paradox of Innovation
Richard Farson and Ralph Keyes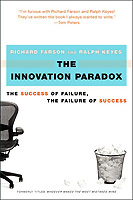 Format:
Paperback, 144pp.
ISBN:
9780743225939
Publisher:
Free Press
Pub. Date:
Reprint edition July 2, 2003
Average Customer Review:

For Bulk Orders Call: 626-441-2024

Description and Reviews
From
The Publisher:
Success in today's business economy demands nonstop innovation. But fancy buzzwords, facile lip service, and simplistic formulas are not the answer. Only an entirely new mindset -- a new attitude toward success and failure -- can transform managers' thinking, according to Richard Farson, author of the bestseller Management of the Absurd, and Ralph Keyes, author of the pathbreaking Chancing It: Why We Take Risks, in this provocative new work.
According to Farson and Keyes, the key to this new attitude lies in taking risks. In a rapidly changing economy, managers will confront at least as much failure as success. Does that mean they'll have failed? Only by their grandfathers' definition of failure. Both success and failure are steps toward achievement, say the authors. After all, Coca-Cola's renaissance grew directly out of its New Coke debacle, and severe financial distress forced IBM to completely reinvent itself.
Wise leaders accept their setbacks as necessary footsteps on the path toward success. They also know that the best way to fall behind in a shifting economy is to rely on what's worked in the past -- as when once-innovative companies like Xerox and Polaroid relied too heavily on formulas that had grown obsolete. By contrast, companies such as GE and 3M have remained vibrant by encouraging innovators, even when they suffered setbacks. In their stunning new book, Farson and Keyes call this enlightened approach "productive mistake-making." Rather than reward success and penalize failure, they propose that managers focus on what can be learned from both. Paradoxically, the authors argue, the less we chase success and flee from failure, the more likely we are to genuinely succeed.
Best of all, they have written a little jewel of a book, packed with fresh insights, blessedly brief, and to the point.

Reviews
"Farson and Keyes got it right. A timely and compelling book."
—Warren Bennis
From the "learn from your mistakes" school of thought comes Whoever Makes the Most Mistakes Wins: The Paradox of Innovation. Today's business world calls for taking risks and accepting setbacks, say authors Richard Farson (Management of the Absurd) and Ralph Keyes (Chancing It). In this tiny volume, they cite examples from Rudy Giuliani's performance amid the chaos of September 11 to inventor Charles Kettering's perseverance in the face of adversity. Recognizing obstacles is essential to victory, Farson and Keyes contend, and despite their book's brevity, they demonstrate concrete ways to do so.
—Publisher's Weekly, Copyright 2002 Cahners Business Information, Inc.

About the Authors
Richard Farson
has led several organizations noted for innovative programs. Farson helped found the Western Behavioral Sciences Institute in 1958 and remains its president. In this capacity he directs its International Leadership Forum, an Internet-based think tank that brings influential leaders together to consider critical policy issues. A University of Chicago Ph.D. in psychology, Farson has been a naval officer, college dean, research director, organizational consultant, and a Fellow of the Harvard Business School's Human Relations Faculty. He is the author of several books, including the critically acclaimed bestseller Management of the Absurd, now published in eleven languages. Farson lives in La Jolla, California.
Ralph Keyes
is as eclectic as he is innovative. His books include Chancing It (a New York Times Notable Book), The Courage to Write ("one of the two or three best books on writing I've ever read," said John Jakes), and Is There Life After High School? which was made into a Broadway musical that is produced regularly around the country. A former assistant to the publisher of Newsday, Keyes is a Fellow of the Western Behavioral Sciences Institute. He lives in Yellow Springs, Ohio.

Table of Contents
Acknowledgments
Introduction
1 The Success-Failure Fallacy
Tangled Line
Says Who?
Why Success Resembles
Failure, and Vice Versa
Failure Pride

2 The Agony of Victory, the Thrill of Defeat
Like Making Love
Peak Experiences
Craving Excitement
Crisis Lovers
Sweet Adversity
Management by Calamity

3 Nothing Succeeds Like Failure
Bards of Failure
Splendid Failure
Productive Mistake Making
Success Disguised as Failure

4 Nothing Fails Like Success
Marooned by Success
Everybody Hates a Winner
The Personal Price of Success
Feeling Like a Fraud
Looking Back on a Great Future

5 The Success Hobble
The Ashes of Success
Roads Best Not Taken
Don't Just Survive

6 Innovating with Attitude
The Risk-Friendly Workplace
Sprinters and Milers
Wild Ducks
Minnesota Mining and Mistake Making

7 Managing in the Postfailure Era
Treating Success and Failure Alike
Earning Empathy
Sharing
Barnraising

8 Fear Management
The Underlying Fear
Making Friends with Fear
Putting Fear to Work

9 Samurai Success
Winning Isn't Anything
Zen Warriors
Jackson's Way
No Regrets
How Do You Measure Success?
Beyond Success and Failure




Find Items On Similar Subjects


Management of the Absurd: Paradoxes in Leadership


The End of Change: How Your Company Can Sustain Growth and Innovation While Avoiding Change Fatigue


Positive Turbulence: Developing Climates for Creativity, Innovation, and Renewal