In Their Time
: The Greatest Business Leaders of the Twentieth Century
Anthony J. Mayo and Nitin Nohria
with a foreword by Warren Bennis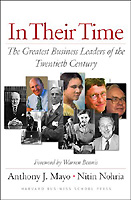 Format:
Hardcover, 512pp.
ISBN:
9781591393450
Publisher:
Harvard Business School Press
Pub. Date:
September 1, 2005
Average Customer Review:

For Bulk Orders Call: 626-441-2024

Description and Reviews
From
The Publisher:
Stories of the Greatest Leaders of the Twentieth Century
Great business leaders possess more than celebrated traits like charisma and an appetite for risk. They have "contextual intelligence"-a profound ability to understand the zeitgeist of their times and harness it to create successful organizations.
Based on a comprehensive Harvard Business School Leadership Initiative study, Anthony J. Mayo and Nitin Nohria present a fascinating collection of stories of the twentieth century's greatest leaders, from unsung heroes to legends like Sam Walton and Bill Gates. The book identifies three distinct paths these individuals followed to greatness: entrepreneurial innovation, savvy management, and transformational leadership. Through engaging stories of leaders in each category, the authors show how, by "reading" the context they operated in and embracing the opportunities their times presented, these individuals created, grew, or revitalized outstanding American enterprises.
A canon of leadership success from the last century,
In Their Time
reveals insights for contemporary leaders hoping to build lasting legacies.


Reviews
"Both Analytical and highly readable,
In Their Time
is a masterly treatment that sees immigrants and workers, as well as managers and entrepreneurs, as part of the industrial and financial leadership that built America."
óJames MacGregor Burns, author of Leadership and Professor Emeritus of Political Science, Williams College
"History has more to teach modern busienss leaders than they might imagine. Don't be daunted by the book's heft. Once you pick it up, it will be well worth the read."
óJames Champy, coauthor of the bestseller Reengineering the Corporation, and Vice Chairman, Perot Systems

About the Author
Anothony J. Mayo
is the Executive Director of the Harvard Business School Leadership Initiative program.
Nitin Nohria
is Richard P. Chapman Professor of Business Administration at Harvard Business School and the author of several books on management and leadership.

Table of Contents
Foreword
ix
Acknowledgements
xi
Introduction
xv
1
1900-1909
Land of Business Opportunity
1
2
1910-1919
Breaking Frontiers
35
3
1920-1929
From Prosperity to Despair
67
4
1930-1939
Survival Through Adaptation and Renewal
103
5
1940-1949
Reaching New Heights Through Standardization
139
6
1950-1959
Feeding the Machine of Consumption
175
7
1960-1969
Business in a Bubble
211
8
1970-1979
Managing Through the Malaise
245
9
1980-1989
Restoring Glory in American Business
283
10
1990-1999
Reengineering, Restructuring, and Reality Check
315
Epilogue
351
Appendix
365
Notes
373
Index
421
About the Authors
443

Find Items On Similar Subjects

Paths to Power
: How Insiders and Outsiders Shaped American Business Leadership

Lessons from the Top
: The Search for America's Best Business Leaders