The Tipping Point
: How Little Things Can Make a Big Difference
Malcolm Gladwell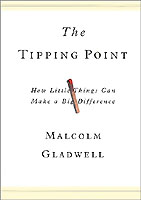 Format:
Hardcover, 288pp.
ISBN:
9780316316965
Publisher:
Little, Brown & Company
Pub. Date:
March 2000
Paperback Edition
Average Customer Review:

For Bulk Orders Call: 626-441-2024

Description and Reviews
From
The Publisher:
New Yorker writer Malcolm Gladwell looks at why major changes in our society so often happen suddenly and unexpectedly. Ideas, behavior, messages, and products, he argues, often spread like outbreaks of infectious disease. Just as a single sick person can start an epidemic of the flu, so too can a few fare-beaters and graffiti artists fuel a subway crime wave, or a satisfied customer fill the empty tables of a new restaurant. These are social epidemics, and the moment when they take off, when they reach their critical mass, is the Tipping Point. Gladwell introduces us to the particular personality types who are natural pollinators of new ideas and trends, the people who create the phenomenon of word of mouth. He analyzes fashion trends, smoking, children's television, direct mail, and the early days of the American Revolution for clues about making ideas infectious, and visits a religious commune, a successful high-tech company, and one of the world's greatest salesmen to show how to start and sustain social epidemics.

Reviews
Malcolm Gladwell proposes a fascinating and possibly useful theory in
The Tipping Point
...what makes his book so appealing is the way he approaches his subject...he follows his precept of his subtitle and explores the little things that make a big difference...
—New York Times
...a fascinating book that makes you see the world in a different way.
— Fortune Magazine
Gladwell has a knack for rendering complex theories in clear, elegant prose, and he makes a charismatic tour guide.
— Hawthorne, The San Francisco Chronicle Book Review
The Tipping Point
, by Malcolm Gladwell, is a lively, timely and engaging study of fads... Gladwell, who made his career in journalism as a science writer, has a knack for explaining psychological experiments clearly;
The Tipping Point
is worth reading just for what it tells us about how we try to make sense out of the world.
— Alan Wolfe - The New York Times Book Review
From
Library Journal
This genial book by New Yorker contributor Gladwell considers the elements needed to make a particular idea take hold. The "tipping point" (not a new phrase) occurs when something that began small (e.g., a few funky kids in New York's East Village wearing Hush Puppies) turns into something very large indeed (millions of Hush Puppies are sold). It depends on three rules: the Law of the Few, the Stickiness Factor, and the Power of Context. Episodes subjected to this paradigm here include Paul Revere's ride, the creation of the children's TV program Sesame Street, and the influence of subway shooter Bernie Goetz. The book has something of a pieced-together feel (reflecting, perhaps, the author's experience writing shorter pieces) and is definitely not the stuff of deep sociological thought. It is, however, an entertaining read that promises to be well publicized. Recommended for public libraries.—Ellen Gilbert, Rutgers Univ. Lib., New Brunswick, NJ Copyright 2000 Cahners Business Information.

Table of Contents
| | | |
| --- | --- | --- |
| | Introduction | 3 |
| | | |
| 1 | The Three Rules of Epidemics | 15 |
| 2 | The Law of the Few: Connectors, Mavens, and Salesmen | 30 |
| 3 | The Stickiness Factor: Sesame Street, Blue's Clues, and the Educational Virus | 89 |
| 4 | The Power of Context (Part One): Bernie Goetz and the Rise and Fall of New York City Crime | 133 |
| 5 | The Power of Context (Part Two): The Magic Number One Hundred and Fifty | 169 |
| 6 | Case Study: Rumors, Sneakers, and the Power of Translation | 193 |
| 7 | Case Study: Suicide, Smoking, and the Search for the Unsticky Cigarette | 216 |
| 8 | Conclusion: Focus, Test, and Believe | 253 |
| | | |
| | Endnotes | 260 |
| | Acknowledgments | 271 |
| | Index | 273 |

Find Items On Similar Subjects

The Tipping Point
- Paperback

Blink
: The Power of Thinking Without Thinking

The Arc of Ambition
: Defining the Leadership Journey

Unleashing the Ideavirus

Permission Marketing