The Arc of Ambition
: Defining the Leadership Journey
James Champy & Nitin Nohria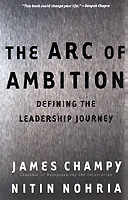 Format:
Paperback, 272pp.
ISBN:
9780738204277
Publisher:
Perseus Books
Pub. Date:
February 2000
Average Customer Review:

For Bulk Orders Call: 626-441-2024

Description and Reviews
From
The Publisher:
From international best-selling author Jim Champy and a rising star at Harvard Business School, Nitin Nohria, comes a provocative and inspirational approach to the art of management.
In business—or in any endeavor—ambition is the spirit of onward and upward, of striving for something worth achieving. It is the driving force behind all great experiments and risk-takings, triumphs and failures. For authors Jim Champy and Nitin Nohria, it is also the instinctive quality that makes the difference between mere management and leadership. Drawing from original interviews with contemporary figures from many walks of life—including business, politics, science, and the arts—Champy and Nohria take readers on a journey of discovery, pinpointing the defining moments, or turning points, in the evolution of leaders, as they wrestle with critical decisions and ethical dilemmas. In the process, they reveal some underlying truths about leadership, such as the ability to hold onto a dream and make it come true, know when it's time to change the business or see it die, and recognize when it's time to hand over the reins. Representing fundamentally new thinking from two of today's greatest business minds,
The Arc of Ambition
is certain to challenge and enlighten aspiring leaders everywhere.

Reviews
Jim Champy and Nitin Nohria are two of the most creative business thinkers I have encountered. They always bring fresh and new ideas to tough business issues.
—Gary C. Wendt, Former Chairman, President, and CEO, GE Capital Corporation

About the Authors
James Champy
is chairman of Cambridge-based Perot Systems Consulting Practice and a pioneer of the reeingineering movement. Co-author of the best-selling
Reengineering the Corporation
and author of
Reengineering Management
, he lives in Boston.
Nitin Nohria
is Richard P. Chapman professor of business administration at Harvard Business School. The author of over seventy-five articles and several books, including the award-winning
The Differentiated Network
, he lives in Lexington, Massachusetts.

Table of Contents
Acknowledgments
xi
1
Without ambition, no conquests are made, no lands discovered, no businesses created.
Ambition is the root of all achievement.
1
2
Talent hits a target no one else can hit; genius hits a target no one else can see.
See what others don't.
23
3
It takes a strong character and a lot of willpower to hold onto a dream under adverse circumstances.
Follow a steadfast path.
51
4
Opportunity knocks with all the temerity of a brown trout hiding in an overfished stream.
Seize the moment.
71
5
History is a long list of warnings about the folly of overreaching.
Temper ambition.
97
6
Greatness must be driven by a purpose beyond money.
Inspire with a greater purpose.
115
7
Compromise is bad for ambition.
Never violate values.
141
8
Power comes from other people.
Keep control by giving it up.
163
9
Reinvention is the key to longevity.
Change or die.
183
10
The dead can't lead the living.
Leave gracefully.
207
Epilogue
235
Sources and Recommended Reading
241
Index
257

Find Items On Similar Subjects

The Tipping Point
: How Little Things Can Make a Big Difference