Vital Friends
: The People You Can't Afford to Live Without
Tom Rath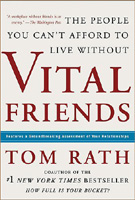 Format:
Hardcover, 240pp.
ISBN:
9781595620071
Publisher:
Gallup Press
Pub. Date:
August 1, 2006
Average Customer Review:

For Bulk Orders Call: 626-441-2024

Description and Reviews
From
The Publisher:
What's the quickest way to ruin a friendship? Do great friendships have anything in common? Are close friendships in the workplace such a bad thing?
These are just a few of the questions that #1 New York Times bestselling author Tom Rath asked when he embarked on a massive study about the impact of friendships. Along with several leading researchers, Rath pored through the literature, conducted several experiments, and analyzed more than 8 million interviews from The Gallup Organization's worldwide database.
His team's discoveries produced
Vital Friends
, a book that challenges long-held assumptions people have about their relationships. And the team's landmark discovery - that people who have a "best friend at work" are seven times as likely to be engaged in their job - is sure to rattle the structure of organizations around the world.
Drawing on research and case studies from topics as diverse as management, marriage, and architecture,
Vital Friends
reveals what's common to all truly essential friendships: a regular focus on what each person is contributing to the friendship - rather than the all-too-common approach of expecting one person to be everything.
The book includes a unique ID code that provides access to the
Vital Friends
Assessment and website. This groundbreaking test reveals which friends play each of the eight vital friendship roles in your work and life.
Tom Rath's fast-paced and inviting storytelling takes a mountain of important research and makes it remarkably accessible and applicable. By the time you finish reading
Vital Friends
, you'll see your coworkers, family, friends, and significant other in a whole new light.

Reviews
"A workplace without friends is an enemy."
—The Washington Post
"Friendships are good for business. Companies are coming to discover that, yet are at a loss at what to do about it. . . . what Gallup has uncovered about best friends stands out as novel."
—USA Today
"Let friendship ring. It might look like idle chatter, but when employees find friends at work, they feel connected to their jobs. Having a best friend at work is a strong predictor for being a happy and productive employee."
—TIME magazine

About the Author
Tom Rath
is coauthor of the #1 New York Times and #1 BusinessWeek bestseller,
How Full Is Your Bucket?
With more than 500,000 copies in print within its first year of publication, his book has spent 15 months on the domestic bestseller list. Now available in more than 10 languages, Rath's book has also been an international bestseller.
After 12 years with The Gallup Organization, Rath now leads Gallup's Workplace Research and Leadership Consulting worldwide. He also serves on the board of VHL.org, an organization dedicated to cancer research and patient support. Rath earned his bachelor's degree in psychology from the University of Michigan. He is currently pursuing graduate degrees at Johns Hopkins University and the University of Pennsylvania. He lives in Washington, D.C.

Find Items On Similar Subjects

How Full Is Your Bucket?
Positive Strategies for Work and Life

Little Black Book of Connections
: 6.5 Assets for Networking Your Way to Rich Relationships