Workforce Crisis
: How to Beat the Coming Shortage of Skills And Talent
Ken Dychtwald, Tamara J. Erickson and Robert Morison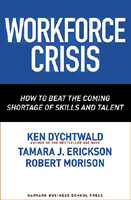 Format:
Hardcover, 269pp.
ISBN:
9781591395218
Publisher:
Harvard Business School Press
Pub. Date:
April 4, 2006
Average Customer Review:

For Bulk Orders Call: 626-441-2024

Description and Reviews
From
The Publisher:
What Companies Must Do Now to Survive the Impending Talent Crisis
Unprecedented shifts in the age distribution and diversity of the global labor pool are underway. Within the decade, as the massive boomer generation begins to retire and fewer skilled workers are available to replace them, companies in industrialized markets will face a labor shortage and brain drain of dramatic proportions.
Ken Dychtwald, Tamara Erickson, and Robert Morison argue that companies ignore these shifts at great peril. Survival will depend on redefining retirement and transforming management and human resource practices to attract, accommodate, and retain workers of all ages and backgrounds. Based on decades of groundbreaking research and study, the authors present innovative and actionable management techniques for leveraging the knowledge of mature workers, reengaging disillusioned midcareer workers, and attracting and retaining talented younger workers.
This timely book will help organizations sustain their competitive edge in tomorrow's inevitably tighter labor markets.

About the Authors
Ken Dychtwald
is a psychologist, gerontologist, author of ten books, and foremost authority on aging related issues. He is the President and CEO of Age Wave, a San Francisco-based firm guiding leading companies and organizations worldwide in product and service development geared to aging boomer and mature population segments.
Bob Morison
and
Tammy Erickson
both work for The Concours Group. Erickson is an executive officer and member of the Board of Directors and is based in Boston. Morison is an Executive Vice President and Director of Research and is based in Miami.
The Concours Group works with senior executives of over 300 of the Global 1000 to master critical issues in management and to turn human capital and technological potential into business value. Their integrated processes of research, consulting, and education ensure that clients are equipped with future—not past—best practices in business, technology, and human resources management.

Table of Contents
| | | |
| --- | --- | --- |
| Pt. I | The management challenges of changing workforce demographics | |
| 1 | The coming shortage of skills and labor | 3 |
| 2 | The diverse and demanding new workforce | 19 |
| Pt. II | The three worker cohorts and how to engage them | |
| 3 | The needs and capabilities of mature workers | 35 |
| 4 | The end of retirement | 47 |
| 5 | The needs and frustrations of midcareer workers | 65 |
| 6 | The relaunch of careers | 75 |
| 7 | The needs and attitudes of young workers | 97 |
| 8 | The retention of talent | 109 |
| Pt. III | The new employment deal and how to shape it | |
| 9 | Flexible work arrangements | 135 |
| 10 | Flexible learning opportunities | 159 |
| 11 | Flexible compensation and benefits | 179 |
| Pt. IV | Management practices for the new workforce | |
| 12 | Meaningful work and engaged workers | 207 |
| 13 | The manager's agenda for change | 229 |

Find Items On Similar Subjects

When Generations Collide
: Who They Are. Why They Clash. How to Solve the Generational Puzzle at Work