A Bias for Action
: How Effective Managers Harness Their Willpower, Achieve Results, and Stop Wasting Time
Heike Bruch and Sumantra Ghosha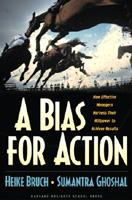 Format:
Hardcover, 208pp.
ISBN:
9781591394082
Publisher:
Harvard Business School Press
Pub. Date:
May 2004
Average Customer Review:


For Bulk Orders Call: 626-441-2024

Description and Reviews
From
The Publisher:
The Surprising Truth About Effective Managers
Why do most managers work so hard but accomplish so little? We have blamed everything from a lack of motivation, time, and money to the overwhelming amount of work and corporate bureaucracy that managers face. But a new study suggests a different cause: how much willpower managers bring to their jobs.
In
A Bias for Action
, Sumantra Ghoshal and Heike Bruch show that managers often confuse action with accomplishment, and motivation with leading. Their research has revealed that 90% of managers spin their wheels by procrastinating, detaching emotionally, and distracting themselves with busywork-while only 10% act purposefully to get truly important work done.
Based on exclusive research across several industries, and illustrated through stirring personal stories, A Bias for Action shows that great managers produce results not by motivating others, but by engaging their own willpower through a powerful combination of energy and focus. Bruch and Ghoshal provide simple strategies for bolstering your own willpower and action-taking abilities, and explore ways to marshal the willpower of others to encourage collective action.
Upending conventional thinking about the requirements for effective leadership, this book will help CEOs and frontline managers alike to stop simply doing things-and start getting things done.

Reviews
"By its very nature, a managerís job leaves little room for reflection," Bruch and Ghoshal contend, "and as a result managers tend to ignore or postpone dealing with the organizationís most crucial issues." How can managers overcome this problem and learn to take "purposeful action" rather than drowning in the day-to-day deluge of email, phone calls and meetings? Thatís the question the authors answer in this practical and motivating, if somewhat academic, self-help business book. Focusing on the productive minority, Bruch, a professor of leadership at the University of St. Gallen (Switzerland), and Ghoshal, a professor of strategic and international management at London Business School, conducted a 10-year study to learn how effective managers overcome the "traps" of overwhelming demands, unbearable constraints and unexplored choices. Their findings were numerous, but above all, they highlight the importance of willpower: productive managers want to produce, and they make an internal, emotional investment toward getting the job done. Along with a plethora of case studies and charts, the authors provide a six-step program for helping managers imbed such will and commitment within themselves. Just as importantly, they provide guidance on how organizations can rearrange themselves to accommodate and foster such willful leaders, since "to exercise their willpower, managers must first have sufficient freedom to act." An excellent choice for managers struggling with days of "mindless busyness," this book teaches its readers how to identify their goals and reach them.
óPublisher's Weekly, Copyright © Reed Business Information, a division of Reed Elsevier Inc. All rights reserved.


Reader's Index
Send us your favorite quotes or passages from this book
.
ē "While experimentation and flexibility are important for companies, in our observation the most critical challenge for companies is exactly the opposite: determined, persistent, and relentless action-taking to achieve a purpose, against all odds." Pg. 9

About the Authors
Heike Bruch
is a Professor of Leadership at the University of St. Gallen (Switzerland).
Sumantra Ghoshal
is Professor of Strategic and International Management at London Business School and coauthor of Managing Across Borders.

Table of Contents
| | | |
| --- | --- | --- |
| | Preface | ix |
| | Part One: Harnessing Your Willpower to Achieve Results | |
| 1 | Management Is the Art of Doing and Getting Done | 3 |
| 2 | Distinguishing Purposeful Action from Active Nonaction | 19 |
| 3 | Marshaling Energy and Developing Focus | 33 |
| 4 | Moving Beyond Motivation to Willpower | 53 |
| 5 | Crossing the Rubicon | 69 |
| 6 | Overcoming the Three Traps of Nonaction | 89 |
| | Part Two: Cultivating a Company of Action Takers | |
| 7 | Developing Purposeful Managers: The Organization's Responsibility | 115 |
| 8 | Unleashing Organizational Energy for Collective Action | 139 |
| 9 | Freeing Your People to Act: A Mandate for Leaders | 165 |
| | Appendix: How We Studied Willpower | 179 |
| | Notes | 183 |
| | Index | 203 |
| | About the Authors | 211 |

Find Items On Similar Subjects

Getting Things Done
: The Art of Stress-Free Productivity