Paths to Power
: How Insiders and Outsiders Shaped American Business Leadership
Anthony J. Mayo, Nitin Nohria and Laura G. Singleton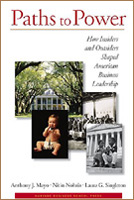 Format:
Hardcover, 336pp.
ISBN:
9781422101988
Publisher:
Harvard Business School Press
Pub. Date:
December 30, 2006
Average Customer Review:

For Bulk Orders Call: 626-441-2024

Description and Reviews
From
The Publisher:
Are the doors of access open equally for all in business? Are talent and hard work really enough to make it to the top? As much as we would like to believe in the American meritocracy, an elusive class system exists where a small group of "insiders" possesses advantages which facilitate a smooth and relatively easy journey to the top, while a larger group of "outsiders" faces disadvantages that make their path to leadership positions more difficult. Though open access is a myth, authors Anthony J. Mayo, Nitin Nohria, and Laura Singleton find that throughout the history of American business, the composition of "insiders" and "outsiders" has been open to redefinition and even today remains in constant flux. And even though it appears that white men still hold the majority of positions of power just as they did 100 years ago, the gates of access are not as static as they might appear. What mechanisms of access are really at work, and what does this evolving portrait of access mean for the future of leadership?
Paths to Power
is the second book (
In Their Time
was the first) to come from the HBS Leadership Initiative's Great Business Leaders Project, one of the largest academic studies of its kind on leadership and its evolution over the course of the 20th century. This important work sheds new light into the changing demographic composition of American business leadership and reveals why these subtle changes are in fact quite groundbreaking (indeed it "…would be enough to cause a resuscitated J.P. Morgan or Thomas Watson to look at today's corporate landscape and collapse with shock."). Through a combination of statistical analysis of their large leadership database and in-depth biographical sketches of those who did make it to the top during the last century, this book reveals the mechanisms of advancement for both insiders and outsiders and speculates on what this means for the future of leadership selection and development.

About the Author
Anthony J. Mayo
is the executive director of the Harvard Business School Leadership Initiative program. Nitin Nohria is Richard P. Chapman Professor of Business Administration at the Harvard Business School. He is the co-author of several books, as well as over 75 journal articles, book chapters, cases, and working papers. In addition to teaching courses at Harvard, Professor Nohria has also served as a visiting faculty member at the London Business School. Mayo and Nohria are the authors of In Their Time: The Greatest Leaders of the Twentieth Century (HBS Press, 2005).

Find Items On Similar Subjects

In Their Time
: The Greatest Business Leaders of the Twentieth Century