The Anatomy of Peace
: Resolving the Heart of Conflict
Arbinger Institute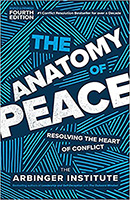 Format:
Hardcover, 240pp.
ISBN:
9781576753347
Publisher:
Berrett-Koehler Publishers
Pub. Date:
July 28, 2006
Average Customer Review:

For Bulk Orders Call: 626-441-2024

Description and Reviews
From
The Publisher:
What if conflicts at home, conflicts at work, and conflicts in the world stem from the same root cause? And what if individually and collectively we systematically misunderstand that cuase, and unwittingly perpetuate the very problems we think we are trying to solve?
Through an intriguing story of parents struggling with their troubled children and with their own personal problems,
The Anatomy of Peace
shows how to get past the preconceived ideas and self-justifying reactions that keep us from seeing the world clearly and dealing with it effectively. Yusuf al-Falah, an Arab, and Avi Rozen, a Jew, each lost his father at the hands of the other's ethnic cousins. As the story unfolds, we discover how they came together, how they help warring parents and children to come together, and how we too can find our way out of the struggles that weigh us down. The choice between peace and war lies within us. As one of the characters says, "A solution to the inner war solves the outer war as well." This book offers more than hope — it shows how we can prevent the conflicts that cause so much pain in our lives and in the world.

Reviews
"A BOOK THAT COULD CHANGE THE FACE OF HUMANITY."
—Marion Blumenthal Lazan, holocaust survivor and bestselling author
"After years of applying these ideas with youth and their parents, I can say that this is powerful medicine for the soul. These ideas change hearts, heal deep wounds, and bring parents and children together."
—Mike Merchant, President and Chief Executive Officer, Anasazi Foundation
"A stunning work of wisdom and insight…. Everyone, from neighbors to the heads of nations, ought to read and live the teachings of this book."
—Kent H. Murdock, President and CEO, O.C. Tanner
"Profound in depth, yet simple in message—an astounding work of immense impact, both personally and professionally. This is the next major lever in terms of how organizations improve performance."
—Nick Jessett, Programme Manager, Rolls Royce
"This is a masterful and important work that shows how we blame others for problems we ourselves have created. It gently leads the reader to take a hard look in the mirror."
—Scott Barton, Sr. VP, Capital One
"To adopt the essence of this book is the true roadmap for peace."
—Eytan Bentsur, Former Director General, Israel Ministry of Foreign Affairs
"The Anatomy of Peace is a brilliantly written, stimulating read, with a rare clarity that awakens reflection and compels action. I recommend it without hesitation to anyone interested in finding solutions to conflicts ranging from the personal to the global."
—Gilead Sher, former Chief of Staff of the Prime Minister of Israel
"In this day of whirlwind confusion and intense disconnection, The Anatomy of Peace is a divine prescription. More than just a book to read or an idea to consider, it is a life raft for the countless many who are suffering in silence and drowning in fear."
—Iyanla Vanzant, Author, Life Coach, Founder, Inner Visions Institute For Spiritual Development
"I couldn't put this book down. It is an enthralling story of peacemaking, showing principles that apply both in the family and on the world stage. Told with compassion and humor, the practical wisdom of this book has profound implications for all who are struggling and seemingly paralyzed in insoluble conflicts."
—The Reverend Victor de Waal, former Dean of Canterbury Cathedral, England
"Phenomenal…compelling…vivid…poignant. This is a book that every manager, teacher, advisor, and parent should read and apply."
—Steven Wheelwright, Senior Associate Dean, Harvard Business School
"I love this book. Having read it, the circumstances I encounter every day seem different to me—whether in sports, business, or family life, the ideas apply to every facet of life. I can't wait to share this book and its concepts with others."
—Danny Ainge, General Manager, the Boston Celtics
"Having been intensely involved in peacemaking, I can honestly say that this is a significant and important book that lays out innovative strategies for building sustainable peace."
—Uri Savir, President, The Peres Center for Peace, Tel-Aviv, and former Director General, Israel Ministry of Foreign Affairs

About the Author
The Arbinger Institute
is a consortium of over 300 facilitators, coaches, and staff members (located across 18 countries) who conduct hundreds of public seminars, personal development programs, individual coaching sessions, professional training programs, and consulting projects each year.

Find Items On Similar Subjects

The Anatomy of Peace
: Resolving the Heart of Conflict • Paperback

Leadership and Self Deception
: Getting Out of the Box