Confidence
: How Winning Streaks and Losing Streaks Begin and End
Rosabeth Moss Kanter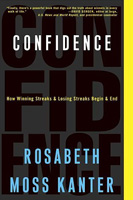 Format:
Paperback, 432pp.
ISBN:
9781400052912
Publisher:
Crown Business
Pub. Date:
February 28, 2006
Average Customer Review:


For Bulk Orders Call: 626-441-2024

Description and Reviews
From
The Publisher:
From the boardroom to the locker room to the living room—how winners become winners . . . and stay that way.
Is success simply a matter of money and talent? Or is there another reason why some people and organizations always land on their feet, while others, equally talented, stumble again and again?
There's a fundamental principle at work—the vital but previously unexamined factor called confidence—that permits unexpected people to achieve high levels of performance through routines that activate talent.
Confidence
explains:
Why the University of Connecticut women's basketball team continues its winning ways even though recent teams lack the talent of their predecessors
Why some companies are always positively perceived by employees, customers, Wall Street analysts, and the media while others are under a perpetual cloud
How a company like Gillette or a team like the Chicago Cubs ends a losing streak and breaks out of a circle of doom
The lessons a politician such as Nelson Mandela, who resisted the temptation to take revenge after being released from prison and assuming power, offers for leaders in both advanced democracies and trouble spots like the Middle East
From the simplest ball games to the most complicated business and political situations, the common element in winning is a basic truth about people: They rise to the occasion when leaders help them gain the confidence to do it.
Confidence
is the new theory and practice of success, explaining why success and failure are not mere episodes but self-perpetuating trajectories. Rosabeth Moss Kanter shows why organizations of all types may be brimming with talent but not be winners, and provides people in leadership positions with a practical program for either maintaining a winning streak or turning around a downward spiral.
Confidence
is based on an extraordinary investigation of success and failure in companies such as Continental Airlines, Seagate, and Verizon and sports teams such as the University of North Carolina women's soccer team, New England Patriots, and Philadelphia Eagles, as well as schools, health care, and politics.
Packed with brilliant, practical ideas such as "powerlessness corrupts" and the "timidity of mediocrity,"
Confidence
provides fresh thinking for perpetuating winning streaks and ending losing streaks in all facets of life—from the factors that can make or break corporations and governments to the keys for successful relationships in the workplace or at home.

Reviews
Drawing on more than 300 interviews with leaders in business, sports and politics, Kanter cogently explains the role confidence plays in the performance of institutions and individuals. Losing streaks are often created and then perpetuated when people lose confidence in their leaders and systems, while winning streaks are fueled by confident people who are secure in their own abilities and the ability of their leaders. Winning streaks are characterized by continuity and continued investment, Kanter argues, while losing streaks are marked by disruption and a lack of investment that typically give way to a self-fulfilling prophecy of failure. Combining theory with practical advice, Kanter details how losing organizations can instill accountability, collaboration and initiative—Kanter's three pillars of confidence—to help start a turnaround. She illustrates her ideas with a number of real-world examples, among them how the new owner of the Philadelphia Eagles stopped the team's chronic losing ways and built a winning organization. Kanter, a professor at the Harvard Business School and author of numerous books (including
Men and Women of the Corporation
), delivers valuable insights on the importance of confidence to success and on how organizations can create practices that build that much needed asset.
—Publisher's Weekly, Copyright © Reed Business Information, a division of Reed Elsevier Inc. All rights reserved.

About the Author
Rosabeth Moss Kanter
is the Ernest L. Arbuckle Professor at Harvard Business School. She is the former editor of Harvard Business Review and is an advisor to prominent corporations, governments, school systems, and community organizations, from IBM to the Girl Scouts. Dr. Kanter is the author of such groundbreaking books as Men and Women of the Corporation (winner of the C. Wright Mills Award for the book that best analyzes a social problem),
The Change Masters, When Giants Learn to Dance
, and
Evolve!

Table of Contents
| | | |
| --- | --- | --- |
| | Preface | |
| Part 1 | Winners and Losers: How Confidence Grows or Erodes | |
| 1 | The Locker Room and the Playing Field: Booms, Busts, Streaks, and Cycles | 3 |
| 2 | Winning Streaks: The Cycle of Success | 26 |
| 3 | Why Winnng Streaks End | 63 |
| 4 | Losing Streaks: "Powerlessness Corrupts" and Other Dynamics of Decline | 88 |
| 5 | Why Losing Streak Persist | 113 |
| Part 2 | Turnarounds: The Art of Building Confidence | |
| 6 | The Turnaround Challenge | 145 |
| 7 | The First Stone: Facing Facts and Reinforcing Responsibility | 182 |
| 8 | The Second Stone: Cultivating Collaboration | 216 |
| 9 | The Third Stone: Inspiring Initiative and Innovation | 256 |
| 10 | A Culture of Confidence: Leading a Nation from Despair to Hope | 291 |
| Part 3 | Implications and Life Lessons | |
| 11 | Delivering Confidence: The Work of Leaders | 325 |
| 12 | Winning Streaks, Losing Streaks, and the Game of Life | 350 |
| | Notes | 371 |
| | Acknowledgements | 387 |
| | Index | 393 |

Find Items On Similar Subjects

Confidence
: How Winning Streaks and Losing Streaks Begin and End - Paperback

Learned Optimism
: How to Change Your Mind & Your Life

The Change Monster
: The Human Forces That Fuel or Foil Corporate Transformation and Change