The Change Monster
: The Human Forces That Fuel or Foil Corporate Transformation and Change
Jeanie Daniel Duck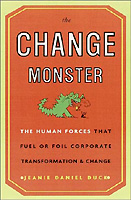 Format:
Paperback, 304pp.
ISBN:
9780609808818
Publisher:
Three Rivers Press
Pub. Date:
August 2002
Average Customer Review:

For Bulk Orders Call: 626-441-2024

Description and Reviews
From
The Publisher:
A brilliant, original, and powerful look at corporate change—mergers, reorganizations, transformations—and why it succeeds or fails.
The Change Monster
is the first book on the central issue that blows so many change efforts out of the water: the human interactions and emotional dynamics of the people involved. It is also an unusual book about business, one written from the heart as well as the head.
The Change Monster
is a tough-minded but compassionate book about leadership when major changes are demanded: after a merger, when profits are falling or markets being lost. It is also about the discipline and kindness it takes to get the people who report to and depend on you to confront their fears and move on to a new agenda, strategy, or company.
The Change Monster
is a reminder, through stories and anecdotes, of the essentials of the heart and mind that provide the basis for leadership. It also offers warnings that probably will be heeded only after they have been ignored. How, when you think you have made it clear to people what the new objectives are and how they need to behave differently, you are suffering serious illusions. And how, when you think they are not watching, they are, scrutinizing and often misinterpreting your every move.
The Change Monster
is also a personal journey. It will take you for a roller-coaster ride and make it clear why you have to muster the courage to take people down to reality before you can lead them back up to success, no matter how brilliant the strategy or plan.
Jeanie Duck has a voice and style unlike those of any other business book. She introduces her own life into the book and writes with efficiency, informality, humor.
The Change Monster
has an important tool, the Change Curve, at its core. Developed from Jeanie Duck's years of experience working with some of the most important change efforts of our time, it provides a highly practical way to help you understand and deal with "the change monster"—the emotions and fears everyone has when going through major change. It will serve as your compass in making judgments about where, both intellectually and emotionally, your people are in their readiness and ability to execute a new strategy or make a new organization succeed. So valuable is it that a General Electric vice president commented after seeing its five stages: "I feel like someone who's been suffering for years with an unknown ailment and finally got a clear diagnosis. You can't imagine how helpful this is."

Reviews
"Since any change effort—from merger to corporate reorganization--inevitably involves people, it's hard to believe that no book has ever addressed this issue head-on.
The Change Monster
is all about the 'hard part' of strategy—getting the organization to internalize, commit to, and follow through with change. As Jeanie Duck well knows, even organizations that know they need to change often can't get up the head of steam needed. The Change Monster not only talks intelligently about the social dynamics and emotions of people, it does so with wisdom, insight, and practicality. With Jeanie Duck's book, managers now have a creative, powerful tool for understanding and dealing with this crucial subject."
—Daniel Leemon, executive vice president and chief strategy officer, The Charles Schwab Corporation
"Where else can you explore companies like Sisyphus Systems and FastMovingGoods or learn why Ennui International is mired in the past and Worldwide Frenzy is going nowhere fast? With scores of such tales from the consultant's trenches, Jeanie Duck offers a practitioner's primer on revitalization. She puts you in the shoes of some who have failed and others who have succeeded, and in doing so graphically delivers her main message to management: Learn to master the emotions and obsessions of those who stand in the way of change, including your own, and once you do, you have your hands on a miraculous engine for change."
—Michael Useem, professor of management and director of the Center for Leadership and Change at the Wharton School, University of Pennsylvania, and author of The Leadership Moment

About the Author
Jeanie Daniel Duck
is senior vice president of The Boston Consulting Group and a leader in its organizational practice. She has worked with companies around the globe on major change efforts. Her article in the
Harvard Business Review
, "
Managing Change: The Art of Balancing
," has been a bestselling reprint used by many companies in executive education programs and many business schools as required reading. She is not only an expert in change management but also an artist—with a master's degree in sculpture--and has a keen sense for what makes people tick.

Table of Contents
| | | |
| --- | --- | --- |
| | Preface | xi |
| Part 1 | The Change Monster: The Human and Emotional Elements of Change | |
| 1 | Battling the Monster: The Need to Think and Behave Differently | 3 |
| 2 | A Short Tour of the Change Curve: A Map for the Territory of Change | 15 |
| Part 2 | Stagnation: The Monster in Hibernation | |
| 3 | Demoralization and Denial: When What You Know Isn't So | 39 |
| 4 | Recognizing and Diagnosing the Condition: Helping People See the Truth | 57 |
| Part 3 | Preparation: The Monster Awakes | |
| 5 | Gaining Alignment: Anxiety About the Future | 91 |
| 6 | Is Everybody Ready? When Emotions Become a Roller Coaster | 123 |
| 7 | Building an Appetite for Change: Moving to Productive Action | 133 |
| Part 4 | Implementation: The Monster Stomps Out of Its Hiding Place | |
| 8 | Plunging In: Time to Start Walking the Talk | 151 |
| 9 | Broadening the Involvement: Building Bench Strength and Leadership | 167 |
| 10 | Keep Talking: Formal and Informal Networks of Communication | 185 |
| Part 5 | Determination: When the Monster Rules the Hallways | |
| 11 | The Land In-Between: Asking the Hard Questions About the Organization and Its Future | 197 |
| 12 | The Leaders' Behavior: The Importance of Sustaining Energy | 207 |
| 13 | The Followers' Experience: Getting People Involved in the Issues | 217 |
| 14 | The Importance of Commitment and Values: Developing New Ways of Thinking and Acting | 229 |
| Part 6 | Fruition: The Monster is Subdued, at Least for Now | |
| 15 | Sweet and Dangerous Fruition: Reinforcing the Good | 253 |
| 16 | When the Old Becomes New Again: Continuous Change | 265 |
| | Acknowledgments | 277 |
| | Index | 281 |

Find Items On Similar Subjects

The Dance of Change