Leading Without Power
: Finding Hope in Serving Community
Max De Pree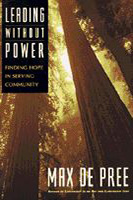 Format:
Paperback, 192pp.
ISBN:
9780787967437
Publisher:
John Wiley & Sons; Reprint edition
Pub. Date:
May 9, 2003
Average Customer Review:

For Bulk Orders Call: 626-441-2024

Description and Reviews
From
The Publisher:
Simple yet profound, Max De Pree's observations are often quoted by America's top CEOs, educators, and opinion makers. The best-selling author of Leadership Is an Art and Leadership Jazz, he has done no less than revolutionize leadership thinking and practice. Now, in Leading Without Power, De Pree finds that the most successful organizations of the Information Age operate not as controlled collections of human resources, but as dynamic communities of free people. And in order to mobilize these communities, leaders must know how to lead without power, because free people follow willingly or not at all.
De Pree holds up nonprofits as mirrors of our greatest aspirations places where people work for the opportunity to contribute to the common good, and for the chance to realize their full human potential. He calls such organizations movements and challenges others to follow their example. Movements, De Pree maintains, transcAnd ?the deceptive simplicity of a single bottom line? and set standards for leadership and service all organizations should reach for. They lead not with the power of the paycheck or with bureaucratic carrots-and-sticks, but with the promise of meaningful work and lives fulfilled. For that reason, nonprofit or otherwise, they are the most successful organizations of all. Brimming with rich, warm, and wise advice, Leading Without Power takes an enlightened look at the forces that drive selfless accomplishment. It offers encouragement and hope for creating organizations that inspire the very best in people. And it provides leaders at every level with a new context for effecting positive change.

Reviews
"This is a book to be read, reread, shared widely within any organization. Every chapter has pictures for our mind that will remain vivid long after the book is closed. A vibrant testament to human potential, the why of work."
—Frances Hesselbein, president and CEO, Leader to Leader Institute formerly the Drucker Foundation
"Here is Max De Pree at his best, and that is very good indeed. In Leading Without Power, De Pree shows us why we cannot master the how-to-dos of effective leadership without also being clear about what leaders?and followers?must be. In doing so, he not only provides us with much practical wisdom about creative leading and organizational health, he also nurtures our souls. This is a book to be savored by all who care about such things as vision, faithfulness, trust, and hope."
—Richard J. Mouw, president, Fuller Theological Seminary
"Being CEO of a nonprofit organization is not so much a job as it is a love affair. Why keep at it if it is just going to limp along? Like any love story, my work may have its struggles, and Max De Pree provides the practical help, inspiration, and encouragement that keep me focused and motivated. But he also adds poetry, art, and dance to the work, and to the way I work."
—Stephen A. Hayner, president, InterVarsity Christian Fellowship

About the Author
Max De Pree
is chairman emeritus of Herman Miller, Inc., a member of Fortune magazine's National Business Hall of Fame, and a recipient of the Business Enterprise Trust's Lifetime Achievement Award. He has served on the boards of Fuller Theological Seminary, Hope College, and Words of Hope. De Pree is also a member of the advisory board of the Leader to Leader Institute, formerly the Peter F. Drucker Foundation. He is the author of the bestseller
Leadership Is An Art
.

Table of Contents
| | | |
| --- | --- | --- |
| | Thanks | |
| | Introduction | 1 |
| 1 | Places of Realized Potential | 9 |
| 2 | What's a Movement? | 21 |
| 3 | A Context for Service | 33 |
| 4 | What Shall We Measure? | 47 |
| 5 | The Language of Potential | 69 |
| 6 | Service Has Its Roots | 87 |
| 7 | Attributes of Vital Organizations | 99 |
| 8 | Vision | 115 |
| 9 | Trust Me | 121 |
| 10 | Why Risk It? | 137 |
| 11 | The Function of Hope | 149 |
| 12 | Elements of a Legacy | 163 |
| 13 | Moral Purpose and Active Virtue | 179 |
| | Epilogue | 187 |
| | The Author | 191 |

Find Items On Similar Subjects

All Items by Max De Pree

Leadership Jazz

Leadership Is An Art