Leadership Is An Art
Max De Pree
/
Foreword by James O'Toole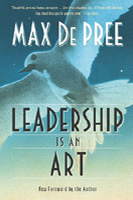 Format:
Paperback, 176pp.
ISBN:
9780385512466
Publisher:
Currency
Pub. Date:
May 18, 2004
Average Customer Review:


For Bulk Orders Call: 626-441-2024

Description and Reviews
From
The Publisher:
Leadership Is An Art
has long been a must-read not only within the business community but also in professions ranging from academia to medical practices, to the political arena. First published in 1989, the book has sold more than 800,000 copies in hardcover and paperback. This revised edition brings Max De Pree's timeless words and practical philosophy to a new generation of readers.De Pree looks at leadership as a kind of stewardship, stressing the importance of building relationships, initiating ideas, and creating a lasting value system within an organization. Rather than focusing on the "hows" of corporate life, he explains the "whys." He shows that the first responsibility of a leader is to define reality and the last is to say thank you. Along the way, the artful leader must:
Stimulate effectiveness by enabling others to reach both their personal potential and their institutional potential
Take a role in developing, expressing, and defending civility and values
Nurture new leaders and ensure the continuation of the corporate culture
Leadership Is An Art
offers a proven design for achieving success by developing the generous spirit within all of us. Now more than ever, it provides the insights and guidelines leaders in every field need.

Reviews
"This is a wonderful book. It captures Max's spirit—and he's a truly exceptional person. But it also says more about leadership in clearer, more elegant, and more convincing language than many of the much longer books that have been published on the subject."
—Peter F. Drucker


Reader's Index
Send us your favorite quotes or passages from this book
.
• "The first responsibility of a leader is to define reality. The last is to say thank you. In between the two, the leader must become a servant and a debtor." Pg. 11
• "Structures have nothing to do with trust. People do." Pg. 29

About the Author
Max DePree
is chairman emeritus of Herman Miller, Inc., the primary innovator in the furniture business for sixty years and regularly included as one of Fortune's 25 Most Admired Companies in the United States. The author of the bestselling Leadership Jazz, as well as Leading Without Power, Called to Serve, and Dear Zoe, De Pree has been mentoring emerging leaders in both the profit and non—profit sectors for more than twenty years, and was elected by Fortune magazine to the National Business Hall of Fame.

Table of Contents
| | | |
| --- | --- | --- |
| | Foreword: History, Leadership, and a Vision for Corporate Life | xi |
| | Introduction | 1 |
| | The Millwright Died | 7 |
| | What Is Leadership? | 11 |
| | Participative Premises | 23 |
| | Theory Fastball | 31 |
| | Roving Leadership | 45 |
| | Intimacy | 53 |
| | Whither Capitalism? | 63 |
| | Giant Tales | 73 |
| | Tribal Storytelling | 81 |
| | Who Owns This Place? | 93 |
| | Communicate! | 101 |
| | Pink Ice in the Urinal | 109 |
| | What's Next? | 113 |
| | Some Thoughts for Ceos Who Build Buildings | 121 |
| | To Make One Vice President, Mix Well . . . | 129 |
| | Why Should I Weep? | 135 |
| | The Marks of Elegance | 141 |
| | Postscript | 147 |

Customer Reviews
Write your own online review
.

Moral Leadership
December 14, 2002
Reviewer: from Washington, D.C. United States
Few books look at leadership the way Max Depree does. He does not speak of trying to push an agenda. He instead writes about how to help people achieve there best potential for themselves and the organization. Leadership is about serving those you lead. He writes that a leader should provide an environment based on "trust and human dignity while providing the opportunity for personal development and self-fulfillment in the attainment of the organization's goals." The leaders he describes are the kinds of leaders we need in all walks of life.

Find Items On Similar Subjects

All Items by Max De Pree

Leadership Jazz

Leading Without Power