The Productive Narcissist
: The Promise and Peril of Visionary Leadership
Michael Maccoby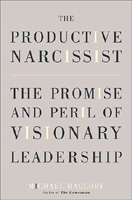 Format:
Hardcover, 320pp.
ISBN:
9780767910231
Publisher:
Broadway Books
Pub. Date:
April 2003
Average Customer Review:

For Bulk Orders Call: 626-441-2024

Description and Reviews
From
The Publisher:
A provocative examination of the essential – and widely misunderstood--personality type of today's most innovative leaders.
What is it that Oprah Winfrey, Jack Welch, Martha Stewart, and Bill Gates all have in common? According to psychoanalyst, anthropologist, and consultant Michael Maccoby, it's not just enormous success and celebrity – it's narcissism. In
The Productive Narcissist
, Maccoby proposes a new paradigm of modern leadership and zeros in on one common character trait: the narcissistic personality. Challenging prevailing leadership theories, Maccoby argues that today's most innovative leaders are not consensus-building bureaucrats; they are "productive narcissists" with the interrelated set of skills -- foresight, systems thinking, visioning, motivating, and partnering – that he terms "strategic intelligence." Rejecting the negative stereotype of the individual who is destroyed by a pathological preoccupation with himself, Maccoby redefines the productive narcissist as the personality type who is best suited to lead during times of rapid social and economic change. At the same time, he makes clear that narcissistic leadership doesn't always mean successful leadership and that narcissists lacking strategic intelligence are fated to crash and burn.
Beginning with an examination of the crucial role personality plays in the workplace and an analysis of the primary personality types (a questionnaire allowing readers to evaluate their own personalities is included), Maccoby makes an eye-opening case for how narcissism has been misunderstood and how throughout history narcissists have always emerged to inspire people and to shape the future. While narcissism can be extraordinarily useful—even necessary—for effective leadership, Maccoby shows how it also has a distinct downside when narcissists become unrealistic dreamers and harbor the illusion that only circumstances or enemies block their success. Strategic intelligence is the hallmark of the productive narcissist, and by elucidating its key qualities – and how they can be developed – Maccoby illuminates both what it takes for narcissists to truly succeed and how to work with them most effectively .
Based on over thirty years of first-hand experience consulting with business leaders around the world,
The Productive Narcissist
redefines the way we understand and relate to today's leaders.

Reviews
"Maccoby makes a compelling case that the most effective leaders in times of disruptive change are those with the personality type that Freud called narcissistic."
—Harvard Business Review
"The implications here are not only relevant but should have a sense of urgency for all leaders."
—Houston Chronicle
In this provocative analysis of contemporary business leaders, psychoanalyst and consultant Maccoby (The Gamesman) reminds readers of Freud's assessment of the narcissist as "the type of person who impresses us as a personality, who disrupts the status quo and brings about change." Maccoby finds examples of these personalities in Amazon.com's Jeff Bezos, Apple's Steve Jobs and Intel's Andy Grove. For Maccoby, the difference between the common view of narcissists as self-absorbed dreamers and the more contrarian notion of their being runaway successes like Microsoft's Bill Gates lies in their realizing personal potential ("productiveness") and being endowed with "strategic intelligence" (as opposed to measurable IQ). This type of intelligence mixes foresight, systems thinking, ability to create a vision, charisma to motivate others and a genius for partnering with complementary talents that Maccoby views as critical to success in managing innovative businesses. Maccoby does acknowledge that after recent corporate upheavals, many may be wary of this type of leader. For those working with productive narcissists, he offers strategies. Business readers willing to slog through Maccoby's sometimes academic prose will learn much here. And to counter the understandable reaction against hiring narcissists as corporate leaders-most corporations would rather avoid the type, Maccoby says-there's the cautionary tale of a 1971 Human Resources report on an executive applying to become CEO of a major company in which the man's renegade tactics and irascible personality were viewed as less than desirable; the man got the job despite HR's reservations. That applicant was Jack Welch. Copyright 2003 Reed Business Information, Inc.
—Publisher's Weekly

About the Author
Michael Maccoby, Ph.D.
, is president of the Maccoby Group and director of the Project on Technology, Work, and Character, a nonprofit research center. A psychoanalyst, anthropologist, and consultant, Dr. Maccoby has advised leaders at numerous corporations, from AT&T to Volvo, as well as at institutions such as the World Bank. From 1970 to 1990, he led a research program on leadership and work at Harvard's Kennedy School of Government. He is the author of the bestseller
The Gamesman
and author or coauthor of seven other books, most recently
Why Work? Motivating the New Workforce
. He lives in Washington, D.C.

Find Items On Similar Subjects

What Management Is
: How It Works and Why It's Everyone's Business

Geeks and Geezers