The Leader's Edge
: Six Creative Competencies for Navigating Complex Challenges
Charles J. Palus and David M. Horth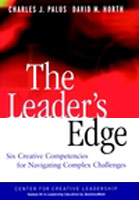 Format:
Hardcover, 304pp.
ISBN:
9780787909994
Publisher:
Jossey-Bass
Pub. Date:
May 15, 2002
Average Customer Review:

For Bulk Orders Call: 626-441-2024

Description and Reviews
From
The Publisher:
Let the Center for Creative Leadership show you how you can dramatically improve your leadership abilities in today's business environment. Based on years of specialized research,
The Leader's Edge
outlines six distinct creative leadership skills that, while not traditionally associated with management development, have, nevertheless, proven to be essential to modern business leadership. Here, the book's authors deliver compelling lessons in paying attention, personalizing, imaging, serious play, collaborative inquiry, and crafting—all competencies that modern leaders should master. They also outline activities for real-world implementation, provide case examples, and suggest ways to avoid common mistakes. A wealth of self-reflections and tools helps ensure your rapid progress.
The tasks faced by organizations today are increasingly complex, and leaders find themselves faced with challenges from all sides: accelerating technology, deregulation, mergers and acquisitions, shifting demographics, new business models, and an uncertain economy. Indeed, to many these challenges seem insurmountable, because traditional management skills are simply not enough to cope with them.
The Leader's Edge
offers a breakthrough approach to dealing with such situations, showing how to tap into a set of unique creative competencies that are necessary to survive and thrive in this turbulent environment.
Based on seven years of research on several hundred individual leaders and teams from a variety of industries and disciplines,
The Leader's Edge
identifies the insight, skills, techniques, and wisdom that separate true leaders from merely effective managers. The key to truly creative and successful leadership, say Charles J. Palus and David M. Horth, lies in adding six key competencies to traditional leadership skills: paying attention, personalizing, imaging, serious play, collaborative inquiry, and crafting. The authors reveal how any leader can access and use these sensibilities and skills to make sense of rapid change and complexity-and thus provide an invaluable "leader's edge."
The Leader's Edge
will help managers recognize the competencies they already have and develop them further. It will give them a practical understanding of how the creative competencies, when integrated with traditional skills, are vital to the essential process of making sense. And it will show them how to help their organizations and communities develop and use these competencies to create shared understanding, and so better navigate and resolve complex challenges.

Reviews
"A true breakthrough approach to contemporary leadership. The content enables awareness, development, understanding, and application of six competencies essential to guiding organizations through today's complex and ever-changing business environment. Further, it enables levels of individual and organizational introspection vital to the change and adaptation required in leading and managing through complex challenges."
—Michael A. Barker, executive director of leadership development and executive staffing, Verizon Communications
"No one in any managerial position can ignore this wonderful book, which teaches in a most practical-and interesting-way how to lead and manage effectively. Using real-life examples, the authors painstakingly detail a step-by-step methodology which will literally transform your thinking and take you into the exciting world of creative leadership!"
—Kirpal Singh, professor and director of the Centre for Cross-Cultural Studies, Singapore Management University
"The creative process has been captured at last, and what a ride. True to the best of learning theory, elegantly simple. A must-read for leaders with the courage to walk on the edge."
—Bernice McCarthy, president, About Learning, Inc.
"Horth and Palus understand the critical role leaders play in creating an environment for productive social engagement in turbulent times. Their practical advice is a must-read for leaders at all levels."
—Kevin E. Kirby, vice president for administration (health sciences), Columbia University, and former executive officer, National Institutes of Health

About the Authors
Charles J. Palus
is a research scientist and project manager in the Leadership for Complex Challenges practice area at the Center for Creative Leadership (CCL). His research interests focus on the relationship between meaning-making and leadership.
David M. Horth
is a program manager and a senior faculty member with the Leadership for Complex Challenges practice area at CCL. He trains in many executive development programs, including leadership development and creativity programs for the international community.

Table of Contents
Preface
Acknowledgments
The Authors
Introduction: Navigating Complex Challenges
1. Paying Attention.
Shifting Between Modes of Attention.
Understanding Left-Mode and Right-Mode Attention.
Using Kinesthetic Attention.
Paying Attention to Negative Space.
Asking Powerful Questions.
Developing the Competency of Paying Attention.
Cautions.
2. Personalizing.
Learning Begins with the Personal Connection.
Practicing Assessment for Development (A4D).
Practicing Exploration for Development (E4D).
Tapping Into Your Passion.
Knowing When to Let Go of Your Personal Side.
Developing the Competency of Personalizing.
Cautions.
3. Imaging.
Making Imagination Tangible.
Seeing Organizational Vision in a New Light.
Exploring Scenarios.
Making and Using Metaphors.
Making Poetry in the Face of Complexity.
Developing the Competency of Imaging.
Cautions.
4. Serious Play.
Play Enhances Learning amid Turbulence.
Play Is a Community Activity.
Play Is the Heart of Science and Technology.
Developing the Competency of Serious Play.
Cautions.
5. Co-Inquiry
Building Creative Leadership Communities.
Creating Spaces for Group Work.
Conducting Dialogue.
Putting Something in the Middle.
Crossing Boundaries.
Developing the Competency of Co-Inquiry.
Cautions.
6. Crafting.
Thinking in Wholes.
Crafting Decisions.
Building Scaffolds for Learning.
Developing Leadership as Science and as Art.
Learning from Artists.
Developing the Competency of Crafting.
Cautions.
7. Creative Leadership in Action.
Case Study 1: Task Force Collaboration
Case Study 2: Leadership in New Media
Case Study 3: Individual Leadership Coaching
Case Study 4: Creative Product Innovation
Case Study 5: Executive Interdependence
Case Study 6: Inventing a New Manufacturing Paradigm
Appendix A: The Leading Creatively Program
Appendix B: Our Research Methods
Appendix C: A Reflective Assessment of C2 Competencies: Competencies for Making Sense of Complex Challenges
Appendix D: The ORC Star-Mapping Process
Notes
Bibliography
Index
About the Center for Creative Leadership

Find Items On Similar Subjects

Primal Leadership