The Writings and Speeches of Abraham Lincoln
-
The Essential Collection
Audio CD
Abraham Lincoln
Narrated by Raymond Massey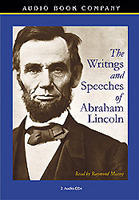 Retail Price: $12.95
LS Price: $8.00
You Save: $4.95 (38%)
Availability: Usually ships within 24 hours
Format:
2 Audio CDs, 2 Hours Running Time

ISBN:
0899261477
Publisher:
Audio Book Company
Pub. Date:
1982 New Format March 2009
Average Customer Review:

For Bulk Orders Call: 626-441-2024
Order This Audio!




Description and Reviews
From
The Publisher:
The writing and speeches of Abraham Lincoln are a monument to the greatness and renown of our 16th President. They represent his character and reflect his way of thinking, his way of dealing with men, and the kind of matters which engaged him. This recording brings to life his honesty, his cleverness and wit, his fairness and the continued relevance of the masterful words of one of the most deeply beloved men the world has ever known.
Included on this recording are:
Lincolnís First Public Address: Political Announcement to the people of Sangamon County, Illinois ~ March 9, 1832
Announcement of Political Views in Sangamon Journal ~ June 13, 1836
From a speech in Peoria, Illinois in reply to Senator Douglas ~ October 16, 1854
From a speech at Galena, Illinois during the Fremont Campaign ~ July 23, 1856
Biographical Sketch ~ June 15, 1858
A House Divided ~ Speech at the Republican State Convention Springfield, Illinois ~ June 16, 1858
First Inaugural Address ~ March 4, 1861
Proclamation calling 75,000 militia and convening Congress in extra session ~ April 15, 1861
From the Annual Message to Congress ~ December 3, 1861
Final Emancipation Proclamation ~ January 1, 1863
Letter to General U. S. Grant ~ July 13, 1863
Proclamation for Thanksgiving ~ October 3, 1863
Address at the Dedication of the National Cemetery at Gettysburg ~ November 19, 1863
Letter to General U. S. Grant ~ April 30, 1864
Reply to a Delegation from the National Union League ~ June 9, 1864
Memorandum to his Cabinet ~ August 23, 1864
Second Inaugural Address ~ March 4, 1865
Address to the 140th Indiana Regiment ~ March 17, 1865
Telegram to General U. S. Grant ~ April 7, 1865
Last Public Address ~ April 11, 1865
Conclusion: Fragment from an Address delivered September 30, 1859

About the Narrator
Raymond Massey
, though Canadian-born, became known for playing quintessentially American roles. He portrayed Abraham Lincoln on both the stage and film, most famously in
Abe Lincoln in Illinois
. His credits span the entire spectrum of the entertainment industry as an actor, director and producer. His appearance on this recording is most memorable.

Find Items On Similar Subjects

Lincoln's Virtues
: An Ethical Biography

President Lincoln
: The Duty of a Statesman

Looking for Lincoln
: The Making of an American Icon

Tried by War
: Abraham Lincoln as Commander in Chief