Leadership Lessons from West Point
: Building Stronger Leaders
Edited by Major Doug Crandall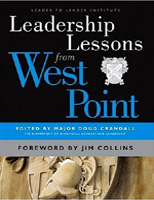 Format:
Paperback, 430pp.
ISBN:
9781118009123
Publisher:
Jossey-Bass
Pub. Date:
November 10, 2006
Average Customer Review:

For Bulk Orders Call: 626-441-2024

Description and Reviews
From
The Publisher:
A leadership guide that crosses boundaries of the military, business, and nonprofit sectors to strengthen leadership in all sectors
West Point is recognized for its extraordinary development programs that have been so effective in training generations of outstanding leaders. In this groundbreaking book, The Leader to Leader Institute and experts from West Point have joined forces to offer insight into the leadership practices of the United States Army.
At long last, leaders in the business, nonprofit, and government sectors can learn the leadership techniques and practices from contributors who are teaching or have taught at the U.S. Military Academy at West Point and served in positions of leadership that span the globe. These military experts cover a broad range of topics that are relevant to any leadership development program in any sector. Topics include: what leaders can learn from their failures; how to get mavericks to work together as an effective team; how to manage expectations when leading change; how to gain the trust of your staff; and much more.
The book includes a Foreword by best-selling author Jim Collins.
The Leader to Leader Institute provides intellectual resources to leaders in the business, government, and social sectors, and fosters partnerships across these sectors. Major Doug Crandall (West Point, NY) teaches the advanced version of West Point's core leadership course at the U.S. Military Academy

Reviews
"A wonderfully impressive book. It's impressive because of the authors' credentials—all are leaders in their own right—and because of their honesty. Rarely will you find more open, self-disclosing discussions of failure, courage, and honor. It's impressive because it's heartfelt . . . it's about selfless service, honesty, and integrity—things we need to hear more about from our leaders. Leadership Lessons from West Point will renew your hope, restore your faith, educate your mind, and expand your horizons. We highly recommend it."
—Jim Kouzes and Barry Posner, coauthors of the best-selling book, The Leadership Challenge
"Attention to detail, going about jobs correctly, and understanding that no job is too large or too small are just a few of the major aspects included in the West Point experience . . . Leadership Lessons from West Point does a great job of capturing those values and many others."
—Mike Krzyzewski, "Coach K," head, Duke Basketball Program
"All those concerned with developing leaders for every walk of life should welcome this compilation of important lessons from inside West Point, producer of the cream of the crop."
—Rosabeth Moss Kanter, Harvard Business School, best-selling author of Confidence: How Winning Streaks and Losing Streaks Begin and End
"The people at West Point have so much to teach all of us about how to lead, and any student of leadership will want to have this book on their shelf for continuous learning and reference."
—Patrick Lencioni, author, The Five Dysfunctions of a Team
"The highly personal and compelling essays in this book offer a fascinating portrait of how the U.S. Military Academy approaches leadership education."
—John Alexander, president, Center for Creative Leadership
"Anyone interested in the 'L-word' will find this humble sampling of tacit knowledge refreshing and insightful."
—Scott A. Snook, associate professor of organizational behavior, Harvard Business School
"An outstanding volume of leadership lessons relevant and useful to any institution."
—Warren Bennis, Distinguished Professor of Management at the University of Southern California and author, On Becoming a Leader

About the Editor
Major Doug Crandall
is the executive officer to the Dean of the Academic Board at the United States Military Academy (U.S.M.A.) West Point. He was previously an assistant professor in the Department of Behavioral Sciences and Leadership, where he served as course director for Leading Organizations Through Change and Advanced Military Leadership and received the Excellence in Teaching Award. Crandall has a B.S. from the U.S.M.A. and an M.B.A. from the Stanford Graduate School of Business.

Table of Contents
| | | |
| --- | --- | --- |
| | | |
| | Foreword by Jim Collins | xiii |
| | Acknowledgments | xvii |
| | About the Contributors | xix |
| | | |
| | Introduction by Major Doug Crandall | xxv |
| | | |
| | PART ONE: LEADERSHIP AND VALUES DEVELOPMENT | |
| 1 | Becoming a Leader Developer (Lieutenant Colonel Eric G. Kail) | 3 |
| 2 | Learning from Failure (Major Doug Crandall) | 16 |
| 3 | You Must Lead Yourself First (Second Lieutenant Greg Hastings) | 32 |
| 4 | Influencing Your Organization's Moral Philosophy (Major Brian Tribus) | 44 |
| 5 | Developing Organizational Values in Others (Major Chip Daniels) | 62 |
| 6 | The Authentic High-Impact Leader (Lieutenant Colonel Sean T. Hannah) | 88 |
| 7 | Leader Development and Self-Awareness in the U.S. Army Bench Project (Major Dennis P. O'Neil, Colonel Patrick J. Sweeney, Lieutenant Colonel James Ness, and Colonel Thomas A. Kolditz) | 107 |
| | | |
| | PART TWO: LEADERSHIP STYLES AND SITUATIONS | |
| 8 | Teaming High-Potential Talent (Jack Jefferies) | 133 |
| 9 | Leading as If Your Life Depended on It (Colonel Thomas A. Kolditz) | 160 |
| 10 | Creating Urgency and Inspiring Your Team (Robert Morris) | 188 |
| 11 | Quiet Leadership (Major Eric J. Weis) | 206 |
| 12 | Leading Without Words (Major Jeff Bergmann) | 218 |
| 13 | Developing Charisma with Caution (Captain Dena Braeger) | 238 |
| 14 | Trust in Combat Leaders (Colonel Patrick J. Sweeney) | 252 |
| | | |
| | PART THREE: LEADING ORGANIZATIONS | |
| 15 | Socialized Leadership (Lieutenant Colonel Todd Henshaw) | 281 |
| 16 | Leading at the Business End of Policy (Major James Tuite) | 296 |
| 17 | Harnessing the Power of Culture and Diversity for Organizational Performance (Major Remi Hajjar, and Morten G. Ender) | 313 |
| 18 | Developing Organizational Commitment by Putting People First (Major Todd Woodruff) | 338 |
| 19 | Managing Expectations When Leading Change (Major Everett S. P. Spain) | 363 |
| | | |
| | Index | 387 |

Customer Reviews
Write your own online review
.

Finally, a service academy leadership book with depth
December 6, 2006
Reviewer: from New York, United States
This book is different than any other leadership book I've read about West Point, because it's not simply about tradition and the "West Point Way," whatever the heck that is. This book is content rich, written by authors who have both military AND civilian credentials, and who teach leadership every single day. Honestly, have you ever read a book like that? No other book even comes close, IMO.

Find Items On Similar Subjects

The Leadership Lessons of the U.S. Navy SEALS