The Source of Success
: Five Enduring Principles at the Heart of Real Leadership
Peter Georgescu with David Dorsey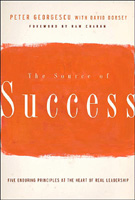 Format:
Hardcover, 208pp.
ISBN:
9780787980375
Publisher:
Jossey-Bass
Pub. Date:
August 5, 2005
Average Customer Review:

For Bulk Orders Call: 626-441-2024

Description and Reviews
From
The Publisher:
A new standard of leadership success
The business world has changed dramatically in recent years, and the standard paradigms of leadership espoused in bestsellers such as Good to Great and In Search of Excellence will not be relevant going forward. Business leaders need an entirely new model to succeed today and into the future. Peter Georgescu, former CEO of Young & Rubicam, identifies and explains this unprecedented shift, and presents five guiding principles for a new standard of leadership which turns the old model on its head and focuses on the two key sources of value: the customer and the creative employee. In this wonderfully written book he weaves the five principles together:
Creative capacity and brand value are an organization's most important assets. In a world of excess supply, these are the factors that will attract and retain customers. And unlike other resources, creativity is inexhaustible.
Enlightened leaders inspire creativity through understanding, cooperation, and respect. These attributes will filter through an organization to its customers. The time of the ruthless leader has passed.
Competence and execution are as important as ever, but they must be aimed toward building intimacy with the customer. Brand value needs to be a core metric along with margins.
Alignment is the critical concept for the 21st century organization. Not only does it integrate knowledge and resources to deliver a superior product or service; it also harmonizes an organization's competencies, creativity, vision, and values to serve the interests of all stakeholders.
Great companies don't happen without leaders who have transformed themselves. A commitment tointegrity at the top creates a benevolent spirit of teamwork that radiates outward to customers.
Filled with stories taken from his own life experience - both his early personal experiences and his professional view working inside the most powerful companies and brands in the world, this book is rich on many levels.

About the Author
Peter Georgescu
(New York, NY) is former chairman and CEO of Young & Rubicam. A former advisor to Stanford Business School, Georgescu serves on four boards including Levi Strauss and Toys R Us. He has been featured in the
Wall Street Journal
, the
New York Times, BusinessWeek, The Economist
, and
Ad Age
.
David Dorsey
is a frequent contributor to major national business publications. He is the author of
The Force
.

Find Items On Similar Subjects

The One Thing You Need to Know
: About Great Managing, Great Leading, and Sustained Individual Success