The Prepared Mind of a Leader
: Eight Skills Leaders Use to Innovate, Make Decisions, and Solve Problems
Bill Welter and Jean Egmon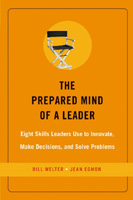 Format:
Hardcover, 304pp.
ISBN:
9780787976804
Publisher:
Jossey-Bass
Pub. Date:
October 24, 2005
Average Customer Review:


For Bulk Orders Call: 626-441-2024

Description and Reviews
From
The Publisher:
In today's complex business climate, people—no matter what their role in the organization—need to make informed decisions and learn how to think flexibly.
A leader's most important asset is the ability to anticipate changes in the environment and adapt to them quickly.
The Prepared Mind of a Leader
presents an original and effective way to think more flexibly about innovation, strategy, change, and problem solving. Throughout the book, the authors include triggers for exploring how these ideas apply to an organization's unique circumstances.
The Prepared Mind of a Leader
helps readers prepare for the future by laying out a program for developing, maintaining, and mobilizing the key mental skills that define Prepared Mind leadership. These eight skills can be applied in a wide range of settings, from large-scale organizations to small entrepreneurial firms:
Observing
—search out confirming and non-confirming information about your world view
Reasoning
—clearly explain why you are following a course of action
Imagining
—visualize new ideas for your company's policies and practices
Challenging
—question your organization's assumptions and test their validity
Deciding
—make or influence decisions that will propel action to progress
Learning
—master the information you need to keep you moving forward
Enabling
—offer the people around you the knowledge, means, and opportunities to progress
Reflecting
—invest time thinking abouttrade-offs and the consequences of those trade-offs that result from our decisions
These skills provide a framework that the thoughtful leader or manager can use to approach issues of strategy and innovation. The authors also show how to develop the skills further and apply them in everyday life.

Reviews
"
The Prepared Mind of a Leader
provided me a road map for thinking more deeply, differently, and effectively across a wide array of issues. It will be impossible to read this book without coming away with several practical concepts and tools that can be applied immediately."
—Neal Kulick, vice president, Global Talent Management, McDonald's Corporation
"Easy to read and understand, this book offers leaders at all levels practical tools and a newway to think about leadership that will help you survive, and even thrive, as a leader."
—Jon Peters, president, The Institute for Management Studies
"Anyone running a business, a team, a work group, or simply trying to better manage his or her life will benefit from
The Prepared Mind of a Leader
. It's a great model for accelerating leadership readiness in today's hypercompetitive markets."
—Thomas A. Gebhardt, president, Panasonic Factory Solutions Company
"For leaders who need to unleash the human capital locked within their organizations, this insightful and pragmatic read offers realistic solutions to these universal issues."
—Jon Atchue, vice president human resources, REXAM Beverage Can North America
"
The Prepared Mind of a Leader
is the best kind of business book—it provides a timely and practical framework for how to think, not what to think. This is a must-read for the next generation of leaders, and those who are preparing them to lead."
—Clark Callahan, executive director, Tuck Executive Education, Dartmouth
"Welter and Egmon have identified key skill-building exercises for strengthening your leadership effectiveness. Like athletes who train to build muscle memory, these repetitions build the Prepared Mind muscles. The authors show you how to do it using behavior-based theories that lead to practical workouts."
—William J. White, retired chairman and CEO, the Bell and Howell Company, and professor, Northwestern University


Reader's Index
Send us your favorite quotes or passages from this book
.
• "In our working definition of Prepared Mind leadership, we see leadership as the practice of continously envisioning opportunities for growth within complex, dynamic environments, built on core principles the organization is committed to sustaining and using as the basis for value delivered to all its stakeholders. Implied in our definition is that leaders, no matter where they are in the organization, are strategists in terms of making opportunities explicit and knowing why and when and how to move into and navigate the problems and opportunities they face." Pg. 2
• "One of the dangers of being strictly results driven is that we can spread so much energy 'doing' and keeping up that we don't take the time to think ahead, until the inevitable is at our door and we feel compelled to react." Pg. 17

About the Author
Bill Welter
is the managing director of Adaptive Strategies (MindPrep.com), a firm specializing in business education and consulting. He has more than thirty-five years of varied military, engineering, consulting, and teaching experience.
Jean Egmon
is a faculty member in managerial economics and decision sciences at the Kellogg School of Management at Northwestern University and director of the Complexity in Action Network at Northwestern. She is also the president of Third Angle, Inc. (Third-Angle.com)

Table of Contents
| | | |
| --- | --- | --- |
| | Introduction: Chance Favors the Prepared Mind | 1 |
| | Part One: Our Foundation and Frameworks | |
| 1 | The Only Foundation We Have | 11 |
| 2 | Frameworks for Intentional Preparation | 25 |
| | Part Two: The Skills of Prepared Mind Leadership | |
| 3 | Observing: Seeing Beyond the Obvious | 43 |
| 4 | Reasoning: Moving from the Known to the Undetermined | 68 |
| 5 | Imagining: Envisioning the Future Before It Arrives | 95 |
| 6 | Challenging: Pushing for Higher and Deeper Thinking | 120 |
| 7 | Deciding: Choosing with Consequences in Mind | 148 |
| 8 | Learning: Keeping a Developmental Mind-Set | 173 |
| 9 | Enabling: Exercising Leadership from the Outside In | 198 |
| 10 | Reflecting: Looking Backward, Forward, and Inward | 226 |
| 11 | Conclusion: Preparing for Tomorrow | 252 |
| | Notes | 273 |
| | Acknowledgements | 283 |
| | About the Authors | 285 |
| | Index | 287 |

Find Items On Similar Subjects

Leading with Questions
: How Leaders Find the Right Solutions By Knowing What To Ask

The Power of Mindful Learning

Mindfulness