The Book of Hard Choices
: How to Make the Right Decisions at Work and Keep Your Self-Respect
James A. Autry and Peter Roy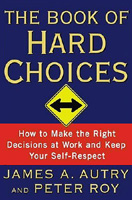 Format:
Hardcover, 272pp.
ISBN:
9780767922586
Publisher:
Morgan Road Books
Pub. Date:
December 26, 2006
Average Customer Review:

For Bulk Orders Call: 626-441-2024

Description and Reviews
From
The Publisher:
"There are a thousand acts of duplicity and dishonesty every day, some large and some small, some of which undoubtedly take place in your workplace. The question for all of us is, 'Are we going to resist or just play along the path of least resistance?' The first hard choice a person of integrity must make is to choose to live, both personally and professionally, in a way that embodies integrity. The power of this book comes from the real-life, in-the-workplace experiences that these executives have been so generously willing to share. None had easy choices, but that's the point: Integrity is not about easy choices, it's about the courage to make the right choices."
—From The Book of Hard Choices
All of us like to think that, in any given situation, we'd act with integrity and do the right thing. But what happens when we get to work each morning? Do the same rules we follow in our personal lives apply to our work lives?
The lines between right and wrong become blurred when we must weigh our obligations to our employer against our own ideas about what is right and wrong. Should altruism trump profit, even to the detriment of the organization? When should you step in to protect an employee and when should the employee be left to take the heat? If the CEO is up to some unethical accounting, should you always risk your job—and the company's reputation—to sound the alarm?
These are the hard choices, the dilemmas that put your integrity to the test and require you to look beyond organizational policy and industry precedents to find an answer that reflects your personal sense of justice.
The Book of Hard Choices
goes to the heart of these difficult decisions. James Autry and Peter Roy, experienced executives themselves, interviewed numerous leaders about the tough decisions they've made on the job. They spoke with people like former Starbucks president Howard Behar, Iowa Cubs owner Michael Gartner, and Governor Tom Vilsack of Iowa as well as entrepreneurs, military officials, members of the clergy, and a whole host of leaders. The authors dig into the thinking process these people went through, as well as the emotional strain, the self-doubt, and the fear of a wrong decision's impact on their business, family, or coworkers. Not everyone in this book made the right choice, but all of them were forced to examine their values and make decisions in complicated circumstances. The result is hard-won wisdom on how to navigate the ethical gray-areas of work life—from daily challenges to possible career ending choices—and make the best possible decisions in the most difficult situations.

Reviews
"The stories in The Book of Hard Choices are more than case studies—they are intensely dramatic and personal, surprising and deeply moving. They implicitly challenge the reader to ask, 'What would I have done?' This book should be required reading for any professional ethics course—and any professional."
—Betty Sue Flowers, Ph.D., business consultant and executive director of the LBJ Presidential Library
"Two seasoned, highly successful business leaders provide invaluable reflections for anyone who aspires to a life and career of integrity and self-respect."
—Ken Dychtwald, Ph.D., bestselling author of Age Wave, Age Power, The Power Years and Workforce Crisis, and founder and CEO of Age Wave
"These real life stories steer right into the practice of making the difficult choices necessary for principled participation and leadership in the workplace. Thoughtful, helpful, and ultimately invigorating."
—Walter Robb, co-president, Whole Foods Market
"This is the first book I would send to anyone interested in how leadership is done and how tough choices are made in any enterprise."
—Warren Bennis, Ph.D., Distinguished Professor of Management at the University of Southern California and author of On Becoming a Leader

About the Authors
James A. Autry
was president of the magazine group of the Meredith Corporation and is the author of eight books, including The Servant Leader, Real Power, and the bestselling Love and Profit. He is currently a consultant with FORTUNE 500 corporations and a popular lecturer on leadership and business ethics. He lives in Des Moines, Iowa.
Peter Roy
is the former president of Whole Foods Market, which Fortune magazine first named one of the "Top Companies to Work For" during his tenure. He is currently a director of Avalon Natural Products, Traditional Medicinals and the Naked Juice Company as well as a trustee of the National Outdoor Leadership School. He lives on Pawley's Island, South Carolina.

Find Items On Similar Subjects

Know What You Don't Know
: How Great Leaders Prevent Problems Before They Happen