Managing Leadership
: Toward a New and Usable Understanding of What Leadership Really is--and How to Manage it
Jim Stroup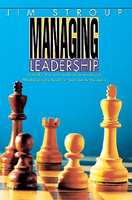 See
Specials
page for 70% off.

Format:
Paperback, 174pp.
ISBN:
9780595315512
Publisher:
iUniverse, Inc.
Pub. Date:
April 2004
Average Customer Review:

For Bulk Orders Call: 626-441-2024

Description and Reviews
From
The Publisher:
Managing Leadership
is an essential guide to help managers, executives, boards, and owners understand what organizational leadership really is, and how to harness it to the service of today's organizations.
Author Jim Stroup brings to the topic of organizational leadership over 30 years of experience as a student of, and participant in, leadership in military, civilian, and governmental organizations around the world. In a compellingly drawn argument, Stroup provides a clear understanding of - and actionable solution to - the leadership crisis facing the owners, directors, and managers of contemporary organizations.
Learn why today's concept of individual leadership has to be scrapped:
It places on "leaders" untenable burdens that irresistibly lead to isolation, loss of direction – and disloyalty.
It represents the surrender of our organizations, their owners, boards, executives and other stakeholders to the "leaders" and their "vision".
Managers must regain control of today's organizations in all fields.
Discover how to:
Properly understand what leadership in an organization really is.
Manage leadership as a resource like any other in the organization.
Guide today's organizations out of the individual leadership crisis, and into the intelligent management of leadership.
Managing Leadership
, by author Jim Stroup, will show owners and managers how to take back command of their organizations - whether business, government, or military - and direct them with effective, no-nonsense managerial integrity.
Managing Leadership
begins with a frank discussion of the history of the current leadership movement and its parallels with the ever-widening scandals enfolding the corporate and civil organizational environment, today. It provides a compelling case for the complicity of the untenable demands of the modern leadership movement in the occurrence of these scandals. It then surveys the literature, showcasing examples of more accurate and astute thinking that have, unfortunately, failed to receive adequate attention.
The heart of
Managing Leadership
is a carefully developed argument for the concept of organizational leadership as a naturally occurring phenomenon inherent to all organizations. Using examples from military and business, the case for this view is carefully and vividly presented. Finally, the main part of the book culminates in a chapter discussing methods for executives to manage the leadership inherent in their organizations.
In an especially interesting innovation, the concluding section of the book opens with a unique chapter which contains vigorously presented arguments against the thesis of the book. The author recognizes that the view of organizational leadership presented in this book will certainly attract criticism. His goal in this chapter is to present some of these criticisms, and then to answer them. The author even invites additional critiques from readers, for possible inclusion in future editions of the book.
Managing Leadership
proposes that the debate over what leadership in organizations really is needs to be reopened, and begins the debate with an important contribution of its own. The argument is that leadership is not properly viewed as an individual characteristic to be exhibited primarily by the senior executive, but one inherent to the organization, naturally expressed by all of its members, and managed by that senior executive. This view of leadership provides many benefits to the organization: 1) it unleashes the leadership seeking expression from within the organization in beneficial ways, 2) it frees senior executives from the extraordinary and untenable demands made of them by the modern leadership movement, and 3) it enables them to return to their principle duty of managing the organization - including the leadership inherent to it.

About the Author
Jim Stroup
is a management consultant specializing in organizational leadership. Born and raised in Detroit, Michigan, Jim began his working career with stints in a diner, several gas stations, a tool and die shop, and in an advertising agency mail room. During this period, his academic career went into a long hiatus after two years studying philosophy and history. After a few years, he moved to North Dakota to take a job as a common laborer on a construction site.
Later, Jim enlisted in the U.S. Marine Corps, and served as an Infantry Marine in the United States and Japan, as well as on deployments to the Mediterranean and the Western Pacific. After several years, and promotion to the rank of sergeant, Jim was selected for a commissioning program.
As an Infantry Officer, he continued to serve as a commander and staff officer in the operating forces in Hawaii, with further deployments to the Western Pacific and Indian Oceans. Upon assignment to a major training command on the West Coast, he was instrumental in the expansion and development of three major specialty certification and professional development programs. Later, Jim served in the first Gulf War, in 1990 and 1991. During his spare time in this period, Jim also completed his bachelor's degree, magna cum laude, in international relations, and a masters degree with a dual concentration in business and management.
Jim subsequently entered the Marine Corps Foreign Area Officer program, and went to the Defense Language Institute in Monterey, California, where he learned Arabic. Next, he and his family moved to Cairo, Egypt, where they lived for a year while Jim traveled throughout the Middle East, honing his skills as a military expert for the area. During this time, he also managed to obtain certification as a foreign area officer for Europe, with a specialty for Turkey. After serving a further tour as the operations advisor for the Kuwait Ground Forces, Jim retired and turned to work in the civilian world, during which period he also found time to complete a doctorate in business administration.
During and since his military career, Jim has had the opportunity to work with, observe, and advise numerous military and civilian organizations, from many countries and cultures, on four continents. He has developed substantial expertise in organizational leadership, and consults widely and writes on this subject, as well as other related organizational and management topics.
Jim is married and lives in Istanbul, Turkey. While still in the United States, his wife, Emel, obtained her doctorate in clinical psychology. She is also a certified cognitive therapist, and practices and teaches in Istanbul. Jim and Emel have one son, Tarik, who is a graduate of the visual arts program at the University of California, San Diego, and who lives and works in his field in Southern California.

Table of Contents
| | | |
| --- | --- | --- |
| | Preface | xiii |
| | Part One: Introduction | |
| 1 | What's Happened | 5 |
| 2 | What's Wrong | 15 |
| 3 | What's Close | 26 |
| | Part Two: Organizational Leadership | |
| 4 | Leadership From the Front | 41 |
| 5 | Leadership From the Rear | 53 |
| 6 | Leadership From Within | 63 |
| 7 | Managing Leadership | 82 |
| | Part Three: Conclusion | |
| 8 | What's Different | 105 |
| 9 | What's Next | 123 |
| | Index | 147 |

Find Items On Similar Subjects

Optimal Thinking
: How to Be Your Best Self