Optimal Thinking
: How to Be Your Best Self
Rosalene Glickman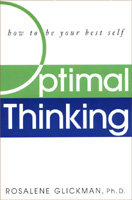 Format:
Paperback, 256pp.
ISBN:
9780471414643
Publisher:
Wiley
Pub. Date:
March 2002
Average Customer Review:

For Bulk Orders Call: 626-441-2024

Description and Reviews
From
The Publisher:
Maximize your talents, resources, and time. Make the most of every opportunity and achieve optimal personal and professional satisfaction. The successor to positive thinking, Optimal Thinking is the mental tool you need to achieve your ultimate life. This revolutionary, life-optimizing book shows you just how simple it is to sweep past the ordinary and even the extraordinary into the world of the highest and best. You will never settle for second best again!
You'll learn how to:
Ask the best questions and find the best solutions
Make the most constructive decisions in every situation
Maximize your enjoyment of everyday activities
Eliminate self-sabotage and experience the full power of your mind
Master disturbing emotions and stop unwanted behaviors
Function at your peak in business and personal relationships
Bring out the best in others, and much more!

Reviews
"Optimal Thinking has a little bit for everyone and will help people be the best self they can be."
—Ken Blanchard, Ph.D.,author of The One Minute Manager
"This powerful, practical, most inspiring book gives you the ideas and tools you need to become an optimally productive and powerful person in every area of your life."
—Brian Tracy, author of Focal Point
"To fast create an optimal life, lifestyle, and future, read, digest, and use Optimal Thinking."
—Mark Victor Hanson, co-creator, New York Times bestselling series Chicken Soup for the Soul
"Optimal Thinking beautifully convinces and illustrates why 'the enemy of the best is the good.' Insightfully, it blends and synthesizes idealistic and realistic thinking, left- and right-brain cognition, analysis and creative intuition, acceptance and optimism. A superb treatment of the idea of Personal Best."
—Dr. Stephen R. Covey, author of The 7 Habits of Highly Effective People

About the Author
Rosalene Glickman, Ph.D.
, is a consultant who conducts seminars regularly and addresses large audiences throughout the world. She has been honored as Australia's Most Successful Woman and voted "Woman of the Year" for National Business Women's Week in Hollywood. Dr. Glickman lives in Los Angeles.

Find Items On Similar Subjects

Learned Optimism
: How to Change Your Mind & Your Life