Power of An Hour
: Business and Life Mastery in One Hour A Week
Dave Lakhani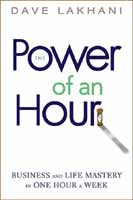 Format:
Hardcover, 224pp.
ISBN:
9780471780939
Publisher:
John Wiley & Sons
Pub. Date:
May 19, 2006
Average Customer Review:

For Bulk Orders Call: 626-441-2024

Description and Reviews
From
The Publisher:
Every day, we set out to create a better life, a better career, or a better business. Sometimes we succeed, but often we fail because we simply fall into old patterns. But what if by devoting just one single, focused hour a week you could make big improvements in your professional life? And what if you knew in advance exactly what to focus on so that you could utterly destroy your old patterns?
The Power of an Hour
gives you the blueprint for making changes one at a time that add up to a big difference. Most books that promise to help you improve yourself and your business are too formulaic and too focused on one particular aspect of life to really work. But this book is different. It's a holistic guide to the practical, everyday actions you can use to supercharge your personal and business development.
The demands of business, especially for executives and entrepreneurs, leave little time for thinking about yourself. But great businesses are built on great leaders, and changing your business for the better often means changing yourself first. The Power of an Hour identifies specific core areas of personal, professional, and business improvement, then guides you through a step-by-step process that keeps you focused so you can reinvent your life and business. The results are fast and predictable.
Designed by a successful entrepreneur to work specifically within the busy executive's or business owner's schedule, this insightful, enlightening guide is broken down into two groups of lessons—those hours dedicated to personal issues and those dedicated to business issues. All these one-hour blocks go hand in hand to create a better business and a better you. But you can also use them as individual lessons on topics you need to know more about. You'll learn about managing your time, improving your personal relationships for the good of yourself and your business, dealing with customers, managing employees, and creating and following a vision of your future success.
The world's top athletes all have coaches who help them focus on specific areas of their game to create consistent and ongoing improvement. This book helps you focus on those issues that have the greatest impact on your success in life and business. In just a few short months, you'll develop the traits that make great business leaders and great businesses. Written to improve your life without disrupting it, The Power of an Hour isn't a personal development book for everyone—it's just for you.

Reviews
"The master at getting what you want from others now tells us how to get what we want from ourselves! This is really a great book, and I recommend it highly—for you, for your team, and for your children."
—Bob Burg, author, Endless Referrals
"If you want to make predictable, systematic change in your life or your business, buy this book. Each chapter is a stand-alone system that results in powerful change . . . fast."
—David Hancock, The Entrepreneurial Publisher, CEO, Morgan James Publishing
"Dave's methods helped me take my business from $0 to $10 million in sales.If you're a creative business owner who wants total focus and massive success, run, don't walk, and get this book!"
—Stephanie Frank, author, The Accidental Millionaire
"The Power of an Hour is a mighty powerful way to sort out your financesby first sorting out yourself!"
—Mark Joyner, #1 bestselling author, The Irresistible Offer
"The disease of the twenty-first century, no matter who you are or what you do,is Time Deficit Disorder. Dave Lakhani offers a brilliant solution in this book.Get it and take the cure—you'll be surprised how much better you feel!"
—David Garfinkel, author, Customers on Demand

About the Author
Dave Lakhani
is an in-demand speaker, trainer, and the President of Bold Approach, Inc., a business acceleration firm consultancy. Bold Approach has been nominated twice as one of
Fast Company
magazine's Fast 50 Companies. A successful entrepreneur, he is a popular speaker on the topics of persuasion, influence, sales, marketing, ideation, and business acceleration. He is also the author of
Persuasion: The Art of Getting What You Want
.

Table of Contents
| | | |
| --- | --- | --- |
| | Foreword | ix |
| | Preface | xi |
| | Acknowledgements | xv |
| | About the Author | xvii |
| | | |
| 1 | The Power Of An Hour | 1 |
| 2 | How To Focus – The Power In An Hour | 11 |
| 3 | How To Think Critically | 21 |
| 4 | How To Think Creatively | 29 |
| 5 | Personal Hour 1 – Set The Stage | 37 |
| 6 | Personal Hour 2 – Identify The Blocks | 45 |
| 7 | Personal Hour 3 – Destroy The Blocks | 55 |
| 8 | Personal Hour 4 – Relationships | 63 |
| 9 | Personal Hour 5 – Finances | 73 |
| 10 | Personal Hour 6 – Self Improvement | 83 |
| 11 | Personal Hour 7 – Mental Vacation | 93 |
| 12 | Personal Hour 8 – Create A Master Life Vision | 99 |
| 13 | Personal Hour 9 – Overcome Your Fear And Reinvent Yourself | 113 |
| 14 | Business Hour 1 – Finding Your Business Focus | 119 |
| 15 | Business Hour 2 – Time Management | 127 |
| 16 | Business Hour 3 – Management | 135 |
| 17 | Business Hour 4 – Sales And Marketing | 145 |
| 18 | Business Hour 5 – Customer Experience | 155 |
| 19 | Business Hour 6 – Making Connections | 163 |
| 20 | Business Hour 7 – Mentoring | 175 |
| 21 | Business Hour 8 – Give Something Back | 183 |
| 22 | Business Hour 9 – The Final Hour | 189 |
| | Call It A Day | 197 |
| | | |
| | Index | 199 |

Find Items On Similar Subjects

Focus Like a Laser Beam
: 10 Ways to Do What Matters Most

Getting Things Done
: The Art of Stress-Free Productivity