George Washington's Leadership Lessons
: What the Father of Our Country Can Teach Us About Effective Leadership and Character
James Rees with Stephen Spignesi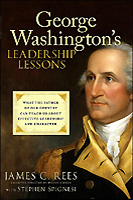 Format:
Hardcover, 240pp.
ISBN:
9780470088876
Publisher:
Wiley
Pub. Date:
January 22, 2007
Average Customer Review:

For Bulk Orders Call: 626-441-2024

Description and Reviews
From
The Publisher:
From James Rees, Executive Director of Mount Vernon, comes anenlightening guide to the leadership wisdom of America's first great leader. George Washington was more than just an inspiring battlefield commander; he was critical to the founding and success of the United States of America. His leadership, his vision, and his courage united a war-torncountry and set the United States on the path to greatness. Washington's historic contribution to this nation—his leadership and his character—are as relevant and valuable today as they have ever been.
This book reveals Washington's character, his leadership, his vision, and most surprising of all, his business skills and acumen. Most people aren't aware that Washington, while all of the above, was also a successful businessman and visionary entrepreneur.
Exhibiting qualities sorely lacking in so many of our political and business leaders today, Washington remained steadfastly honest and ethical, following guiding principles that would benefit leaders around the world. George Washington's Leadership Lessons reveals a man of true character,worthy of emulation not just in the realm of politics and war, but in all leadership positions.
George Washington has long been a role model for Americans. Legends of his honesty and virtue are part of America's cultural heritage. But Washington's legacy is much greater than the apocryphal story of the cherry tree. George Washington's Leadership Lessons offers a unique perspective on America's first president—not as a caricature of model behavior, but as an effective, visionary, and inspiring leader of men.
Far more than just an able military strategist, Washington was a charismatic leader who inspired confidence in others whether he was leading troops, leading the nation, or leading a business venture. Now, James Rees, Executive Director of Mount Vernon, plumbs the historical record to reveal how Washington developed his leadership skills and built a reputation as an honest, effective, and ethical leader.
Rees breaks down Washington's leadership skills into fifteen lessons that encapsulate great leadership and reveal why Washington was so effective. Using stories from Washington's life, as well as his own writings, Rees shows how these leadership skills aided him not only on the battlefield but also in business. In addition to the fifteen leadership lessons, Rees includes the Rules of Civility that helped Washington initially develop the qualities of a great leader and a comprehensive look at one of the lesser-known sides of George Washington: the entrepreneur.
Few Americans realize that Washington's estate at Mount Vernon was far more than a beautiful plantation—it was also the site of the nation's largest whiskey distillery, a very sophisticated milling operation, and a remarkable fishery that netted 1.5 million herring in a seven-week season. And who would have imagined that the founder of our country introduced the hard-working mule to hundreds of American farmers?
George Washington's Leadership Lessons presents a compelling and complex vision of Washington as a modern role model for every American, especially those who lead others. Offering true insight into the unexamined leadership skills of a great American, this unique and insightful book reveals true qualities of leadership that every American should take to heart.

About the Author
James C. Rees
has been the Executive Director of Mount Ver-non for the past thirteen years. He is also a former president of the Virginia Association of Museums and a past board member of the National Parks and History Foun-dation. He has previously worked at the National Trust for Historic Preservation and at the College of William & Mary.
Stephen Spignesi
is the author of thirty-six nonfiction books and one acclaimed novel.

Find Items On Similar Subjects

The Founding Fathers on Leadership
: Classic Teamwork in Changing Times