The Think Factory
: Managing Today's Most Precious Resource: People!
Susan D. Conway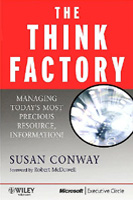 Format:
Hardcover, 240pp.
ISBN:
9780470055199
Publisher:
Wiley
Pub. Date:
January 9, 2007
Average Customer Review:

For Bulk Orders Call: 626-441-2024

Description and Reviews
From
The Publisher:
Organizations excel when they empower their people to drive the business forward. By harnessing information, the lifeblood of business today, people are enabled to turn data into insight, transform ideas into action, and to turn change into opportunity. CEOs and business managers must swiftly adopt and apply methods to connect information workers across all areas of their organization in order to empower their people and put information to work. The Think Factory shows you how.
Written by renowned knowledge management expert Susan Conway, The Think Factory reveals how intangibles such as collaboration and business intelligence interact to create tangible value and identifies the best practices for expanding your company's investment in people and procedures to get the most benefit from technology.
This breakthrough and inventive guide shows you how information moves through your company, constantly being created, changed, and renewed. Emphasizing the need to balance business investment strategies between technology acquisition and the deepening of labor capital, it capably provides a proven framework for measuring both short- and long-term direct and indirect gains from procedure, training, and technology improvements in a Lean Six Sigma–compliant manner. Readers are first shown how information flows as it passes throughout the enterprise, building a statement of economic utility and identifying points of congestion and complexity. A foundation is then provided on which to build a picture of effectiveness and efficiency at each process intersection, so that information flows to maximum benefit.
The debut title in Wiley's Microsoft Executive Circle series,
The Think Factory
is an essential road map to enhancing and mobilizing information work for today's corporate executives. Brimming with case studies and sample improvement plans, this groundbreaking volume presents real-world applications from multiple industries and sectors such as manufacturing and health care, illustrating the successes to which this approach has led.

Reviews
"In order to confidently invest in technology-driven process improvements, business leaders need to be able to measure IT productivity improvement in repeatable, understandable numbers. The Think Factory describes a measurement framework that gives us, finally, the opportunity to validate productivity claims, and as such, is sure to become an integral cog in the ongoing contribution of IT for business effectiveness."
—Charles House Director, Societal Impact of Technology, Intel Corporation
"The methodology outlined in The Think Factory is one of the premier approaches today's global manager can use to extend productivity improvement across the sales organization...The Productivity Impact Framework, as described in The Think Factory, has been highly effective across diverse partner organizations and cultures and should be one of the core tools in every manager's productivity toolbox."
—Mike Steep Director, Field Engagements and Operations, Microsoft Corporation
"The Think Factory concepts applied at Korean Air were very helpful for our study of employee productivity enhancements as well as the design of [the new] groupware system migration. I believe this approach will enhance Korean Air's program to be among the best in its class and further our integration into a people-ready business."
—Sang Man Lee Vice President and CIO, Korean Air
"The Think Factory provides readers with unique methodology designed to improve performance. Through the Productivity Impact Framework and applied tools, companies have successfully measured technology and its impact on productivity. There have been many books written that try to address the growing crisis in information work, and The Think Factory is one of the few that I have read that successfully addresses the issue. I highly recommend this book to any corporate leader seeking to find ways to solve this challenge."
—Steve A. Stone, CEO, Infoflows Corporation
"The intangibility and diversity of information work and its output presents unique challenges in its definition and measurement. The Think Factory provides a road map to map, measure, and manage information work; a key requirement to better understand the productivity impact of knowledge work in the information age."
—Vish Krishnan, University of California, San Diego, Professor of Innovation, Technology, and Operations, Rady School of Management

About the Author
Susan Conway
(San Francisco, CA) is one of Microsoft's passionate advocates of productivity improvement, having just completed a special assignment on behalf of Microsoft CEO Steve Ballmer and the US Air Force Office of the CIO to build a framework for measuring the impact of technology on information-centric work. Her industry leading work has been quoted in CIO, Fast Company, and Optimize magazines.

Find Items On Similar Subjects

Know-How
: The 8 Skills That Separate People Who Perform from Those Who Don't