Greatness
: Reagan, Churchill, and the Making of Extraordinary Leaders
Steven F. Hayward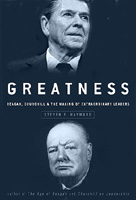 Format:
Paperback, 208pp.
ISBN:
9780307237194
Publisher:
Three Rivers Press
Pub. Date:
October 24, 2006
Average Customer Review:

For Bulk Orders Call: 626-441-2024

Description and Reviews
From
The Publisher:The incredible unexplored connections between two of history's greatest leaders
Ronald Reagan and Winston Churchill were true giants of the twentieth century, but somehow historians have failed to notice the many similarities between these extraordinary leaders. Until now.
In
Greatness
, Steven F. Hayward—who has written acclaimed studies of both Reagan and Churchill—goes beneath the superficial differences to uncover the remarkable (and remarkably important) parallels between the two statesmen. In exploring these connections, Hayward shines a light on the nature of political genius and the timeless aspects of statesmanship—critical lessons in this or any age.
A swift-moving and original book,
Greatness
reveals:
• The striking similarities between Reagan's and Churchill's political philosophies: the two were of the same mind on national defense, the economy, and many other critical issues
• What made both Reagan and Churchill so effective in the public arena—including their shared gift for clearly communicating their messages to the people
• The connecting thread of the Cold War, which was bookended by Churchill's "Iron Curtain" address of 1946 and Reagan's "Tear Down This Wall" speech of 1987
• The odd coincidences that mark everything from their childhoods to their shifts from Left to Right to their shared sense of personal and national destiny
Ultimately, Hayward shows, the examples of Churchill and Reagan teach us what is most decisive about political leadership at the highest level—namely, character, insight, imagination, and will.
Greatness
also serves as a sharp rebuke to contemporary historians who dismiss notions of greatness and the power of individuals to shape history. Hayward demonstrates that the British historian Geoffrey Elton had it right when he wrote, "When I meet a historian who cannot think that there have been great men, great men moreover in politics, I feel myself in the presence of a bad historian."

Reviews
Brilliant. If you admired Churchill and liked Reagan, you will love this book. You will smile and nod yes to yourself again and again as the comparability of these two men is unveiled.
—Martin Anderson, editor of Reagan, In His Own Hand
In times of crisis, countries need leaders of courage, conviction, and clarity with an ability to rally the nation to overcome its challenges. Churchill and Reagan were two such historic leaders. Anyone interested in the lessons of leadership will find this a compelling and important book.
—Newt Gingrich
Ronald Reagan was just a B-list actor when Winston Churchill assumed control over Europe's fate. Even as president, Reagan remained at heart a California rancher with Midwestern roots, while Churchill was a British aristocrat groomed for the political stage from a young age. Despite these obvious differences, American Enterprise Institute fellow Hayward (The Age of Reagan; Churchill on Leadership) argues that the two icons possessed the same essential ingredients for the making of political greatness: boundless vision and imagination; a capacity for strength and optimism, even humor, in the face of crisis; an iron will; and a denunciation of evil, embodied most famously in Churchill's Iron Curtain speech and Reagan's "evil empire" and "tear down this wall" counterparts. While the two were essentially conservative figures, Hayward's analysis is not innately political but is, rather, marked by balanced insightfulness. Finally, the author argues, with an optimism worthy of his subjects, that political greatness in the 21st century—an ostensible oxymoron at times—is not only necessary but possible. This is a useful primer for students of political science, not to mention politicians, in the essential qualities of truly great leaders.
—Publishers Weekly, Copyright © Reed Business Information, a division of Reed Elsevier Inc. All rights reserved.

About the Author
Steven F. Hayward
is a recognized authority on both Ronald Reagan and Winston Churchill, having written
The Age of Reagan: The Fall of the Old Liberal Order, 1964–1980
, and
Churchill on Leadership
. He has written for the
New York Times
, the
Wall Street Journal
, the
Chicago Tribune
, the
Baltimore Sun
, the
San Francisco Chronicle
,
National Review
,
Reason
, and
Policy Review
, among other publications. A Ph.D. in American studies, he is F. K. Weyerhaeuser Fellow at the American Enterprise Institute and Senior Fellow at the Pacific Research Institute. Hayward is currently at work on
The Age of Reagan: Lion at the Gate, 1980–1989
, to be published by Crown Forum in 2006. He divides his time between Washington, D.C., and California.

Find Items On Similar Subjects

Warlord
: A Life of Winston Churchill at War, 1874-1945