Warlord
: A Life of Winston Churchill at War, 1874-1945
Carlo D'este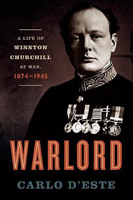 Format:
Hardcover, 864pp.
ISBN:
9780060575731
Publisher:
Harper
Pub. Date:
November 11, 2008
Average Customer Review:

For Bulk Orders Call: 626-441-2024

Description and Reviews
From
The Publisher:
Carlo D'Este's brilliant new biography examines Winston Churchill through the prism of his military service as both a soldier and a warlord: a descendant of Marlborough who, despite never having risen above the rank of lieutenant colonel, came eventually at age sixty-five to direct Britain's military campaigns as prime minister and defeated Hitler, Mussolini, and Hirohito for the democracies. Warlord is the definitive chronicle of Churchill's crucial role as one of the world's most renowned military leaders, from his early adventures on the North-West Frontier of colonial India and the Boer War through his extraordinary service in both World Wars.
Even though Churchill became one of the towering political leaders of the twentieth century, his childhood ambition was to be a soldier. Using extensive, untapped archival materials, D'Este reveals important and untold observations from Churchill's personal physician, as well as other colleagues and family members, in order to illuminate his character as never before. Warlord explores Churchill's strategies behind the major military campaigns of World War I and World War II—both his dazzling successes and disastrous failures—while also revealing his tumultuous relationships with his generals and other commanders, including Dwight D. Eisenhower.
As riveting as the man it portrays,
Warlord
is a masterful, unsparing portrait of one of history's most fascinating and influential leaders during what was arguably the most crucial event in human history.

>
Reviews
D'Este (Patton: A Genius for War) is a master analyst of 20th-century military leadership, and this book may be his finest yet. Showing a remarkable knowledge of archival and printed sources, he tells the complex story of a statesman and warrior. As a child, Winston Churchill was "headstrong, highly opinionated, and virtually impossible to control." Those traits remained throughout a life he often regretted having spent in council chambers rather than on battlefields. His experiences as a young man in India, South Africa and the Sudan left him with both an abhorrence of war and a passion for soldiering. D'Este skillfully demonstrates how these traits shaped Churchill's persistent advocacy for preparedness and negotiation as means of averting war and his determination to see war through when deterrence failed. D'Este camouflages neither personal weaknesses nor questionable policies. But his expertise as a military historian provides contexts too often lacking in evaluating Churchill's roles in the 1915 Gallipoli campaign, 1940's Battle of Britain and the D-Day invasion in 1944. Elegantly written, this tour de force belongs in every library addressing the 20th century. 16 pages of b&w photos, 9 maps.
—Publishers Weekly

About the Author
Carlo D'Este
is a retired U.S. Army lieutenant colonel and a highly regarded military historian. He is the author of four books about World War II -- Decision in Normandy, Bitter Victory: The Battle for Sicily, 1943, World War II in the Mediterranean, and Fatal Decision: Anzio and the Battle for Rome. D'Este received his B.A. from Norwich University in 1958, an M.A. from the University of Richmond in 1974, and an honorary doctorate of humane letters from Norwich in 1992. Born in Oakland, California, D'Este now lives in Cape Cod, Massachusetts.

Find Items On Similar Subjects

Churchill
: A Study in Greatness