Why Didn't I Think of That?
Think the Unthinkable and Achieve Creative Greatness
Charles W. McCoy Jr.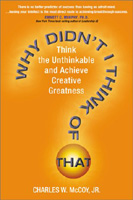 Format:
Hardcover, 256pp.
ISBN:
9780735202573
Publisher:
Prentice Hall Press
Pub. Date:
January 15, 2002
Average Customer Review:

For Bulk Orders Call: 626-441-2024

Description and Reviews
From
The Publisher:
Awaken creativity and ignite new standards of thinking to enhance your mental dexterity
Critical thinking, proactive decision-making, and dynamic creativity are thinking skills essential to success in all business and personal endeavors. Many of us, however, are not accustomed to using these skills when attempting to make balanced decisions. Why Didn't I Think of That? provides readers with the precise steps to follow when making decisions requiring observation, accuracy, and analysis to determine the most favorable outcome, such as:
Outsmarting the competition that holds the market share
Agreeing on a financial investment
Working with a deceptive colleague
Persuading a stubborn relative
Including self-tests designed to develop progressively better judgement for balanced decision-making, each chapter challenges readers to apply techniques for generating creative ideas and methods for making optimal choices. Within hours, readers will learn to seize opportunities, capitalize on original ideas, recognize the significance of subtle, yet important events, protect against deception, and ultimately avoid having to say, "Why didn't I think of that?"
Why Didn't I Think of That? is indispensable reading for professionals at all levels of business, teachers, students and anyone interested in gaining thinking skills that will prove invaluable in their careers and their personal lives. It is the quickest guide to improving performance IQ.
Why Didn't I Think of That? uncovers and corrects hidden loopholes and blindspots in our thinking that significantly diminish the effectiveness of our creativity, decision-making and problem-solving.
Most of us take our thinking skills for granted, unwittingly leaving loopholes and blindspots in our thinking which only hindsight tells us we should have considered. We fail to see opportunities, we reject ideas our competitors later exploit, we miscalculate the significance of events which prove crucial, we fall for deceptions only to wonder later how we could have let our guard down. Time and again we ask: Why didn't I think of that? Then, we just go on thinking as usual, making the same old mistakes over and over again.
This book stops that cycle with highly effective approaches anyone can use to sharpen their thinking at work and home. The book breaks down the complex process of creative problem-solving and decision-making into simple steps anyone can follow, and it illustrates those steps with the stories of history's best minds at work, from Madame Curie to Albert Einstein and NASA's talented flight controllers to Intel's brilliant marketeers.
In just a few hours, this book will greatly strengthen your creative decision-making and problem-solving skills by replacing old habits with new methods that transform workable decisions into brilliant ones, acceptable solutions into spectacular ones. With every illustration, every example of both brilliant and shoddy thinking, you will find yourself challenged to apply what you've learned in practical exercises designed to reinforce your best thinking by closing the loopholes and illuminating the blindspots that leave you vulnerable to costly and regrettable errors.
Rather than taking your thinking for granted, you will break the cycle of "thinking as usual," and open your mind to possibilities that before only came to you through hindsight. You will emerge a far better thinker who, more often than not, comes up with innovative solutions and wise decisions that leave others, rather than you, asking: "Why didn't I think of that?"

About the Author
Charles W. McCoy, Jr.
, a judge at the Los Angeles Superior Court, California's highest court, has been published extensively in law journals throughout the country. He is an adjunct professor at Pepperdine University School of Law and Southwestern University School of Law.

Table of Contents
| | | |
| --- | --- | --- |
| | Introduction: Why Didn't I Think of That? | ix |
| One | Why Didn't I See That? Think Perceptively | 1 |
| Two | Why Didn't I Concentrate on That? Think Deliberately | 38 |
| Three | Why Didn't I Catch That? Think Control the Quality of Your Thinking | 71 |
| Four | Why Didn't I Realize That? Think Systematically | 103 |
| Five | Why Didn't I Come Up With That? Use Your Imagination | 136 |
| Six | Why Didn't I Sense That? Listen to Your Inner Voice | 169 |
| Seven | Why Didn't I Appreciate That? Think Empathetically | 203 |
| Eight | Why Didn't I Anticipate That? Look Before You Leap | 229 |
| | Epilogue - I'm Glad I Thought of That! | 261 |
| | Supplemental Solutions | 268 |
| | Appendix: Sharp-Thinking Checklist | 270 |
| | References | 273 |
| | List of Exercises | 276 |
| | Index | 279 |

Find Items On Similar Subjects

Winning Decisions
: Getting It Right the First Time

Good to Great
: Why Some Companies Make the Leap... and Others Don't