New Rules for the New Economy
: 10 Radical Strategies for a Connected World
Kevin Kelly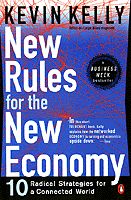 Format:
Paperback, 192pp.
ISBN:
9780140280609
Publisher:
Viking Penguin
Pub. Date:
October 1999
Average Customer Review:

For Bulk Orders Call: 626-441-2024

Description and Reviews
From
The Publisher:
We are rushing into a world where connectivity is everything, and where old business know-how means nothing. In this new order, success flows primarily from understanding networks and networks have their own rules. In
New Rules
, Kevin Kelly presents 10 fundamental principles that invert the traditional wisdom of the industrial world. For example, "Plenitude, Not Scarcity." Industrial-age wisdom says value comes from scarcity. But in a network economy, value comes from abundance. Consider the "fax effect." One fax machine is worth nothing. Even a small network of fax machines is valuable. But each machine added to a fax network increases the value of all the machines on the network exponentially. The idea of plenitude is to create something that is connected to as many other products, services, and networks as possible.
New Rules
explains why these powerful laws are already hardwired into the new economy, and how they play out in all kinds of businesses - both low- and high- tech - all over the world. More than just a profound overview of new economic principles,
New Rules
prescribes many clear and specific strategies for success.

Reviews
Blunt, tight, and explicitly written
not
to be obsolesced by The Next Great Web-Business Buzzword....At the core of Kelly's argument(s) is a zealous ideological belief that postindustrial network economics turns conventional business-school wisdom inside out....[I]t is a nifty codification of things we have personally experienced made coherent and compelling.
—Wired
Kelly's book is. . .provocative, but his vision is far too narrow. . . .[His] exclusive focus on technology seriously undermines the usefulness of
New Rules
as a guide to business strategy.
—Business Week
Kelly, executive editor of Wired magazine describes ten new rules and success strategies based upon them. Many of his new techno-economy rules invert traditional wisdom: initial successes aren't self-limiting, but self-feeding (increasing returns); value is carried by abundance; generosity begets wealth (free stuff equals consumer attention); and the highly successful must be abandoned in order to escape its eventual obsolescence.
—Annotation c. by Book News, Inc., Portland, Or.
The executive editor of
Wired
proposes 10 new rules for getting by in business these days, e.g., "Embrace the Swarm: The Power of Decentralization."
—Library Journal, Joshua Quittner
Fun reading -- even if you aren't trying to figure out how to survive.
—Time Magazine

About the Author
Kevin Kelly
, author of the acclaimed Out of Control (called "required reading for all executives" by
Fortune
) is editor-at-large of
Wired
magazine. He has been involved in such cultural innovations as The Hacker's Conference and The Well. He lives in the Bay Area.

Table of Contents
| | | |
| --- | --- | --- |
| | | |
| | This New Economy | 1 |
| 1 | Embrace the Swarm | 9 |
| 2 | Increasing Returns | 23 |
| 3 | Plentitude. Not Scarcity | 39 |
| 4 | Follow the Free | 50 |
| 5 | Feed the Web First | 65 |
| 6 | Let Go at the Top | 83 |
| 7 | From Places to Spaces | 94 |
| 8 | No Harmony, All Flux | 108 |
| 9 | Relationship Tech | 118 |
| 10 | Opportunities Before Efficiencies | 140 |
| | A Thousand Points of Wealth | 156 |
| | New Rules for the New Economy | 161 |
| | | |
| | Acknowledgments | 163 |
| | Notes | 165 |
| | Annotated Bibliography | 167 |
| | Index | 173 |

Find Items On Similar Subjects

Intellectual Capital
: The New Wealth of Organizations

Blur
: The Speed of Change in the Connected Economy