Success Built to Last
: Creating a Life That Matters
Jerry Porras, Stewart Emery and Mark Thompson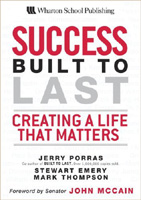 Format:
Paperback, 278pp.
ISBN:
9780452288706
Publisher:
Wharton School Publishing
Pub. Date:
September 12, 2006
Average Customer Review:


For Bulk Orders Call: 626-441-2024

Description and Reviews
From
The Publisher:
Imagine meeting more than 300 people who've made a profound difference: not for weeks or months, but for decades. Imagine discovering what they've got in common, distilling it into a set of simple practices, and using them to transform your life. Success Built to Last is culmination of the world's most thorough research project on lifelong success, this book draws on in-person conversations with hundreds of the world's most remarkable human beings. Authored by three legends in leadership and self-help -- including
Built to Last
co-author Jerry Porras -- it challenges conventional wisdom at every step. Meet world-renowned leaders like Nelson Mandela and Charles Schwab. Meet unsung heroes who've achieved lasting greatness without obvious power or charisma. Famous or not, they all started out ordinary. Discover how they learned how to "harvest" their strengths and their weaknesses, their victories and their surprising failures. You'll learn how they found meaning, and the courage to follow their passions. Above all, see how they've sustained success, while others faded into oblivion.

Reviews
"Everyone wants success, but you can do better than that. This is an extraordinary book that finally reveals a meaningful 'secret formula' for success based on the lives of remarkable people."
—Sir Richard Branson
"Success Built to Last — Creating a Life that Matters provides practical wisdom drawn from the stories of hundreds of the world's most remarkable and enduringly successful people who the authors actually interviewed. This is a book that will make a difference."
—Senator John McCain
"You can make a difference if you put your passions to work in a way that builds a better life for you, your business and your community. Success Built to Last shows you how."
—Steve Forbes, Editor in Chief, Forbes Magazine
"In business and in life, lasting success takes teamwork, integrity and the courage to stick with what really matters. It's the best five players that win the game, not the five best players. That's what this book is all about."
—Richard Kovacevich, CEO of Wells Fargo
"If you're crazy enough to do what you love for a living, then you're bound to create a life that matters. The book Success Built to Last wisely counsels you to go nuts about something meaningful. That's what you're here to do, for heaven's sake. If you do that, then you won't need to finish this book!"
—Herb Kelleher, Cofounder, Southwest Airlines


Reader's Index
Send us your favorite quotes or passages from this book
.
• "You don't have to make a career of everything that is meaningful to you, but you do need to find a place for everything that is meaningful to you. That's the balance that you are seeking." Pg. 55

About the Authors
Jerry Porras
co-wrote the global bestseller
Built to Last
. He is Stanford Graduate School of Business Lane Professor of Organizational Behavior and Change, Emeritus.
Stewart Emery
has coached 12,000 people over 30 years. Recognized as one of the fathers the Human Potential Movement, his bestsellers include
Actualizations: You Don't Have to Rehearse to Be Yourself
and
The Owner's Manual for Your Life
.
Mark Thompson
captured the insightful stories that formed the foundation for Success Built to Last from hundreds of personal interviews with enduringly successful people. He is a veteran entrepreneur, executive coach and former executive producer of Schwab.com.
Forbes Magazine
listed him as one of America's top venture investors with the "Midas" touch.

Table of Contents
| | | |
| --- | --- | --- |
| | Foreword by Senator John McCain | |
| | Acknowledgements | |
| | | |
| | Introduction—From Built to Last to Success Built to Last | |
| 1 | From Great to Lasting—Redefining Success | |
| | | |
| | Part I: Meaning—How Successful People Stay Successful | |
| 2 | Love It or Lose—Passions and the Quest for Meaning | |
| 3 | Portfolio of Passions—It's Not About Balance | |
| 4 | Why Successful People Stay Successful—Integrity to Meaning | |
| | | |
| | Part II: ThoughtStyles—Extreme Makeovers Start in Your Head | |
| 5 | The Silent Scream—Why It's Do Damn Hard to Do What Matters | |
| 6 | The Case Has Charisma—You Don't Have to Be Charismatic to Be Successful | |
| 7 | The Tripping Point—Always Make New Mistakes | |
| 8 | Wounds to Wisdom—Trusting Your Weaknesses and Using Your Core Incompetencies | |
| | | |
| | Part III: ActionStyles—Turning Passion into Action | |
| 9 | Earning Your Luck—Preparing for Serendipity by Using Big Hairy Audacious Goals | |
| 10 | Naked Conversations—Harvesting Contention | |
| 11 | Creating Alignment—The Environment Always Wins | |
| | | |
| | Endnotes | |
| | Biographical Index | |
| | Index | |

Find Items On Similar Subjects

Built to Last
: Successful Habits of Visionary Companies