The Truth About Being a Leader
...and Nothing But the Truth
Karen Otazo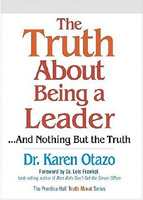 Format:
Paperback, 256pp.
ISBN:
9780133038200
Publisher:
FT Press
Pub. Date:
1st edition November 12, 2006
Average Customer Review:

For Bulk Orders Call: 626-441-2024

Description and Reviews
From
The Publisher:
What really works: how to become a great leader, starting today
When it comes to effective leadership, everyone has an opinion. But you don't need opinions: you need proven, real-world solutions, based on facts and evidence. That's what
The Truth About Being a Leader
delivers: high-power leadership techniques you can use every day, whether you lead one person or 100,000.
Dr. Karen Otazo has spent more than 20 years coaching executives in virtually every type of organization. She's worked personally with more than 2,000 individuals, from interns to CEOs. Now, drawing on hundreds of secret leadership feedback reports, she reveals what actually works–and doesn't work– when it comes to being a great leader.
You'll find simple, easy-to-use techniques for smoothly assuming new leadership roles...honing your style...maximizing your impact...crafting a vision, shaping strategies, and getting buy-in... using power wisely...handling tough coaching and feedback sessions...avoiding leadership pitfalls... strengthening key leadership relationships...inspiring people, building world-class teams, and achieving outstanding results.
Prepare for the toughest challenges of leadership
Widen your "mental bandwidth" in seven key areas
Get beyond the numbers
Learn how to use all your resources, tangible and intangible
Sharpen your vision, and communicate it crisply
Engage, motivate, and inspire all your audiences
Don't let stress impact your performance
Manage your stress, manage your energy
Use power wisely, and choose your battles
Apply the right touch: not too light, not too heavy-handed
Grow your people, grow your team
Develop outstanding people, achieve outstanding results
Leaders aren't born, they're made... and you can make yourself a great leader, starting today! This book's 52 proven leadership principles and bite-size, easy-to-use techniques that work!
* * *
Leadership isn't just another step in your career; it's a leap across the great divide. Everything changes, even if you stay in the same place. The familiar halls of your organization become a foreign landscape as you navigate new power structures, new demands, and new expectations. Suddenly, you have become a new person: a leader. Your mission? To motivate, align, inform, guide, and support your organization, through good times and bad.
It's easy to think that great leadership is some kind of innate ability or gift, to think that either you have it or you don't. That's not the case. Leadership gurus agree that great leaders are formed through their experiences, not born that way. Nevertheless, leadership is a tough act to jump into without some guidelines. This book gives you the necessary guidance to get you through the hard work, but also a few conjuring tricks or sleights of hand to help you in sticky situations. The good news is that a little effort goes a long way.
Think of the 52 short, to-the-point chapters in this book as a deck of cards. You can read and use them in any order. Riffle through the deck and draw what you need to build a strong hand. Use them to stay on your toes, playing one when you need to freshen your thinking. Whether you're a new graduate or an established leader, the truths in this book will help you consider where you are in your career and what else you want to accomplish.
For more than two decades, I have worked with hundreds of leaders worldwide, and I've learned that all leadership situations have truths in common. This book points out the pitfalls and shows you how to avoid them. It levels with you about the challenges of leadership, even those that people are reluctant to discuss. It will be your guide through one of the most challenging and rewarding transitions you'll ever make. You'll learn from the real-life challenges and successes of those who have made the leap.
You are a great doer, or you wouldn't have made it this far. To be a great leader, you need to learn a new game. The Truth About Being a Leader will help you master that game and play it so well that it will look like magic.

About the Author
Dr. Karen Otazo
is a global executive coach and thinking partner for executives in multinational organizations as well as a leader of seminars for groups interested in maximizing their potential at work. More than 25 years of working in the U.S., China, India, Indonesia, Hong Kong, the UK, the Netherlands, France, Belgium, and Singapore, have given her a broad perspective on the challenges facing executives in companies of all sizes from boutique consulting firms or start-up nonprofits to global corporations, joint ventures, and strategic alliances.
Her results-oriented approach has enabled her to build a blue chip client list that includes Ahold, AlliedSignal, American National Can, Amgen, ARCO, Avery Dennison, BankBoston, Booz Allen Hamilton, Central London Partnership, Chase Bank, Colgate-Palmolive, Colliers, CSFB, Digital, The Economist Group, FMC, Skanska Gammon Construction, General Electric, GlobalOne, Global Marine, Goldman Sachs, Hongkong Land, IBM, Ikea, Jardine Matheson, Lehman Brothers, Marks & Spencer, Motorola, Pixelpark (Bertelsmann), Readers Digest, Schindler, Sprint International, Syngenta, Time/Fortune International, and Vodafone. Many assignments have drawn on her experience with trans-national subsidiaries, joint ventures, and alliances.

Find Items On Similar Subjects

The 21 Indispensable Qualities of a Leader
: Becoming the Person Others Will Want to Follow