Nightly Business Report Presents
Lasting Leadership
: What You Can Learn from the Top 25 Business People of our Times
Mukul Pandya, Robbie Shell, Susan Warner, Sandeep Junnarkar and Jeffrey Brown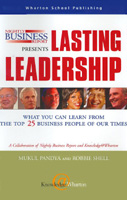 Format:
Hardcover, 288pp.
ISBN:
9780131531185
Publisher:
Wharton School Publishing
Pub. Date:
October 12, 2004
Average Customer Review:

For Bulk Orders Call: 626-441-2024

Description and Reviews
From
The Publisher:
Paths to greatness: Actionable lessons from today's most remarkable business leaders
Incisive profiles from Knowledge@Wharton and Nightly Business Report
Andy Grove, Mary Kay Ash, Lou Gerstner, Richard Branson, Herb Kelleher, Charles Schwab... and 19 more
In this book, two of the world's most respected sources of business insight come together to select and profile the 25 most influential businesspeople of the past quarter century. These incisive profiles teach specific lessons you can use to discover, refine, and nurture your own leadership style... achieve breakthrough results... and accelerate your career progress.
The team: Nightly Business Report, the United States' #1 daily TV business news program, and Knowledge@Wharton, The Wharton School's online journal of research and business analysis. Together, they offer powerful new insights into familiar faces--and reveal the passion and brilliance that allowed less-well-known leaders to achieve the extraordinary.
From corporate culture to brand management, risk-taking to pricing, this book's insights won't just help you: they'll inspire you.
What outstanding leaders do, and how they do it
Actionable insights for achieving your own form of greatness
Building corporate culture that can withstand anything
What you can learn from Southwest's Herb Kelleher and J&J's James Burke
Key attributes of lasting leadership
Giving voice to customers, giving voice to truth
Getting smarter, faster
Case studies in building organizations that learn--and act
Reinventing your business: when it's time, how to do it
Lessons from the master: Steve Jobs
Discovering underserved markets--and serving them profitably
Mohammed Yunus: Profiting from entrepreneurship in the world's poorest communities
The greatest business leaders of our generation
How they achieved the impossible
What you can learn from them
How to use those lessons to supercharge your career
25 compelling profiles from two of the world's leading sources of business insight:
Nightly Business Report and The Wharton School's Knowledge@Wharton
25 extraordinary leaders, 25 incisive profiles:
Andy Grove, Intel
Bill Gates, Microsoft
John Bogle, The Vanguard Group
Steve Jobs, Apple & Pixar
Warren Buffett, Berkshire Hathaway
Herb Kelleher, Southwest Airlines
Sam Walton, Wal-Mart
Jack Welch, GE
Jeff Bezos, Amazon
Mary Kay Ash, Mary Kay
Michael Dell, Dell
Peter F. Drucker
Alan Greenspan
Oprah Winfrey, Harpo, Inc.
George Soros, Soros Fund Management
James Burke, Johnson & Johnson
Lee Iacocca, Chrysler
Peter Lynch, Fidelity Investments
Frederick Smith, FedEx
Mohammed Yunus, Grameen Bank
Ted Turner, Turner Broadcasting
Lou Gerstner, IBM & RJR Nabisco
Charles Schwab, Charles Schwab
Richard Branson, Virgin
William George, Medtronic

About the Authors
Written by Knowledge@Wharton's Editor Mukul Pandya and Managing Editor Robbie Shell, with additional reporting and writing by Susan Warner, Sandeep Junnarkar, and Jeff Brown.
Mukul Pandya
is editor and director of Knowledge@Wharton, a web-based journal of research and business analysis published by The Wharton School of the University of Pennsylvania. A winner of four awards for investigative journalism, Mr. Pandya has more than twenty years of experience as a writer and editor. His articles have appeared in The Wall Street Journal, The New York Times, The Economist, Time Magazine, The Philadelphia Inquirer, and many other publications. He coauthored Knowledge@Wharton on Building Corporate Value. Mr. Pandya, who has an M.A. in economics from the University of Bombay, lives in Ewing, NJ, with his wife and daughter.
Robbie Shell
, the managing editor of Knowledge@Wharton, has worked as a business reporter and editor for national news services, newspapers, and magazines throughout her career. She has covered both the White House and U.S. Supreme Court and taught journalism at the University of Virginia. Her freelance work most recently appeared in The Wall Street Journal. A graduate of Princeton University, she lives in Wynnewood, PA, with her husband and two sons.
Nightly Business Report
is produced by NBR Enterprises and distributed by American Public Television. It's broadcast by PBS stations nationally and available in 90% of U.S. television households. "Lasting Leadership" is based on NBR's Special Edition of January 19, 2004, celebrating its 25th anniversary.

Find Items On Similar Subjects

The Leader of the Future
: New Visions, Strategies, and Practices for the Next Era