Integrity
: The Courage to Meet the Demands of Reality
Henry Cloud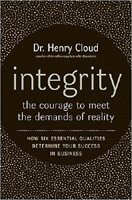 Format:
Paperback, 304pp.
ISBN:
9780060849696
Publisher:
HarperBusiness
Pub. Date:
June 2, 2009
Average Customer Review:

For Bulk Orders Call: 626-441-2024

Description and Reviews
From
The Publisher:
Integrity. It is more than simple honesty. It's the key to success. A person with integrity has the—often rare—ability to pull everything together, to make it all happen no matter how challenging the circumstances.
Drawing on experiences from his work with Fortune 500 companies, nonprofits, and individual leaders, Dr. Henry Cloud, a clinical psychologist and nationally syndicated radio host, shows how our character can keep us from achieving all we want to (or could) be.
In
Integrity
, Dr. Cloud explores the six qualities of character that define integrity. He uses stories from well-known business leaders like Michael Dell and sports figures like Tiger Woods to illustrate each of these qualities. He shows us how people with integrity:
Are able to connect with others and build trust
Are oriented toward reality
Finish well
Embrace the negative
Are oriented toward increase
Have an understanding of the transcendent
Success is not related to only talent or brains. There are a lot of bright, talented people who are never successful. And the most successful are not only the ones with the most talent. The real factor, Cloud demonstrates, is the makeup of the person. All of us can grow in the kinds of real character that bring about fruitful relationships and achievement of purpose, mission, and goals. Integrity is not something that you either have or don't, but instead is an exciting growth path that all of us can engage in and enjoy.

Reviews
"Dr. Henry Cloud is an expert in helping leaders see hos their character development is essential to their effectiveness."
—Denis Beausejour, Consultant and former Global Vice President of Marketing, The Procter & Gamble Company
"Let Henry Cloud teach you how to live an authentic life. This is a must-read!"
—Ken Blanchard, Co-Author, The One-Minute Manager
"Dr. Cloud will show you how to produce the results you are looking for in your work and personal life."
—Dr. Phil McGraw, #1 New York Times Bestselling author and host of the Dr. Phil show
For Cloud, an author, clinical psychologist and corporate consultant, integrity is more than just a person's ethics and morals. The French and Latin meanings of the word hint at its origins, "that the whole thing is working well, undivided, integrated, intact and uncorrupted." Achieving this "wholeness" requires the development of six character traits (creates trust, unafraid of reality, results-oriented, solves "negative realities," causes growth and finds meaning in life) which Cloud examines in great detail, using business stories like Proctor and Gamble's success in China and the experiences of his CEO friends and clients. What each of his stories has in common is how success, often wild success across multiple fields, is fueled by openness, honesty to one's self and to others and "true trust," which is borne out of someone's goodness not being "dependent on anything." Cloud's conversational writing style makes for an easy read, and much of his advice is sound if not groundbreaking, but some aphorisms come off as hokey. ("Things never work. When they don't, that is the time to make them work. Then, if you do, they work," or "Character = the ability to meet the demands of reality," which is not to be confused with integrity, the courage to meet those same demands.) This book is not for the person seeking a quick-fix; Cloud's breed of integrity is a lifestyle choice.
—Publishers Weekly, Copyright © Reed Business Information, a division of Reed Elsevier Inc. All rights reserved.


Reader's Index
Send us your favorite quotes or passages from this book
.
• "When we are talking about integrity, we are talking about being a whole person, am integrated person, with all of our different parts working well and delivering the functions that they were designed to deliver. It's about wholeness and effectiveness as people. It truly is "running on all cylinders." Pg. 31
• "[F]or us to get real results in the real world, we must be in touch with what is, not what we wish things were or think things should be or are led by others to believe they are. The only thing that is going to be real in the end is what is." Pg. 106
• "The ones who succeed in life are the ones who realize that life is largely about solving problems... If you are not prepared to meet them, then they will be the end of your hopes for making anything work, either personally or professionally." Pg. 172-173

About the Author
Dr. Henry Cloud
is a clinical psychologist with an extensive background in both the clinical and professional consulting world, and has a well-established private consulting practice in California. He is an international speaker and the coauthor of the bestselling Boundaries, Nine Things You Simply Must Do, Changes That Heal, and numerous other books. He has been a guest on many radio and television shows and networks and written for numerous publications.

Table of Contents
I. INTRODUCTION:
WHY INTEGRITY MATTERS

1
The Three Essentials
3
2
Character, Integrity, and Reality
13
3
The Three Essentials
29




II. CHARACTER DIMENSION ONE:
ESTABLISHING TRUST

4
Building Trust Through Connection
45
5
Building Trust Through Extending Favor
74
6
Building Trust Through Vulnerabilty
87




III. CHARACTER DIMENSION TWO:
ORIENTED TOWARD TRUTH

7
In Touch with Reality
99
8
What People in Touch Look Like
111




IV. CHARACTER DIMENSION THREE:
GETTING RESULTS

9
Finishing Well
141




V. CHARACTER DIMENSION FOUR:
EMBRACING THE NEGATIVE

10
Eating Problems for Breakfast
171




VI. CHARACTER DIMENSION FIVE:
ORIENTED TOWARD INCREASE

11
Getting Better All the Time
203




VII. CHARACTER DIMENSION SIX:
ORIENTED TOWARD TRANSCENDENCE

12
When You're Small, You're Bigger
239




VIII. CONCLUSION

12
Where Did It Go?
263
12
Index
283

Customer Reviews
Write your own online review
.

Thought Provoking for Those in Need
February 13, 2006
Reviewer: from Niagara Region, Ontario, Canada
As person working in an organization that uses the word "Integrity" in every public and organizational speech, it was very helpful and at the same time hurtful, to realize that this organization has certainly not utilized integrity like they would have people believe. I couldn't put this book down. Dealing with the lack of integrity from leaders throughout this organization has already resulted in my partner leaving and myself working towards making sure that this organization is accountable for the lack of "Integrity" they so much want people to believe that they have. I believe that certain leaders of this organization have been taught to use this word integrity when dealing with its employees as well as the general public but have fallen short in practicing what they preach.
This book has solidified my feelings and experiences I have experienced for a couple of years now and it has proven to me that I am on the right track. Without all six of the ingredients required, Integrity is just a bowl of left over stew used to fill a gap instead of actually providing the nutrition needed to live a long and healthy life. Thank you for writing this book. It has really come out at the most convenient time of my career!! I think I know what to buy my bosses for their birthdays.

Integrated Character is Key.
June 18, 2008
Reviewer: Terrance Dennis - Integrated Leadership Development Inc. from Florida, USA
I like this book because Dr. Cloud really focus on fundamental aspects of leadership in a simple yet in depth manner. The way that he weaves together Character, Integrity, and Facing Reality is profound. Everyone needs "The Courage to Meet the Demands of Reality", at work, at home, in relationships and in organizations. It illustrates how Integrity is the result of the behaviors of adherence to moral and ethical principles. A person has to choose to work on having an integrated character. If you have interest in this topic I would definitely suggest reading "Integrity" for an in depth perspective.

Find Items On Similar Subjects

Why Should Anyone Be Led by You?
What It Takes to Be an Authentic Leader

An Honest President
: The Life and Presidencies of Grover Cleveland

Courage
: The Backbone of Leadership