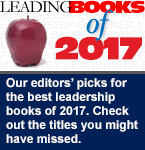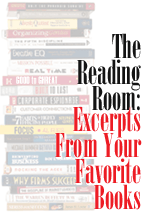 How to Link to this
Web Site.

Winning the Long Game

Are you winning the battle but losing the war?

Every leader has to deliver the goods—make budget, meet deadlines, and deftly manage people—to provide the inspirational fuel that keeps their business running day-in and day-out.

But therein lies the danger of winning today's battle and losing the war—that is the long game of creating sustainable value in a volatile, uncertain world that is becoming ever-more complex and ambiguous.

The number one business challenge—is winning the long game by being more strategic; developing the skills to look outside the four walls of the organization and see the world from the future back.

Steven Krupp and Paul J. H. Schoemaker bridge the gap between what many see as the separate domains of strategy and leadership to show how to develop the discipline of strategic leadership in a world of growing uncertainty.

Read More

DON'T MISS THESE TITLES!






Fail Better

If you're aiming to innovate, failure along the way is a given. But can you fail better? Whether you're rolling out a new product from a city-view office or rolling up your sleeves to deliver a social service in the field, learning why and how to embrace failure can help you do better, faster. Smart leaders, entrepreneurs, and change agents design their innovation projects with a key idea in mind: ensure that every failure is maximally useful. In Fail Better, Anjali Sastry and Kara Penn show how to create the conditions, culture, and habits to systematically, ruthlessly, and quickly figure out what works, in three steps. Read More



Seven Disciplines of A Leader

Seven Disciplines of A Leader is a comprehensive manual for building better leaders. Author and executive coach Jeff Wolf is a respected authority on leadership, and his strategies and inspiration have fostered dramatic growth in some of the nation's top companies. In this book, he shares the secrets of great leadership to help readers align professional development and exemplify these traits themselves. Each of the Disciplines is valuable on its own, but together they add up to more than a sum of their parts, and work synergistically to propel leaders to higher and higher effectiveness and companies to better and better business. From initiative, to planning, to community service, readers will gain deep insight into what separates the good from the great, and how organizations can nurture these qualities in their employees with leadership potential. Read More



Wiser: Getting Beyond Groupthink to Make Groups Smarter

Why are group decisions so hard? Since the beginning of human history, people have made decisions in groups—first in families and villages, and now as part of companies, governments, school boards, religious organizations, or any one of countless other groups. And having more than one person to help decide is good because the group benefits from the collective knowledge of all of its members, and this results in better decisions. Right? Back to reality. We've all been involved in group decisions—and they're hard. And they often turn out badly. Why? Many blame bad decisions on "groupthink" without a clear idea of what that term really means. Read More



The Leadership Handbook: 26 Critical Lessons Every Leader Needs

John Maxwell offers practical insight into learning howto lead the person who mattersmost—yourself. The path to leadership begins with a question only few of us ask: How do I lead myself? John Maxwell presents twenty-six insights, not just for those who aspire to positions of leadership but also for veteran leaders who aim to build and improve upon the steps that led them to the front of the line. Sound leadership will impact any endeavor, but sound leaders are prepared for risk—and importantly, failure—just as they point the way toward achievement. With application exercises and a "Mentoring Moment" to accompany each chapter, The Leadership Handbook presents a road map for a path many maycross but few choose to follow. "A leader," counsels Maxwell,"never has to recover from a good start." Read More






Act Like a Leader, Think Like a Leader
Today's breakneck pace of change has an immense impact on leaders—and as a result, on the organizations they run. All too often, people remain stuck in outdated mindsets and modes of operating, even after others recognize the need for change. Leaders need to learn to pivot even when there are no obvious signals guiding their way.

Leadership expert Herminia Ibarra (INSEAD) upends traditional, introspective advice and says act first—and then change your way of thinking. In this unconventional book, Ibarra, one of the world's foremost experts on leadership transitions, provides the first practical guide on how to change when you also need to lead. Defying standard leadership development guidance, which encourages deep self-reflection into strengths and weaknesses, this book shows that the most effective way to change is through action, not analysis, and by learning from experience, not introspection. In short, it will teach you to change from the outside in by first acting like a leader and then thinking like one.

Based on Ibarra's flagship executive education program at INSEAD, this book is for new and seasoned leaders alike who need to understand the new rules for success in their own organization, and in the global business environment at large. It's the essential guidebook for anyone who wants to upgrade their role or be the leader their organization needs them to be.