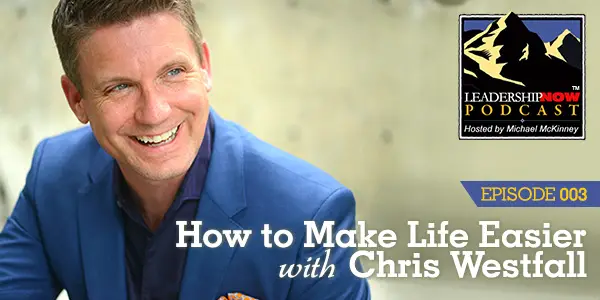 Episode #003: Chris Westfall – How to Make Life Easier
Chris Westfall has helped launch over five dozen businesses, helping to raise over $100 Million in investment capital. His clients have appeared on Shark Tank, Dragons' Den in Canada, and Shark Tank Australia. Chris is the Champion of the US National Elevator Pitch, a competition challenging students to make a convincing and engaging "Elevator Pitch" to an Angel Investor. He is recognized as a Top 10 Business Coach and regularly works with Fortune 500 Companies and high-impact leaders.

He is also a keynote speaker and author of four books. His latest is Easier: 60 Ways to Make Your Work Life Work for You. Through a conversation between a coach and his client, he explains how to productively look at the circumstances we are in, and find ways to be easier on ourselves, no matter what we are up against. Today we will learn how to make life easier and learn to serve ourselves and others better.
The LeadershipNow Podcast Show Notes
"Life isn't easy. In fact, it can be very difficult. Our careers can be difficult. Our relationships can be difficult. And all those things blend together, and that makes life difficult. But in any circumstance, and in any situation, there is always a way to show up that makes things easier. Not easy, but easier."


"For this elevator pitch contest, the construct was your pitch had to be 118 seconds long. So just under two minutes because 118 seconds is the average length of an elevator ride in New York City."


"What they observe in this book [Easier] is not only a conversation between a client and a coach but also how people go through some incredibly difficult circumstances."


"When life gets difficult, it looks like there is only one way out of this. There's only one way forward; there's only one possibility here."


"That's exactly what difficulty looks like. Life becomes a hallway and there's only one door. And you have to go through that door. But there are a couple of things we can do if we're in that place, and I think as leaders, life calls on us to look again. The first thing we can do is zoom out. Because other possibilities always exist. It's easy to see because were calm and relaxed right now, but when life gets difficult, the world looks like we're looking at it through a porthole or a hallway; but can we zoom out? Can we step back?"


"The second thing we can do is recognize that we don't have to go it alone. It looks like there is only one way forward, and it's all on your shoulders—that the weight of the world is on your shoulders—as a leader, part of leadership is finding the resources that you need. Maybe that means finding a coach, maybe that means finding someone who can help you to lift that burden that feels too heavy to see that life is not just a hallway or a one-way street. That other possibilities exist."


"At the end of the day, we have to realize that the way you are showing up is what's creating the world around you. And if we show up with an intention that says, "I'm going to do this for me—I'm going to do this in the spirit of curiosity." Where I'm going to take this one moment at a time, not executing a nineteen-step plan but doing exactly what's needed in this moment which leads me to the next one, which leads me to the next one, that is the kind of actively lazy that makes everything easier."


"What's obvious is life looks like a hallway, and there's only one way to win. There's never just one way to win. Our job as leaders, our job as human beings, is to find every way to win. And from that place, we come closer to success."


"You have to be neutral in order to go fast. You have to be in a place of neutrality, not in a place where I need to go faster. And where our minds are racing, our acceleration is not. It is when our minds are clear that we can truly accelerate."


"Leadership is, in part, taking action. And so what is the action that you need to take? And sometimes, that action is not easiest. In fact, on the path to easier, as I've discovered myself, and my coach said to me, it's not always comfortable on the way to easier. But leaders understand something that is so vital, and that is that discomfort and uncertainty don't have to go together. And if we get comfortable with being uncomfortable, life can get easier if we are willing to do what is needed and not manage our moods. Because if we are managing our moods, then we're going to look for easiest, we're going to cut corners; we might even be tempted to cut corners in such a way that shows a lack of integrity and things that just aren't part of the leadership conversation. And those kinds of choices are never easier."


"It's a shift from asking the question, how am I feeling and what can I do to fix it or change it, to what needs to be done. It's a leadership question: what needs to be done? And if it looks like what needs to be done is that you have to have a different mindset, or you need to be in a better mood, or need to have four gallons of positivity poured over your head in order to move forward, I'd take a look at that because the universe doesn't reward your moods or mine. The universe rewards our actions. I'm not suggesting that we move coldly through our lives or deny our emotions or our emotional state. I mean, our emotions are informing us and telling us something. What I'm telling you is that there's an action underneath our thinking, there's an action underneath our feelings, and if we can separate those two things—in other words, if I don't need to be in a great mood in order to do great things then I will keep moving forward."


"My results are not tied to my moods."


"When we can embrace the past, not as an error that needs to be corrected or something that needs to be undone or fixed, which of course, is impossible (The past is fixed. You cannot change it.), but when we find a place of acceptance, we see new possibilities. And this is what I came to realize: when I moved from how can I get through this (which is the feeling of this grief), I shifted to what can I get from this. I started to look in the direction of what's good about this."


YAHOO strategy: You Always Have Other Options


"Sometimes just reminding people of what they want can be the most powerful motivation of all. Just a simple reminder of who it is you want to be. A simple reminder that's not scolding. It's not fault-finding. It's simply reminding me what it is that I want, and from there, what changes when you remind people—not find fault—but remind people who they are, what they're capable of, and what it is that they want."


"Helpful is not, 'Did you think of this? What about this? No, you didn't do that.' Let me tell you what's wrong. Let me treat you like an error that needs to be corrected. Reminding people of capability. Reminding people of possibility. Reminding people of what it is that they want and who they are. Not trying to take someone's life as an engineering exercise where you're trying to eliminate the variances and do a fault-finding exercise. That's not helpful to anybody."


"We are built for resilience. It is built into our DNA."


Resources

Subscribe using your favorite podcast app via:
Spread the Word. Leave a Rating and Review.
Hopefully, this episode has helped you unlock your potential as a leader. If you appreciated it, could you share the love?
The best way to do that is to rate the podcast on Apple Podcasts and leave us a brief review! Your ratings and reviews help us place the podcast in front of new leaders and listeners.
You can also send feedback to Michael McKinney. Your feedback also lets me know how I can better serve you.
Thank you for your support!