The Broken Hearth
: Reversing the Moral Collapse of the American Family
William J. Bennett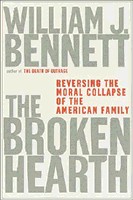 Format:
Hardcover, 320pp.
ISBN:
9780385499156
Publisher:
Doubleday & Company, Inc
Pub. Date:
September 2001
Average Customer Review:

For Bulk Orders Call: 626-441-2024

Description and Reviews
From
The Publisher:
"Virtually every opinion poll shows that the American people are deeply worried about the state of the family. They have good reason to be worried—even, I would say, frightened. Compared to a generation ago, American Families today are much less stable; marriage is far less central; divorce, out-of-wedlock births, and cohabitation are vastly more common; and children are more vulnerable and neglected, less well-off and less valued. Public attitudes toward marriage, sexual ethics, ad child rearing have radically altered for the worse.

In sum, them family has suffered a blow that has no historical precedent—and one that has enormous ramifications for American society."
Today the American family is under siege as never before. From the dramatic rise in illegitimacy, divorce, cohabitation, and single parenthood to the call for recognition of gay marriages, the traditional nuclear family is being radically challenged and undermined, along with the moral and legal consensus that once supported it.
Many think it doesn't matter whether we preserve the nuclear family. Some even argue that its dissolution is a good thing?a liberation from repressive patriarchal authority. William J. Bennett maintains that, to the contrary, the dissolution of the American family is the fundamental crisis of our time. Now, in a book as provocative and controversial as his bestselling
The Death of Outrage
, Bennett presents a timely and much-needed defense of the traditional family.
Combining fearless conviction with acute insight and respect for his adversaries, Bennett offers thorough, balanced, and enlightening discussions of single parenthood, cohabitation, gay marriage, and other trends that are undercutting the ideal of the nuclear family as the essential foundation of society. Arguing that our recent economic prosperity has masked the devastating effects of this unprecedented social experimentation, Bennett traces the effects of these trends and weighs their impact on the present and future health of our society.
Americans like to think they are free to reinvent every aspect of family life without social or personal consequences. Yet, far from being strictly a matter of private choice, the integrity of families is, Bennett shows, a strong and legitimate interest of society at large. And, he argues, the monogamous nuclear family is not a repressive patriarchal institution, but quite the opposite: a precious and hard-won historical achievement, one that safeguards the interests of men, women, and children as no other arrangement yet devised.
Rising above the jeremiads characteristic of so much contemporary public debate,
The Broken Hearth
provides a powerful affirmation of family life and the matchless benefits it bestows on individuals and society as a whole.

Reviews
In stating the case for restoring the health and prevalence of the nuclear family, Bennett pretty much abandons the partisan pugnacity that has made him a love-him or loathe-him fixture on talking-heads TV. He contends that all-time high numbers of no-fault divorces, out-of-wedlock births, single-parent households, cohabiting unwed couples, and deserting fathers, along with the devaluation of marriage threatened by legitimizing same-sex unions, have put the nuclear family on the ropes. This situation bespeaks a reversal of the positive historic progress that the nuclear family represents as a structure for answering adult sexual and affectional needs reliably over time and for rearing children in psychologically and affectionally optimal circumstances. Bennett summarizes the social damages wrought by departures from the nuclear family in three chapters devoted, respectively, to cohabitation, illegitimacy, and fatherlessness; gay marriage; and easy divorce. It is in these pages that he is most reasonable. He lays out facts, figures, and arguments without demonizing those who disagree with him or pretending that the nuclear family is fail-safe. Divorce is sometimes necessary, single-parent households are sometimes inevitable, and in any case, particular persons shouldn't be attacked simply for being divorced, homosexual, or single parents (he does take exception with ministers, such as Southern Baptist honcho Charles Stanley, who clothe their own divorces in righteousness). An excellent summation of the conservative stance on the nuclear family.
Ray Olson Copyright © American Library Association. All rights reserved

About the Author
WilliamJ. Bennett is codirector of Empower America, and founder and chairman of K12, an Internet-based elementary and secondary school. He is the editor of
The Book of Virtues
and
The Moral Compass
and the author of several books, including the bestsellers
The Death of Outrage
and, most recently,
The Educated Child: A Parent's Guide
. He lives in Chevy Chase, Maryland, with his wife, Elayne, and their two sons.

Table of Contents
| | | |
| --- | --- | --- |
| | Preface | 1 |
| 1 | The State of Marriage and the Family | 8 |
| 2 | The Family in History | 41 |
| 3 | Cohabitation, Illegitimacy, Fatherless | 71 |
| 4 | Homosexual Unions | 101 |
| 5 | Divorce | 139 |
| 6 | A Few Home Truths | 171 |
| | Index | 191 |