Nimble, Focused, Feisty
: Organizational Cultures That Win in the New Era and How to Create Them
Sara Roberts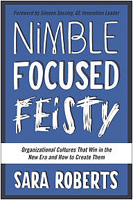 Format:
Hardcover , 320pp.
ISBN:
9781942952138
Publisher:
BenBella Books
Publication Date:
August 16, 2016
Average Customer Review:

For Bulk Orders Call: 626-441-2024

Description and Reviews
From
The Publisher:
Leaders have talked about the importance of corporate culture for decades, but the success of iconic companies like GE, Apple, and Google shows how culture is a strategic lever that can be utilized for driving growth, change, and innovation. In this new age of globalization, rapid technology shifts, and constant disruption, the 21st century marketplace is more volatile and uncertain than ever. To thrive, businesses need a new kind of emphasis around culture.
Sara Roberts, former CEO and founder of Roberts Golden and a seasoned executive consultant to dozens of Fortune 500 companies and CEOs, sees how flourishing companies—from established market leaders to the surprising upstarts—share three distinct attributes:
Nimble
: They are much faster and more agile than ordinary organizations
Focused
: They use their sense of purpose as a lens to understand and meet the needs of customers and markets
Feisty
: They play big and act bold to capitalize on advantages and out-muscle the competition
For successful companies in this new era, culture is not about playing defense but about going on offense. It's purposely designed, leveraged, and honed to deliver value and drive growth.
In
Nimble, Focused, Feisty
, Roberts provides not only a look into what these organizations are doing differently but also a blueprint and framework so your company can create a cultural strategy to thrive in the new era.

Reviews
"Roberts's emphasis on mindset, connected leadership, and the feisty spark is the right recipe to begin the cultural change journey. She gets down to the brass tacks of what it takes to steer a big ship onto a better, more enlightened course."
—Erin Sellman, senior vice president and head of strategy, insights, and planning at Lowe's Companies, Inc.
"In Nimble, Focused, Feisty, Sara Roberts demonstrates just how important organizational culture is for success and shows you what kind of nimble and focused culture you need to build to thrive in today's turbulent world. She offers a highly practical book that is invaluable not just for senior leaders but for anyone who yearns to thrive at work."
—Morten T. Hansen, professor and faculty director at UC Berkeley's Center for Leadership, coauthor of the New York Times bestseller Great by Choice, and author of Collaboration
"Innovation gets all the buzz, but that's not what's going to save your company. We live in a new world. You need to transform your culture to thrive . . . to have impact. Sara Roberts shows you how."
—Brant Cooper, author of the New York Times bestseller The Lean Entrepreneur and founder of Moves the Needle
"Nimble, Focused, Feisty shines an important light on company culture. Chilling to those who would ignore culture, and inspiring to those wishing to build it, Sara Roberts's words are vital to those care about the future of their company."
—Dan Adams, Founder of the AIM Institute and author of the bestselling book New Product Blueprinting: The Handbook for B2B Organic Growth
"What is company culture? It's something you can't afford to ignore. It's the difference between sinking or swimming in today's consumer-driven marketplace. Nimble, Focused, Feisty is the ultimate guide to staying afloat by learning from the best.
—Cynthia Stoddard, senior VP & CIO at NetApp
"What is the difference between a great company and all the others? In a word, culture. Sara Roberts has cracked the code on what a great culture looks like . . . and offers practical guidelines on how you can build a great one in your company."
—Dan Ward, Air Force Lieutenant Colonel and author of F.I.R.E.: How Fast, Inexpensive, Restrained and Elegant Methods Ignite Innovation and The Simplicity Cycle
"Sara brings together all of the current thought leadership around the importance of new models for corporate culture - the winning strategy for companies interested in adapting to survive. She provides concrete, actionable steps, and thought provoking questions to kickstart the journey of organizational transformation, which arguably all companies will need to embrace."
—Shannon Lucas, Change agent and Director of Innovation at Vodafone Global Enterprise
"Nimble, Focused, Feisty is a fantastic and straight-forward guide to driving your own vibrant culture and succinctly clarifies why culture is critical to your success as a contemporary leader."
—Paul Rogers, President and CEO, GE Wurldtech

About the Author
Sara Roberts
is a leading authority and go-to expert on organizational transformation, culture, and building purpose-led companies. She's an executive consultant to Fortune 500 leaders, a sought-after keynote speaker, and an entrepreneur. She founded and sold Roberts Golden, a boutique consultancy, where she and her team worked with nearly a quarter of the Fortune 100 over its 12-year span to help transform their cultures and abilities to lead. She has been widely recognized for her unique insights on both the emotional and practical sides of business transformation. Sara is the coauthor of Light Their Fire: Using Internal Marketingto Ignite Employee Performance and Wow Your Customers and numerous treatises on building and connecting organizations and employees through purpose.