Leading with Intention
: Every Moment Is A Choice
Mindy Hall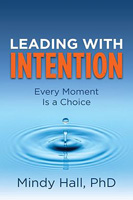 Format:
Hardcover, 168pp.
ISBN:
9781941770092
Publisher:
Copper Bay Press
Pub. Date:
October 27, 2014
Average Customer Review:

For Bulk Orders Call: 626-441-2024

Description and Reviews
From
The Publisher:
Every interaction is an opportunity.
Every action has an impact.
Every moment is a choice.
Every interaction- whether you're presenting to an entire organization or talking one-on-one with a colleague-is an opportunity to influence and inspire others to achieve extraordinary results. Your ability to do that depends on two factors:
• how aware you are of your impact
• the care and discipline with which you choose your actions, day-by-day, moment-by-moment
Leading with Intention
challenges you to make a profound, deliberate mark on both your organization and the world around you. Informed by over 25 years of experience with leaders in Fortune 50 companies, biotech start-ups, financial services firms, and non-profit organizations, Leading with Intention provides real-life examples and practical tools for increasing your awareness and being more deliberate in your choices. You'll want to apply its lessons immediately, and return to it again and again as a trusted resource.

Reviews
"Leading With Intention: Every Moment Is a Choice directly and perceptively addresses the issue of self-awareness in leadership...Hall's emphasis is on practical guidance for executives."
—Forbes
"Not surprisingly, Mindy Hall's Leading with Intention is well written and immediately practical in its applicability, making every moment of the day a leadership opportunity. Don't bother trying to highlight all the valuable points. You will find them in almost every paragraph."
—Christopher P. Molineaux, President and CEO, Pennsylvania Bio
"Being 'intentional' is a simple concept that when applied is so powerful. It allows you to shape how you engage and are viewed as a leader. This book is going to be a must-read for my entire leadership team."
—Michael Conway, Executive Vice President of Global ChannelDevelopment, Starbucks
"Leading with Intention is not leadership theory; it is leadership practice. It offers tools that you can begin applying right away and that integrate into your existing efforts."
—Nicholas J. Valeriani, Chief Executive, West Health
"The best leaders I have met never stop looking for ways to improve. Because Dr. Hall's stories and tools are deceptively simple to use but profoundly real in their impact, these leaders will want to keep this book close at hand."
—Christi Shaw, President, Novartis Pharmaceuticals Corporation

About the Author
Mindy Hall
, PhD is the President and CEO of Peak Development Consulting, LLC and author of "Leading with Intention: Every Moment Is a Choice." Since founding Peak Development in 1996, she has worked with clients throughout North America, Europe, Africa, and Asia to create sustainable organization and leadership development solutions. Clients include leading pharmaceutical, biotechnology, technology, insurance, manufacturing, government, and nonprofit organizations, several of which are among the Fortune 50. Hall has over 25 years of experience in organization and leadership development. Prior to founding Peak Development, her corporate career spanned positions in the pharmaceutical and banking industries, including experience in global roles and as an expatriate in Paris. She began her career as the director of a nonprofit, 24-hour crisis center and has always been surprised how transferable the skills were from crisis center to corporate work. She holds a PhD in Human and Organizational Systems from Fielding Graduate University, and her doctoral dissertation, "Deep Learning: A Case Study Exploration" was published in paperback in 2011. She also holds Master's Degrees in both Organization Development and Human Resources Management. Hall hosts the podcast Peak Development Radio, featuring great conversations and practical advice for making your organization stronger. Guests have included leaders from Johnson & Johnson, Starbucks, Novartis, Pfizer, Biogen Idec, and more.