Eat Move Sleep
: How Small Choices Lead to Big Changes
Tom Rath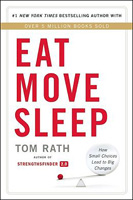 Format:
Hardcover, 256pp.
ISBN:
9781939714008
Publisher:
Missionday
Pub. Date:
October 8, 2013
Average Customer Review:

For Bulk Orders Call: 626-441-2024

Description and Reviews
From
The Publisher:
Once in a while, a book comes along that changes how you think, feel, and act every day.
In
Eat Move Sleep
, #1 New York Times bestselling author Tom Rath delivers a book that will improve your health for years to come. While Tom's bestsellers on strengths and well-being have already inspired more than 5 million people in the last decade,
Eat Move Sleep
reveals his greatest passion and expertise.
Quietly managing a serious illness for more than 20 years, Tom has assembled a wide range of information on the impact of eating, moving, and sleeping. Written in his classic conversational style,
Eat Move Sleep
features the most proven and practical ideas from his research. This remarkably quick read offers advice that is comprehensive yet simple and often counterintuitive but always credible.
Eat Move Sleep
will help you make good decisions automatic — in all three of these interconnected areas. With every bite you take, you will make better choices. You will move a lot more than you do today. And you will sleep better than you have in years.
More than a book,
Eat Move Sleep
is a new way to live.

Q&A with Tom Rath
From
The Publisher:
Q: What prompted you to write a book about health?
A. After writing business books for more than a decade, I realized that improving health is the biggest business challenge of our generation. Nothing breaks household finances, corporate balance sheets, or national economies faster than poor health.
But the much larger reason why I decided to focus all of my time and energy on this topic is because I was tired of seeing people that I care about suffer unnecessarily and die early. We are literally killing ourselves, sapping our energy, and destroying our wellbeing as a result of lousy decisions we make about our health each day.
Q: Why have you spent so much time studying this topic?
A. I first started doing this research to save my own life, literally. While I have been reluctant to discuss this before, I have been battling cancer for more than twenty years now. Ever since my diagnosis, I've spent time every day learning about specific things I can do to extend my odds of living a bit longer. Over the last decade, I have focused more attention on helping friends, family, and colleagues to learn from these discoveries and lead healthier lives.
Q: What are some of the most important things you have learned from this research?
A. What I learned, not only about how to prevent cancer, but also how to prevent heart disease, diabetes, and obesity - is remarkably encouraging. The vast majority of human disease and illness is preventable. There are hundreds of specific, proven actions we can take to increase our odds of living longer and stronger. What matters most are the small decisions we make each day, ones that give us more energy in the moment and also prevent illness in the future.
The second major finding is that these three elements - eating, moving, and sleeping - build on one another. Eating right makes it easier to be active. Being active makes it easier to sleep. Sleeping well helps you to avoid bad foods, and so on. As a result, working on all three at once is even easier than focusing on one area in isolation.
Q: Don't we already know that we should be eating, moving, and sleeping better?
A. In
Eat Move Sleep
, I cover a lot of the essentials that people know they should be doing, but have trouble applying on a daily basis. I like books that help me figure out how to apply things I already
know
but don't
do
. There are several things in the book I have known for a long time, yet did not practice myself until I learned new ways to connect short-term incentives with what is best for my long-term health. Frankly, my biggest challenge in writing this book was narrowing down to the most practical findings for a broad audience, given the wealth of good science on these topics today.

Reviews
"A passionate and practical guide to how to live better and longer. Eat Move Sleep will change your life. It might also save it."
—SIR KEN ROBINSON, bestselling author of The Element
"One of the most successful nonfiction writers of his generation, Tom Rath has produced a blockbuster book that offers readers deep insights alongside specific actions. Eat Move Sleep is a transformative work."
—DANIEL H. PINK, bestselling author of Drive and To Sell Is Human
"Rath's new book invaluably delivers."
—BRIAN WANSINK, Ph.D., author of Mindless Eating
"Tom Rath lays out ways of changing our eating, exercise, and sleeping habits that are easy to do at our own pace. Eat Move Sleep will be a big help to me and my patients."
—GORDY KLATT, M.D., founder of the American Cancer Society Relay for Life
"Tom Rath's next project [Eat Move Sleep] may be his most important yet...Fortune 500 leaders look to him as one of the greatest thinkers of his generation."
—WASHINGTONIAN magazine
"Tom Rath has developed multiple creative strategies for a lifestyle of enduring health."
—CALDWELL B. ESSELSTYN, JR., M.D., author of Prevent and Reverse Heart Disease
"A wonderful book you can't stop reading. Your health I.Q. will never be the same."
—PATRICK LENCIONI, bestselling author of The Five Dysfunctions of a Team
"A road map for leading a long and meaningful life. Every human being should have this book right next to the Bible on their nightstand."
—VAL J. HALAMANDARIS, President, National Association for Homecare and Hospice
"Tom Rath knows this topic inside out and is sharing his best research-driven tips and proven ideas in a relaxed, relatable, and easy-to-digest format."
—KEN BLANCHARD, Ph.D., coauthor of The One Minute Manager
"Tom Rath has successfully written the operating code for human health. Reading Eat Move Sleep should be as mandatory as health insurance."
—SHAWN ACHOR, bestselling author of The Happiness Advantage and Before Happiness
"Eat Move Sleep never lets the reader off the hook. All 76 million of us Baby Boomers should take heed."
—MERYL COMER, President, Geoffrey Beene Foundation, Alzheimer's Initiative
"Backed by science and filled with heart, Eat Move Sleep is the best self-improvement book I've ever read."
—ORI BRAFMAN, bestselling author of Sway and The Starfish and the Spider
"Eat Move Sleep is simply a must-read. As a physician, I cannot begin to explain how vital this book is for improving human health and well-being."
—JASON POWERS, M.D., Chief Medical Officer, Right Step
"Breakthrough insights about your ultimate strength: your health. I learned surprising health secrets from Tom's life long research..read Eat Move Sleep, you will be stronger and live longer."
—GREG LINK, co-founder FranklinCovey and co-author of Smart Trust
"Being healthy begins by reading this life-changing book."
—ANITA BRUZZESE, author and USA Today columnist

About the Author
Tom Rath
is one of the most influential authors of the last decade. He studies the role of human behavior in health, business, and economics. Tom has written several international bestsellers including the number-one New York Times bestseller How Full Is Your Bucket? In 2007, The Economist listed his book, StrengthsFinder 2.0, as the top-selling business book worldwide.
Tom's most recent New York Times bestsellers are Strengths-Based Leadership and Wellbeing: The Five Essential Elements. In total, his books have sold more than 5 million copies and made over 250 appearances on The Wall Street Journal's bestseller list.
Tom serves as a Senior Scientist and Advisor to Gallup, where he previously spent 13 years leading the organization's work on employee engagement, strengths, and wellbeing. Tom also served as Vice Chairman of the VHL cancer research organization. He earned degrees from the University of Michigan and University of Pennsylvania, where he is now a guest lecturer. Tom and his wife, Ashley, and their two children live in Arlington, VA.

Find Items On Similar Subjects

StrengthsFinder 2.0
: A New and Upgraded Edition of the Online Test